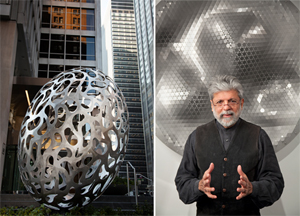 A new permanent sculpture is attracting attention on the bustling streets of Midtown Manhattan. The sculpture, titled SEED54, was created by Pratt Institute Architecture Professor Haresh Lalvani and recently installed at 1330 Avenue of the Americas at West 54th Street. SEED54 is Lalvani's first realized commission of outdoor sculpture. Aside from its stunning aesthetics, the sculpture demonstrates Lalvani's innovative use of mathematics and science in design and his over 30 years of research into creating shape codes akin to our own genetic makeup of DNA.
Lalvani's sculptures are created from a shape code based on a sequence of numbers that can be manipulated to achieve an infinite number of forms that are similar yet never once the same, much like a snowflake. His shape codes are based on frequently occurring mathematical relationships of curves, lines, and angles inspired by nature. The shape codes have implications beyond the art world since they have the potential to change the way architects and designers work and influence future building projects. The title SEED54 references Lalvani's long-term interest in seeds as the carriers of genetic code, and the street where the sculpture was installed.
SEED54–an eight-foot tall sculpture of laser-cut stainless steel–is part of Lalvani's "HyperSurface" series that attracted widespread media attention last year as part of a solo exhibition presented by Moss Gallery, New York, at Design Miami 2011. SEED54 was produced using digital design-fabrication that extends currently available sheet-metal technologies to achieve a lightweight sculpture that appears to float above a bed of bushes in front of a New York highrise owned by RXR Realty.
Lalvani describes SEED54 as "an exploration of the shifting boundary between what is conceptually possible and that which is physically realizable. The work aims to demonstrate the fundamental nature of how we, and nature, originate and build."
Lalvani's work is unique for two reasons: his intimate involvement in the production process and his long-term interest in the origin of form. Lalvani's research has birthed new methods of metal fabrication in an unprecedented collaboration with renowned art-metal fabricator Milgo Bufkin over the last 15 years. His interest in production has led to innovative ways of making 3-dimensional structures, which have implications that transcend art and can be applied to design, architecture, and engineering. His interest in form and affinity towards math and science has fueled many discoveries and inventions in morphology (the study of form), all dealing with new ways to shape space, and leading to his innovative work in mass-customization and digital design-fabrication.
RXR Realty, in combination with the architects Moed de Armas and Shannon, awarded Lalvani the commission. The final design of the sculpture was approved in June, and the fabrication process began in August. It took the team at renowned art-metal fabricator Milgo-Bufkin four months to test, fabricate, and assemble the laser-cut pieces into their present shape.
"We have always viewed art as an amenity for our tenants, enriching their workday experience," said Scott Rechler, CEO and Chairman, RXR Realty. "Haresh Lalvani's SEED54 enlivens the plaza at 1330 Avenue of the Americas, providing a dynamic, creative statement to the cityscape. We are very happy that we could collaborate with him and provide a canvas for his work," he added.
Lalvani's AlgoRhythms Columns, in titanium, are in the permanent collection of the Museum of Modern Art, New York, and two examples from this series are currently on view as part of Pratt Institute's "125 Icons: A Celebration of Works by Pratt Alumni and Faculty, 1887-2012" at Pratt Manhattan Gallery (144 West 14th Street, Second Floor).
Lalvani, who graduated from Pratt's School of Architecture with a M.S. degree in 1972, is working on several other high profile projects including a wall sculpture for Pratt Institute's Sculpture Park. The sculpture, which will be his largest piece to date, is expected to be installed in Spring 2013.
Images from left: Haresh Lalvani's SEED54 sculpture at Avenue of the Americas and West 54th Street in Manhattan, and Lalvani in front of one of his works. Images courtesy of Peter Tannenbaum and ©www.RandyDuchaine.com.
MEDIA CONTACT:
Emily Mendez-Penate at 212-957-3005 or emily.mp@smapr.com