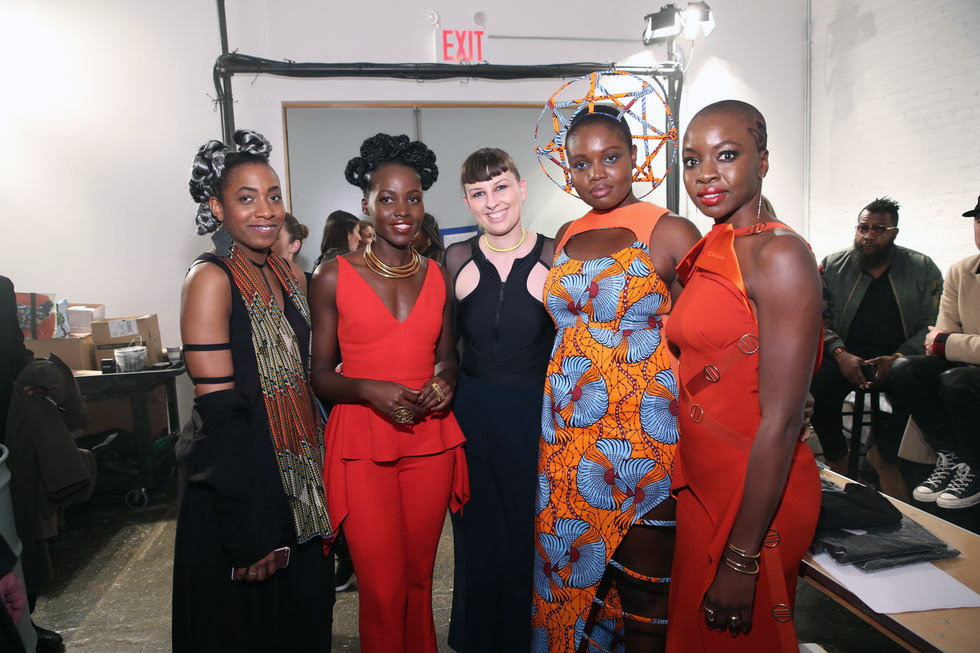 Designs by Pratt senior Tolulope Aremu, B.F.A. Fashion Design '18, have been featured in a charity presentation called "Black Panther: Welcome to Wakanda" as part of New York Fashion Week.
The red carpet event, presented by Marvel, included fashions inspired by the blockbuster movie, Black Panther. Designers included Chromat, Cushnie et Ochs, Fear of God, Ikiré Jones, LaQuan Smith, Sophie Theallet, and Tome at Industria and will be auctioned off to support Save The Children.
The event, like the film, has received widespread coverage in media outlets such as WWD, USA Today, The Glow Up, and PAPER magazine. Aremu, who has previously interned with and now works with Chromat, was asked to lead this project for the swim and athletic wear brand, and drew inspiration from her Nigerian heritage for her design. Her blue and orange dress received overwhelmingly positive reviews from the press.
"When creating this Black Panther-inspired look, the first thing that popped into my head was my muse: my Mom. At Chromat, we design for strong, powerful, unapologetic women and empower women of all shapes, sizes, and colors," she says. "The Black Panther film introduces strong black superheroes and cultural diversity with Africa as its backdrop. From the colorful gele to the bold patterned Ankara and down to the Chromat cage and silhouette, I wanted this look to embody her colorful and bold spirit."
Aremu's design also received nods from Lupita Nyong'o and Danai Gurira, who posed alongside the dress during the event.
Image: (L-R) Tolu Aremu, Lupia Nyong'o, Becca McCharen, model, and Danai Gurira at "Black Panther: Welcome to Wakanda" (photo: courtesy Tolu Aremu)