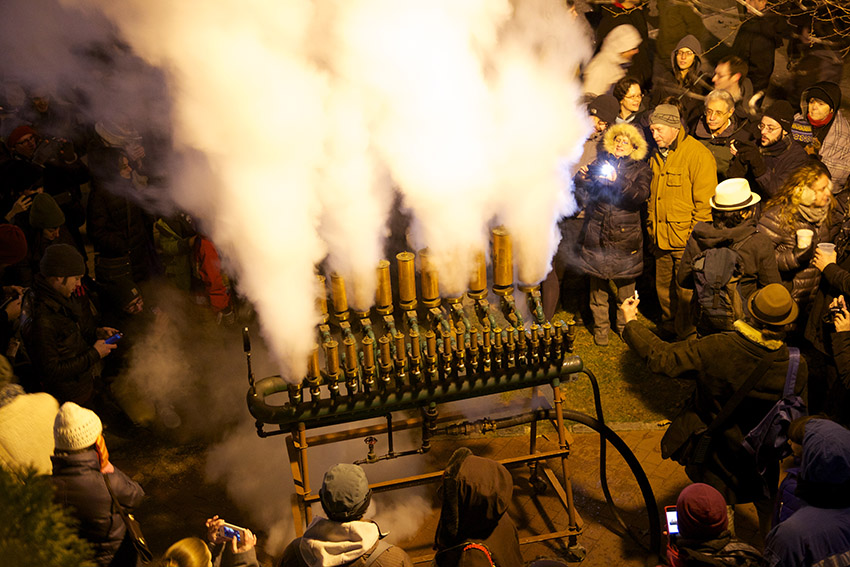 On December 31, 2014, Pratt Institute Chief Engineer Conrad Milster led the final New Year's Eve steam whistle ceremony, a 50-year tradition where the Pratt community, local Brooklyn neighbors, and visitors alike would gather to hear the resonating sounds of historic steam whistles. With Pratt's campus operations shut down from Christmas Eve through New Year's Day, it was mutually decided between Milster and Pratt that the tradition would be discontinued after 2014. The closing of the campus does not allow the Institute to provide appropriate staffing for a public event during this timeframe.
Milster's notable steam whistle collection is a unique assortment of a dozen antique steam whistles from railroads, factories, and ships, and a steam-powered calliope that Milster built in 1999. The grouping also included a steam whistle from the SS Normandie, a sleek Art Deco ocean liner from the 1930s that was the precursor of the Queen Mary. During the event, a selection of whistles were connected by pipes to the Institute's historic power plant, which has been designated a National Mechanical Engineering Landmark by the American Society of Mechanical Engineers.
As chief engineer, Milster runs the power plant, which supplies heat for the entire Brooklyn campus and includes the historic Engine Room that is a source of fascination for students, faculty, and staff.