In creating the new writing studios that opened this semester on Pratt's Brooklyn campus, the Department of Writing in the School of Liberal Arts and Sciences wanted to be sure they served students' needs, whether they were in the first year of a BFA or pursuing an MFA. While some students might want quiet areas to delve into a project, others could use spaces to gather and exchange ideas. The department, led by Chair Beth Loffreda, involved the students in designing the first-ever dedicated studios for the program.
"Student input was the biggest part of figuring out how these spaces were going to look and how they were going to function," said Katherine Barbadoro, assistant to the chair of the Writing Department. "There were a lot of conversations with the students about what they felt was lacking from their studio practice and also how a community space could facilitate their writing work. We have a lot of different types of spaces, and they support different types of writing practices."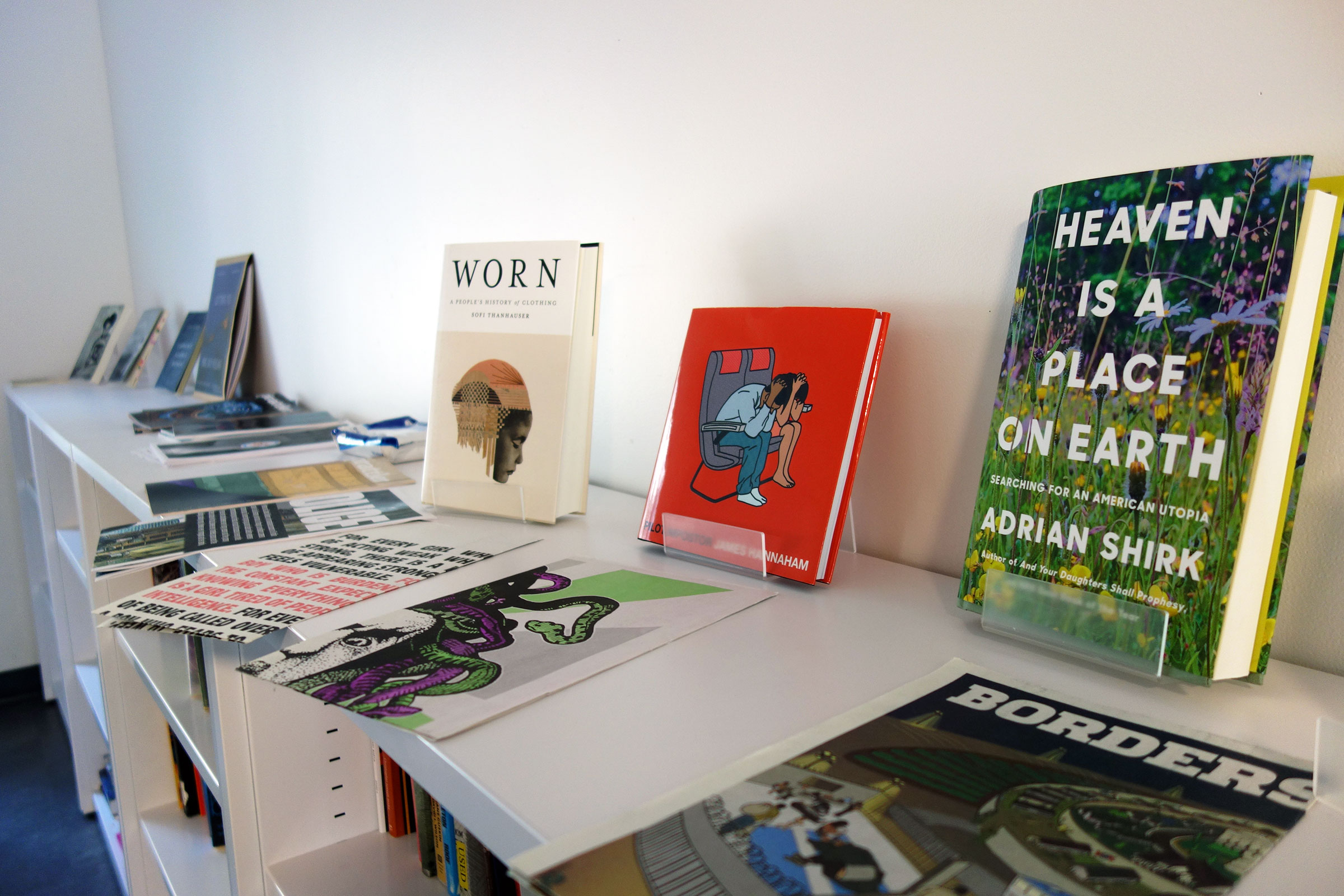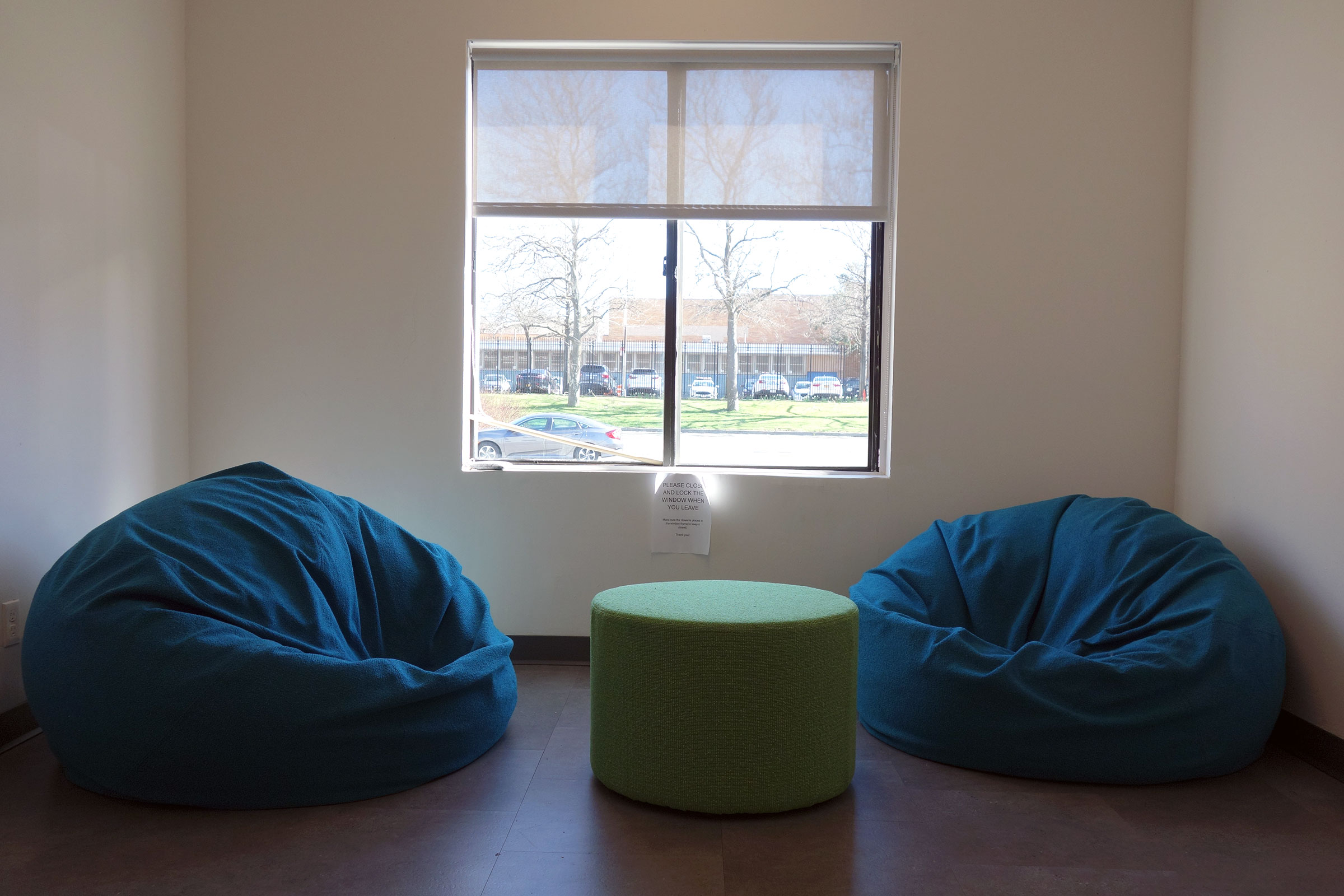 The studios in Cannoneer Court include individual workspaces, lounge-style rooms with soft chairs and beanbags for more collaborative work, writing faculty offices, computer labs, a library, and a maker space. They are open to students 24 hours a day.
"I was not sure if I would do much work there, being that I live so close to campus," said Kayla Jannetti, BFA Writing '24. "That all changed rather quickly after making use of the various spaces offered in the studios. Personally, I favor the community space because I am very easily distracted while writing, so working with a friend or two in a small space allows us to bounce ideas off the other and effectively work."
The BFA and MFA programs include around 101 students. They can use all the resources in the studios, allowing connections to form across class years and programs as well as a feeling of community.
"The writing department is so open with making it a safe space for everyone, which is really amazing," said Tahlia Amanson, BFA Writing '25. "I'm excited for the studios to be building a community because pretty much all the people I know in writing are first-year students. I think this is a great place to be able to meet sophomore, junior, senior, and other students and be intertwined in our work and also get a gist of what the next few years are going to look like."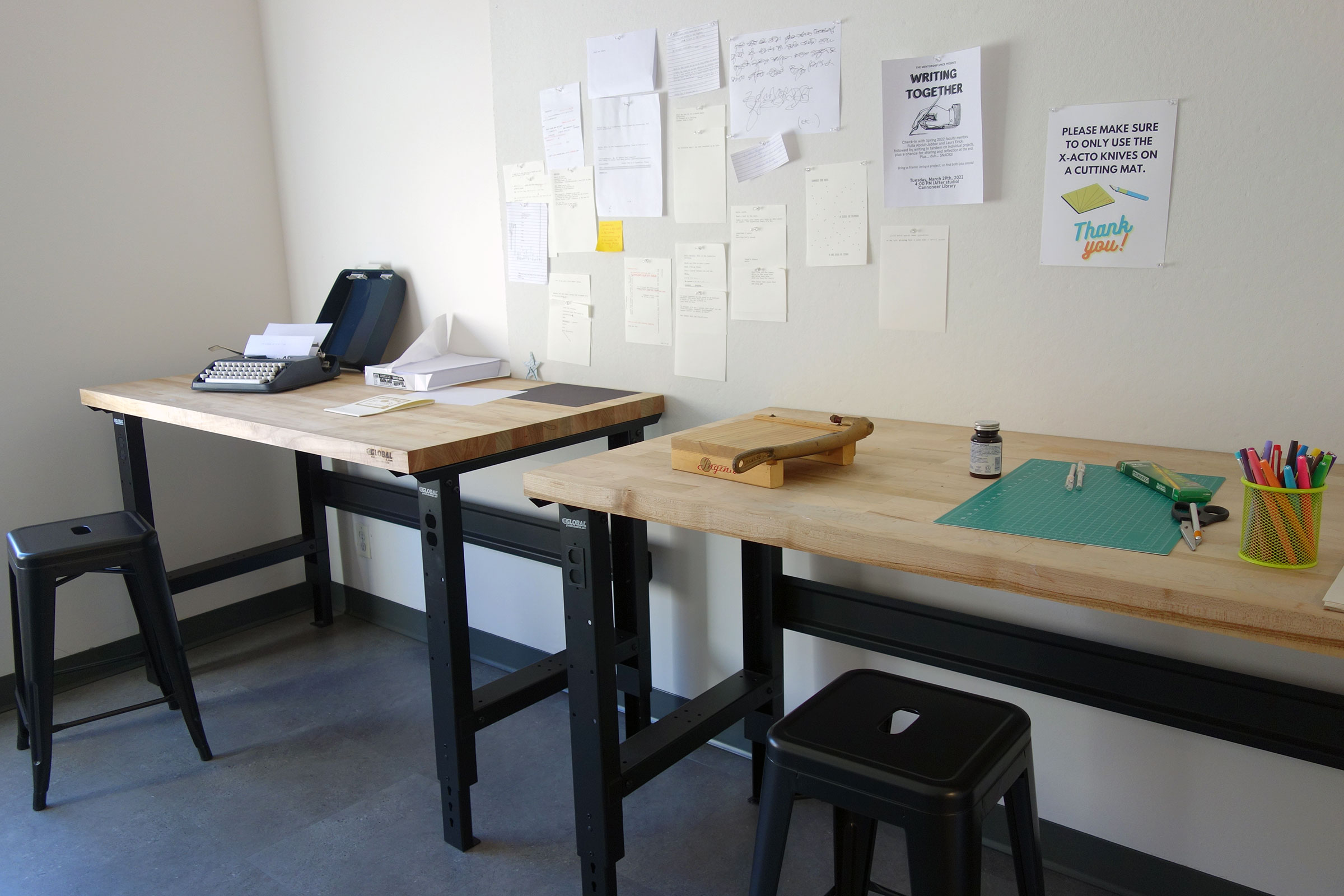 The distinct needs of different years of students are considered in the studios, such as the critique sessions in the MFA program that are modeled on those in an art school and the accessibility of the studios for BFA students living in the residence halls. As the department features courses in fabric bookmaking, graphic novels, and digital poetry, the studios take an inclusive approach to what writing can be. A maker space supports the interdisciplinary focus of the department, with materials like vintage typewriters and paper for collage, while a free copy room allows students to create zines or other DIY publications. A planned podcasting space will provide another area for projects like spoken word or combining music and writing.
"One thing the writing department prides itself on is that we offer students a lot of flexibility in terms of medium, formats, and ways of writing," Barbadoro said. "We don't encourage them to just stick to poetry or prose or nonfiction. We really want them to work across all those things. Relating to that, we are encouraging multidisciplinary writing projects that don't prioritize one form of expression over another."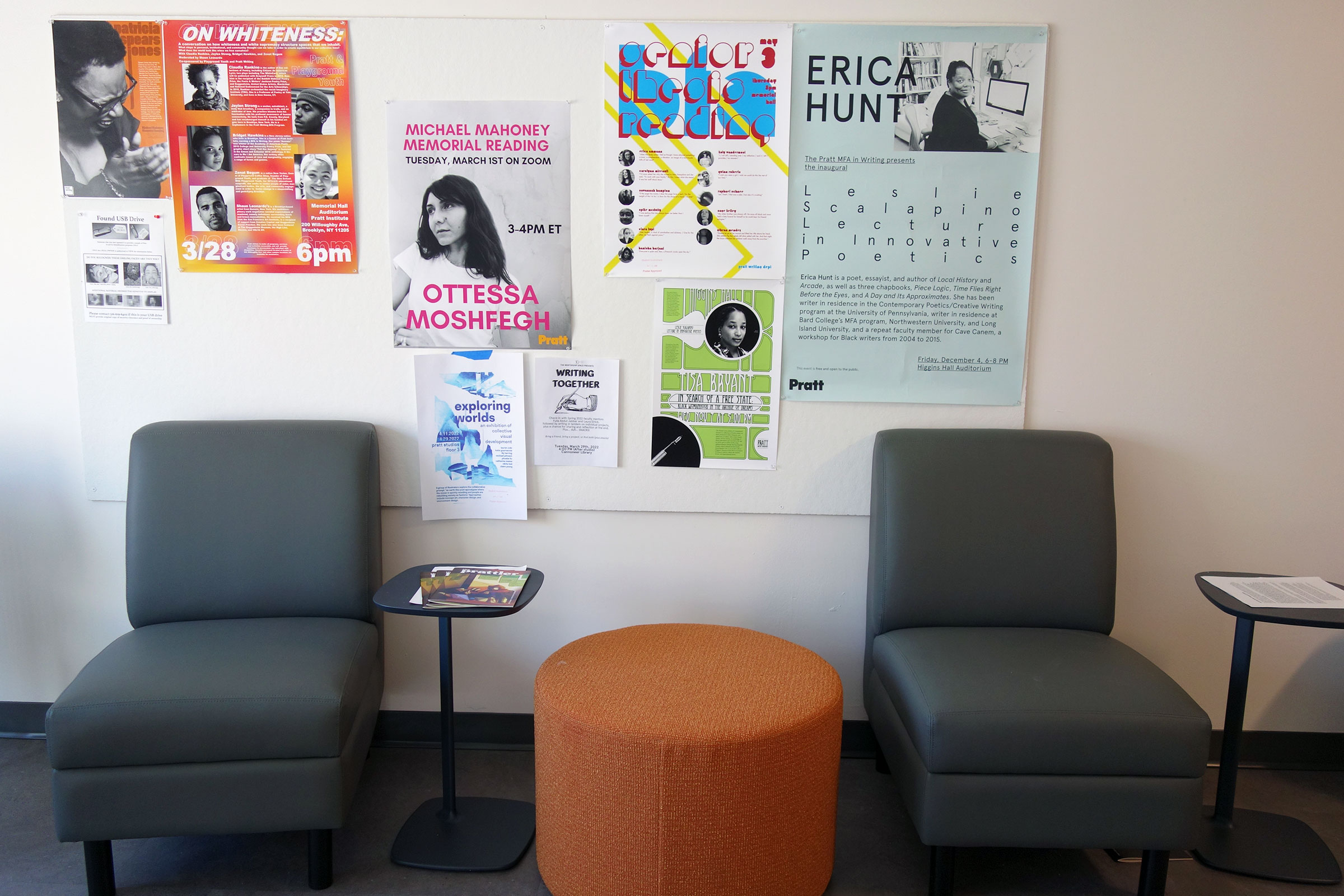 This includes installations and interventions within the studios, such as a piece recently installed by Cassandra Bristow, BFA Writing '22, that covers a wall in a conference room with poetry and artificial flora. Outside the writing studios in Cannoneer's courtyard is the Textile Dye Garden, where Fashion Design students are planting and cultivating flowers and other plants for natural dyes. The Writing students can easily join dye workshops or hold readings in the garden. The hallways of the writing studios are also a communal space for sharing flyers about happenings on campus and beyond, connecting students to the local writing scene. For instance, Visiting Assistant Professor Laura Henriksen is involved in the Poetry Project based at St. Mark's Church-in-the-Bowery, and the writing students design and complete "fieldwork residencies" with literary collectives around the city, such as the Nuyorican Poets Cafe and Wendy's Subway. The Writing Department also has an ongoing partnership with the community organization the Octavia Project, and this summer will host their summer workshop in the studios and maker space.
The writing studios continue to evolve, with students welcome to bring in posters, art, or other objects to make the space their own. They will change with each incoming class as they find ways to express their voices and visions in a place that encourages experimentation with words.