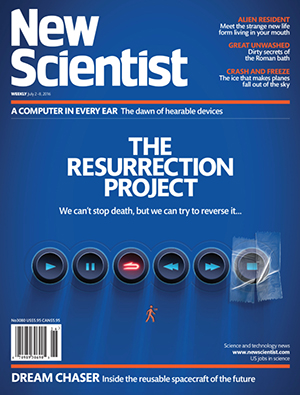 New Scientist magazine recently published an article about a cryopreservation initiative developed by the biomedical research nonprofit The Stasis Foundation. The director and architect for the project is Stephen Valentine, graduate of Pratt's School of Architecture.
The article by Helen Thomson was part of New Scientist's July 2016 cover feature titled "The Resurrection Project," which explores the field of cryonics, in which a person's body is frozen just after death in the hope that it may be reanimated at some future time. The Stasis Foundation was profiled for its 600-plus-acre site known as Timeship in Comfort, Texas, where it will build the world's largest structure devoted to the cryopreservation of bodies, cells, tissues, and organs.
The Director of Research for the project is John Lobell, professor of undergraduate architecture.
Lobell, who teaches classes in the history and theory of architecture at Pratt, has written extensively on topics ranging from emerging technologies to architecture and cultural theory. His most recent book is Visionary Creativity: How New Worlds are Born, published in 2015.
The New Scientist feature can be found here. Find more information about Timeship here.