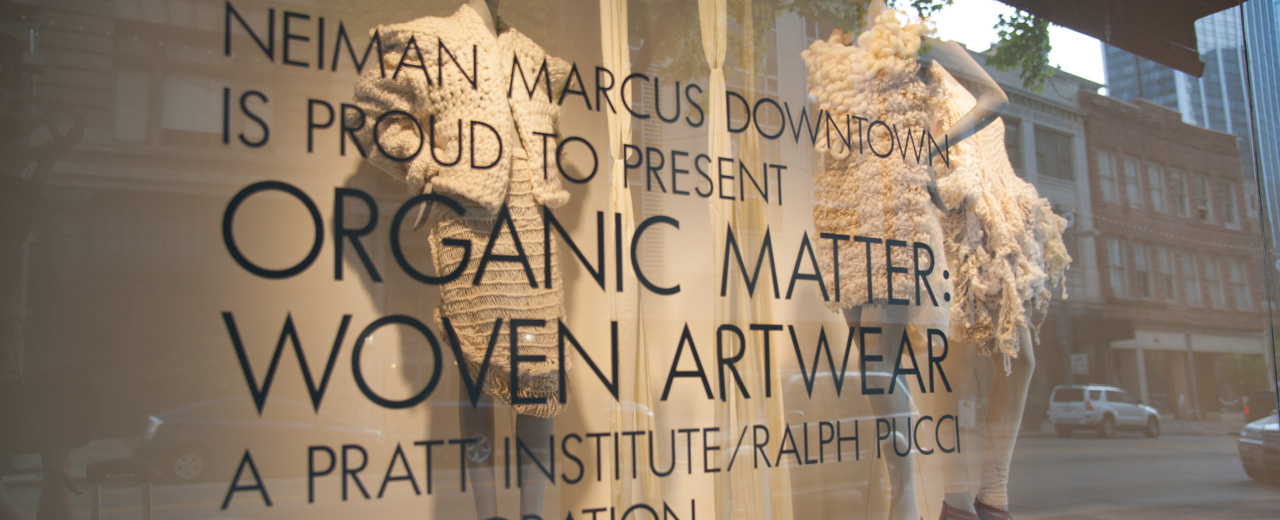 Organic Matter: Woven Artwear, an exhibition featuring the innovative woven apparel by Pratt Fashion students, is on a national tour. It was first exhibited in Ralph Pucci International's showroom, then in the windows of Macy's Herald Square store in Manhattan, and has now traveled to the windows of Neiman Marcus's flagship location in Dallas, where it will be displayed through April 20.
The students featured in Organic Matter were challenged to rethink the form, function, and design of knitwear as fine art. The project was developed through partnership between Pratt Institute and Ralph Pucci International, the world-renowned high-end mannequin, lighting, furniture, and sculpture company. Pucci, a Pratt Trustee, Pratt Fashion Chair Jennifer Minniti, and Assistant Professor Susan Cianciolo, who led the project, selected the featured work. The yarns for the student projects were generously donated by Lion Brand Yarn.
On April 11, a private reception was held at the iconic retailer's downtown location. The event was timed to coincide with the Dallas Art Fair. Among the guests were native Texan Pratt students with works among those in the exhibition, and local alumni of the Institute.
Photo: Holly Kuper