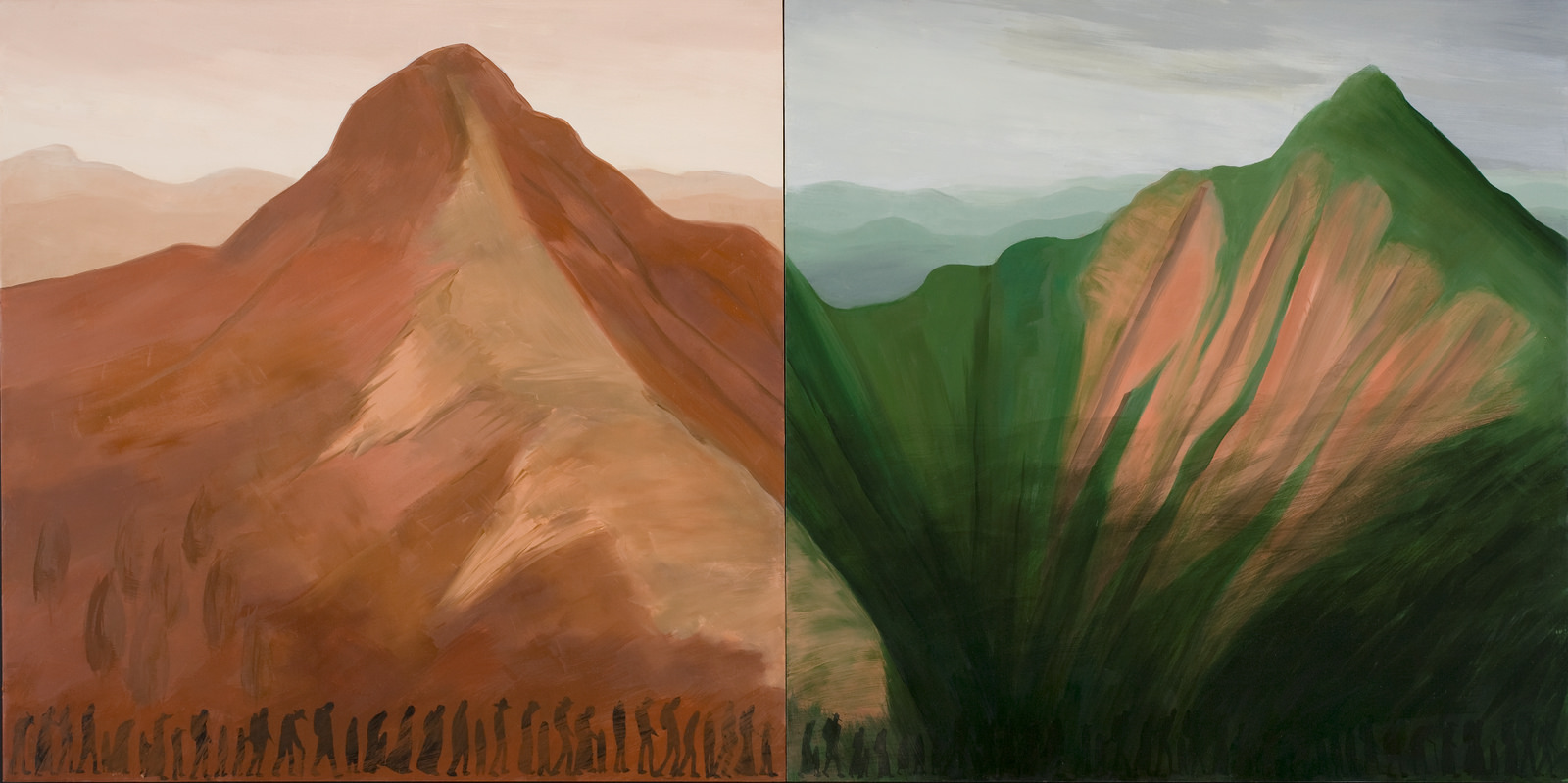 Celebrated artist and Pratt alumna Kay WalkingStick (M.F.A. '75) is the focus of a major retrospective at the Smithsonian National Museum of the American Indian in Washington, D.C., which opened to the public on November 7 and will be on view through September 18, 2016.
The exhibition, Kay WalkingStick: An American Artist, includes more than 65 of WalkingStick's most notable paintings, drawings, sculptures, notebooks, and diptychs, following her artistic career over more than four decades. WalkingStick, a citizen of the Cherokee Nation, is best known for her distinctive approach to painting and for her diptychs, side-by-side square paintings in which she portrayed landscapes inspired by her home and travels alongside abstract panels representing spiritual or "mythic" memories.
A special symposium was held at the Museum on November 5 to celebrate the opening of the show. Moderated by the exhibition's curators Kathleen Ash-Milby and David Penney, the program featured distinguished scholars, artists, and curators who discussed WalkingStick's renowned work to infuse fresh perspective into dialogue about contemporary American art.
WalkingStick has continued to draw on her experiences at Pratt through her career. "My years at Pratt were truly exciting ones, and prepared me not only for the New York art world but also my years teaching at Cornell," she said.
Following her first solo exhibition in New York City in 1969, WalkingStick has shown her work in more than 30 solo and group exhibitions both nationally and internationally. In 1995, she was the first Native American artist to be included in H.W. Janson's History of Art (fifth edition). Her work is in the collections of several museums, including the Metropolitan Museum of Art and the National Gallery of Canada. WalkingStick is the recipient of numerous awards, including grants from the Pollock-Krasner Foundation, The National Endowment for the Arts, and the Eiteljorg Fellowship for Native American Fine Art.
An exhibition of new paintings by WalkingStick opened at June Kelly Gallery in Manhattan on November 19 and will be on display until January 5. The gallery's director, June Kelly, is a member of Pratt Institute's Board of Trustees.
Image: Kay WalkingStick (Cherokee, b. 1935), Farewell to the Smokies, 2007. Oil on wood panel, 36 x 72 x 1 in. Denver Art Museum: William, Sr., and Dorothy Harmsen Collection, 2008.14. Photo courtesy of the Denver Art Museum.