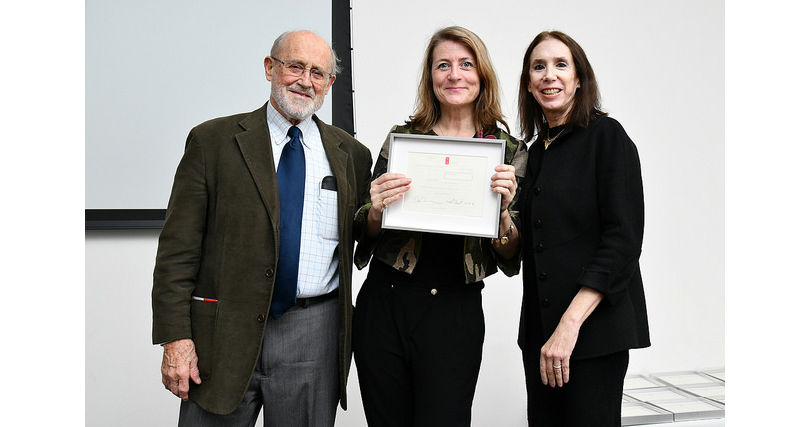 Pratt Fine Arts Chair Jane South and alumna Kay WalkingStick, MFA '75 and Doctor of Fine Arts honorary degree recipient '16, have been elected to membership of the prestigious National Academy of Design as National Academicians. The two were inducted with the other National Academicians Class of 2018 in a ceremony held on November 8 at the National Academy of Design in Manhattan.
National Academicians are professional artists and architects who represent some of the most distinguished practitioners in their respective fields. Elected by current National Academicians in recognition of their exceptional contributions to American art and architecture, the Academy's Class of 2018 represents a commitment to preserving the cultural heritage of the United States and pushing creative boundaries.
The National Academicians Class of 2018 joins a distinguished group of more than 400 living members, with more than 2,300 artists and architects elected since the founding of the Academy in 1825.
South, who joined Pratt as Fine Arts Chair in July 2017, is known for her dynamic approach to practice and work that cuts across disciplines. South has exhibited widely in the United States and abroad, including at venues such as The Museum of Arts and Design (MAD), New York; The Weatherspoon Museum, North Carolina; The Whitney Museum of American Art at Altria, New York; MASS MoCA, Massachusetts; and Nassauischer Kunstverein, Wiesbaden, Germany. Learn more about her work.
WalkingStick, a citizen of the Cherokee Nation, is best known for her distinctive approach to painting and for her diptychs, side-by-side square paintings in which she has portrayed landscapes inspired by her home and travels alongside abstract panels representing spiritual or "mythic" memories. She was the subject of a large retrospective exhibition at the Smithsonian's National Museum of the American Indian in 2016, and her work has been shown in venues across the United States as well as in Canada and Europe. Learn more about her work.
South and WalkingStick join a number of Pratt-affiliated National Academicians, including alumni Annabelle Selldorf, BArch '85; Pat Steir, BFA Graphic Arts '62; Mickalene Thomas, BFA Painting '00; and James Turrell, Doctor of Fine Arts honorary degree recipient '15.
Learn more about the National Academicians Class of 2018 and the National Academy of Design.
Images: (top) L-R: Bruce Fowle, National Academician and President of the National Academy of Design; Jane South, Pratt Fine Arts Chair; and Wendy Evans Joseph, National Academician and Vice President of the National Academy of Design; (inset) National Academicians Class of 2018: back row, L-R: James Timberlake, Stephen Kieran, Njideka Akunyili Crosby, Margrit Lewczuk, Cora Cohen, Merrill Elam, Hermine Ford, Jane South, Patricia Cronin, Judy Glantzman, Fred Tomaselli, Jennifer Guthrie, Martha Diamond, Sarah Walker, Marlon Blackwell, Bruce Fowle (ANA 1991, NA 1994, PNAD 2011 – Present), and Don Porcaro; Front row(L-R): Kay WalkingStick, Jimmy Wright, Lisa Hoke, Peter Williams, Joyce J. Scott, James Wines, Petah Coyne, Judith Linhares, Deborah Luster, and Deborah Kass (not pictured: Shimon Attie, Mel Chin, Dawn Clements, Angela Dufresne, Jennifer Guthrie, Byron Kim, Fumihiko Maki, Vik Muniz, and Shannon Nichol, and Hank Willis Thomas). Photos by Jared Michael Siskin.