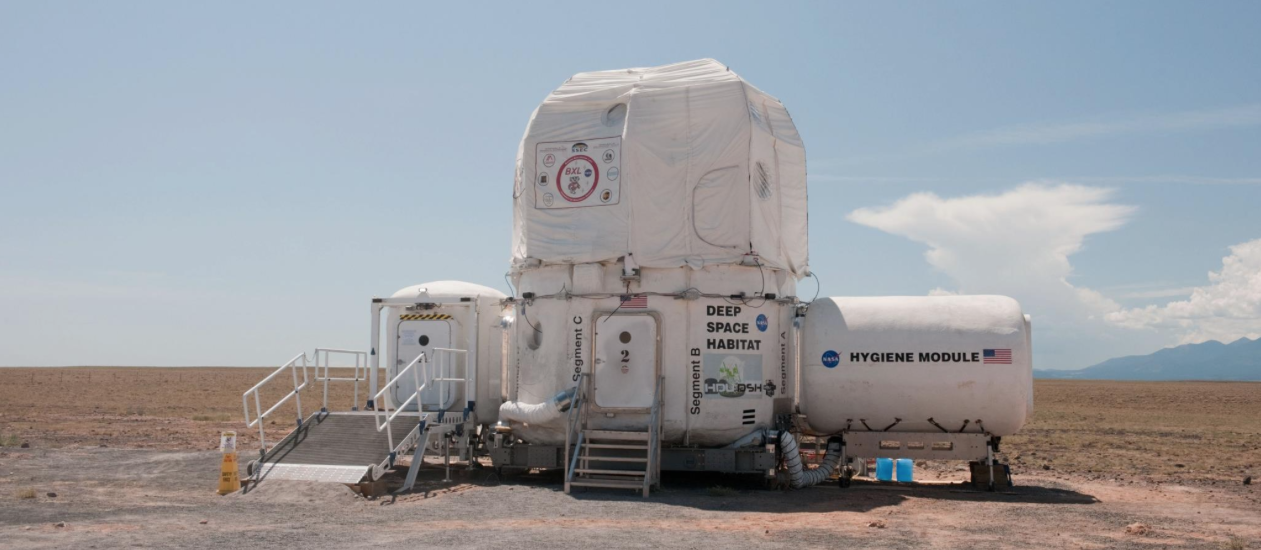 In a challenge presented by NASA, Pratt students are being inspired to address design concerns related to space travel. For an interdisciplinary studio class led by Adjunct Assistant Professor of Architecture Michael Morris and Adjunct Associate Professor of Industrial Design Rebeccah Pailes-Friedman, the upper-level undergraduate and graduate students are working on the eXploration Habitat (X-Hab) 2016 Academic Innovation Challenge "Human Centered: Designs for the Mars Transit Habitat," a NASA project collaboration with academic institutions to develop a transit habitat, or module, for the exploration of Mars.
The Pratt students, who are enrolled in the Institute's architecture and industrial design programs, will design and build a full-scale prototype of the habitat, and will present their project on the deck of the Intrepid Sea, Air & Space Museum in the summer of 2016. They will travel with faculty to NASA's Johnson Space Center or Marshall Space Flight Center later this fall to present their work to NASA scientists, doctors, and engineers, and to discuss and present their research and projects.
Both Morris and Pailes-Friedman have incorporated NASA collaboration projects into their teaching in the past. Morris, who joined Pratt's School of Architecture faculty in 2015, formerly taught Space (Architecture) Studio at Columbia University's Graduate School of Architecture. Founded in 2006 by Morris's late wife-and-partner Yoshiko Sato, Space Studio has established a near decade-long academic and professional association with NASA and recently, as team leader of a group of eight architects, took home the top prize in NASA's 3D Printed Habitat Challenge for their project, Mars Ice House. At Pratt, Pailes-Friedman's wearable technology studio class collaborated on a project for NASA's WEAR lab to design garments for astronauts on the International Space Station.
"Industrial designers are used to thinking about an item or a product, while architects focus on space," said Morris. "The X-Hab Project will encourage students to think in new ways and stretch their creative boundaries. Professor Pailes-Friedman and I are looking forward to working together in this studio. It's a terrific opportunity for our students to collaborate across disciplines."
The studio will also challenge students to bridge the imaginative possibilities of space exploration with the more down-to-earth demands of creating a design that can be built. "The students are really excited by this project and the prospect of visiting NASA. Not only will they have the chance to develop the design, but creating a full-scale prototype will be a huge learning experience for them," said Pailes-Friedman.
The project offers the opportunity for both problem-solving and innovation. "Our team at NASA looks forward to these opportunities to engage academia in helping us path find new solutions to the challenges of exploration, and this opportunity to work on the transit habitat concept with Pratt Institute is a perfect example," said Tracy R. Gill, X-Hab Program Coordinator, NASA/Kennedy Space Center.
The X-Hab project will involve establishing the size and layout of a space designed to accommodate eating, sleeping, exercise, hygiene, and other functions needed to support the health and wellbeing of crewmembers living for an extended period of time in the microgravity environment of space while mitigating the effects of isolation, confinement, and other stressors. The studio began this fall and will continue through the 2015-2016 academic year.
Image: Deep Space Habitat and X-Hab Loft, the 2011 version of the deep space habitat at NASA's Desert Research and Technology Studies (Desert RATS) analog field test (photo: NASA)