Myrtle Hall, Pratt's 120,000-square-foot green academic and administrative building on the Myrtle Avenue commercial strip in Clinton Hill, Brooklyn, was named winner of the 2011 MASterworks Award in the Neighborhood Catalyst category by the Municipal Art Society of New York. The award recognizes a project that has been a medium for change in its neighborhood; Myrtle Hall was selected for its thoughtful design and success as a neighborhood catalyst "because of the way it engages with the growing commercial bustle of Myrtle Avenue." The award will be presented at the 2011 MASterworks Awards ceremony on October 18 in Manhattan.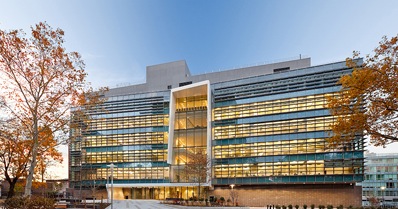 The building, which is located at 536 Myrtle Avenue between Grand Avenue and Steuben Street, was designed by multi-disciplinary architectural firm WASA/Studio A under the leadership of principal Jack Esterson, who received a bachelor's degree in architecture from Pratt in 1975.
Myrtle Hall recently met the United States Green Building Council standards for LEED (Leadership in Energy and Environmental Design) Gold certification based on its eco-features that include exterior sun shades; a green roof that absorbs rainwater, reflects heat, and sequesters greenhouse gasses; and solar photo-voltaic panels that generate on-site electricity. It is the first higher education building project in Brooklyn to receive any LEED certification and the first academic building to receive a LEED-gold certification in Brooklyn.
The mixed-use structure located one block from the main campus is symbolic of Pratt's deep and broad commitment to the environment and community. The structure's siting, landscaping, material selection, environmental systems, and overall design philosophy are all strongly oriented toward serving Pratt and the larger Clinton Hill community for decades to come while minimizing environmental impact and resource consumption. It serves as a physical manifestation of Pratt's commitment to sustainable design education and will further promote the revitalization of Myrtle Avenue, which has undergone a major transformation in recent years.
Organized annually by the Municipal Art Society, the MASterworks Awards recognize projects from the preceding year that exemplify excellence in architecture and urban design, and make a significant contribution to New York's built environment. This year's jury included Rafael Pelli, principal, Pelli Clarke Pelli Architects; Deborah Berke, principal, Deborah Berke & Partners Architects; Marc Kushner, principal, HWKN and founder of the website Architizer.com; and Charles Bendit, co-chief executive officer, Taconic Investment Partners.
Awards were also given for Best New Building (tie between Hypar Pavilion by Diller Scofidio + Renfro and Sperone Westwater by Foster + Partners), Best Restoration (Queens Theatre in the Park by Caples Jefferson Architects), and Best Green Design Initiative (High Performance Landscape Guidelines prepared by the Design Trust for Public Space in partnership with the New York City Department of Parks and Recreation). The Whitlock Avenue Subway Station by MTA Architects received an honorable mention in the Neighborhood Catalyst category.
Photo: South side of Myrtle Hall from Willoughby Avenue. Photo Credit: Alexander Severin/RAZUMMEDIA.