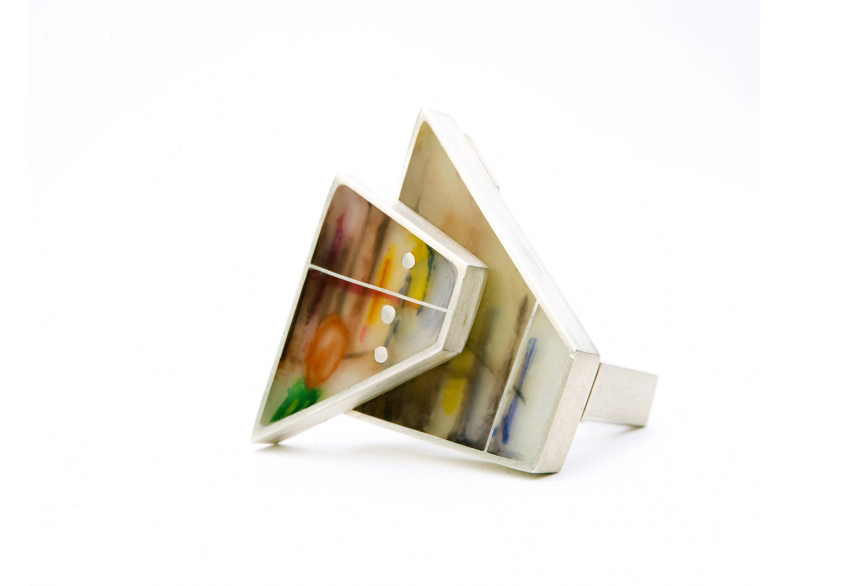 Andrea Rosales-Balcarcel (B.F.A. Jewelry '16) will sell works from her senior thesis collection alongside renowned jewelry artists from around the world at LOOT: MAD about Jewelry, an annual juried sale and exhibition at the Museum of Arts and Design in New York City. The exhibition, which is now in its 17th year, will be held from April 3-8. The show will feature designs from more than 50 emerging and acclaimed international jewelry artists.
Rosales-Balcarcel will display the playful, colorful pieces from her thesis collection, "Walking Manhattan," which use layering and watercolor to illustrate the individual experience of walking in New York City, as well as new works based directly on the collection. Rosales-Balcarcel developed the concept for the collection through her own experience exploring the city, and collected sketches, photographs, and objects along the way that she later weaved into her work.
This marks the fifth year that Pratt students have participated in LOOT, which showcases work from both emerging and acclaimed jewelry designers and gives them the opportunity to network with artists, curators, buyers, and collectors while gaining practical insights into presenting their collections.
Fine Arts Jewelry Professor Katrin Zimmermann has also been selected to exhibit at LOOT this year. Zimmermann, who teaches a Senior Jewelry Seminar at Pratt, is the founder and designer of Ex Ovo. Her pieces have been featured in publications such as Vogue and Glamour, and worn by celebrities including Halle Berry, Kate Moss, Veronica Webb, and many others.
Find more information about LOOT: MAD about Jewelry.
Image: Andrea Rosales-Balcarcel (B.F.A. Jewelry '16), from "Walking Manhattan"