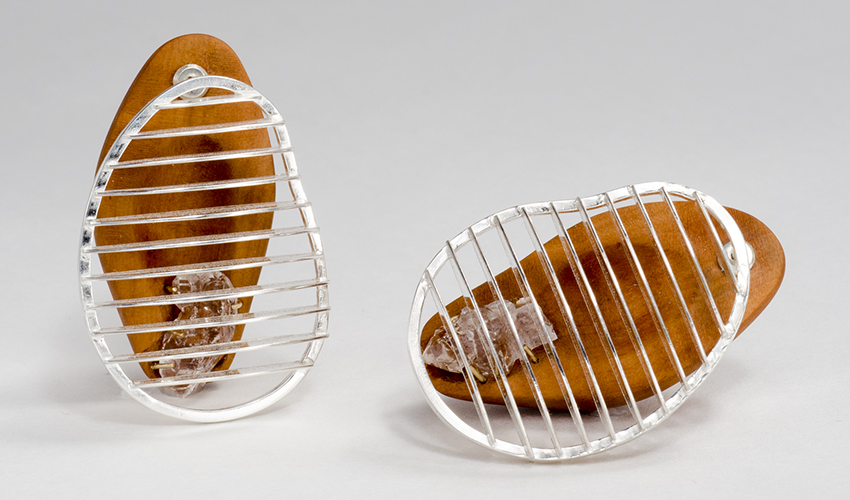 Casey Sobel (B.F.A. Jewelry '15) and Fangding "Andie" Xu (B.F.A. Jewelry '15) will sell work from their thesis collections alongside renowned jewelry designers at LOOT: MAD about Jewelry, the 15th annual juried sale and exhibition at the Museum of Arts and Design from September 29 through October 3.
This marks the fourth year that Pratt students have participated in the event, which showcases unique artist-made jewelry and offers the public the rare chance to acquire pieces on-site from some of today's most innovative jewelry artists. This year, the show's 55 featured artists are from 21 countries.
Sobel's senior thesis collection, titled "STATERA," uses clean, geometric forms and hollow form construction techniques to create wearable sculptural jewelry. Her work highlights the beauty of form and considers the body as a sculptural site.
Xu creates wearable sculptures using both precious and non-precious materials. Her senior thesis collection, titled "Aurora," is inspired by the Taoist idea of luminous emptiness and features lightweight metal structures and hard-carved wooden elements.
The show will give Sobel and Xu the opportunity to network with other jewelry artists, curators, buyers, and collectors, and gain practical insights into presenting and selling their creations.
More information about LOOT: MAD about Jewelry can be found here.
Image: Fangding Xu (B.F.A. Jewelry '14), Aurora Earrings (photo: David Butler)