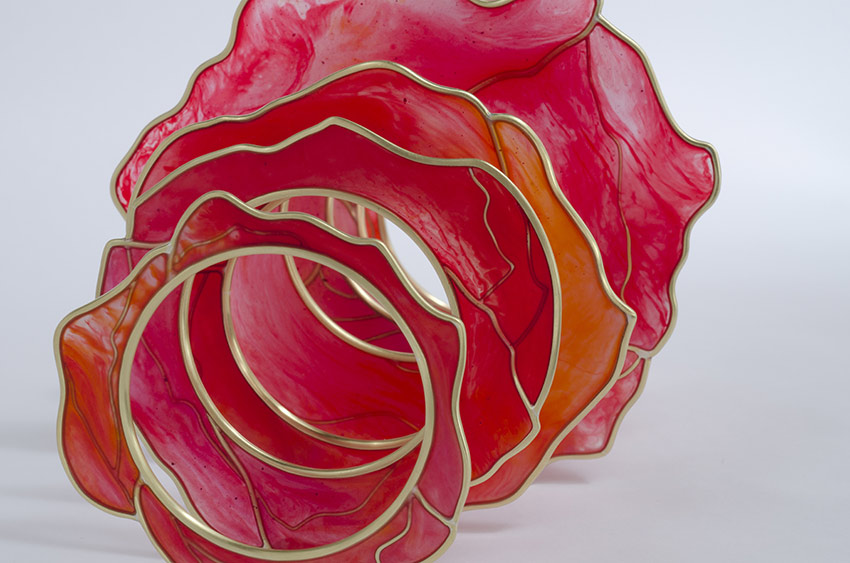 Three recent graduates from Pratt Institute's studio jewelry program in the undergraduate Fine Arts Department will sell their thesis work alongside celebrated jewelry designers from around the world at LOOT: MAD About Jewelry at The Museum of Arts and Design from October 7–10, 2014.
The Museum's annual juried sale and exhibition is a diverse and vibrant display of unique, artist-made jewelry that offers the public the rare opportunity to acquire pieces directly from some of the most innovative jewelry artists working today.
LOOT: MAD About Jewelry will feature the creations of 50 emerging and acclaimed jewelry artists, including Pratt alumni Shuoyuan Bai (B.F.A. Jewelry '14), Lisa Lee (B.F.A. Jewelry '14), and Lauren Pineda (B.F.A. Jewelry '14).  This will be the third year in which Pratt students have participated.
Bai's senior thesis collection was inspired by Zen Buddhism and a Zen rock garden. "In my jewelry I want to create the same peacefulness and tranquility," he explains in a short video on his work and design process that can be viewed here.
Lee chose to use the shape and form of letters as inspiration for her senior thesis collection, turning words and letters into stunning jewelry designs.
Pineda drew on her experience visiting slot canyons on a Navajo national reserve in Arizona to capture the visual drama of the terrain in her designs.
The show will give the three Pratt alumni the opportunity to network with other participating jewelry artists, curators, and visitors and gain practical insights on presenting and selling their work.
For more information, visit the Museum of Arts and Design website here.
Image: Lauren Pineda (B.F.A. Jewelry '14), Journey to the Earth (credit: David Butler)