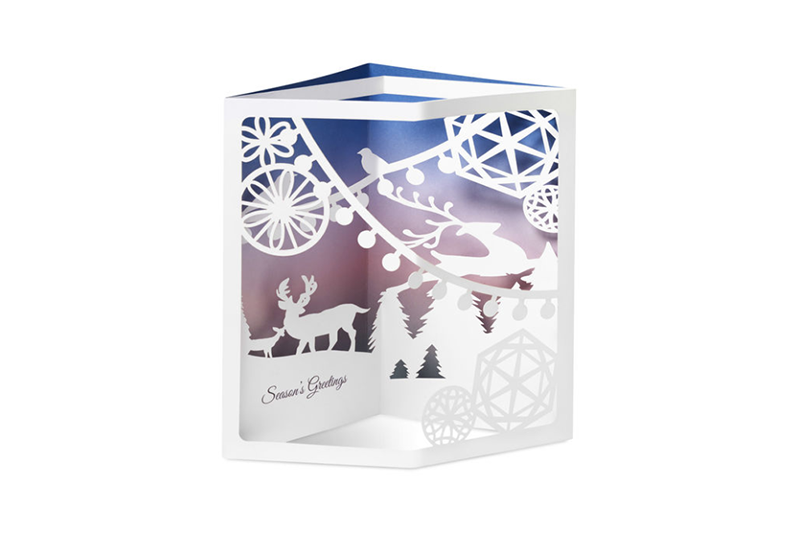 A pop-up card designed in 2016 by Risa Takeuchi, BFA Communications Design '17, in the Pop-up Paper Engineering course at Pratt was selected as a winner of the Museum of Modern Art's Holiday Card Program. The 3D laser die-cut card, which features a winter wonderland scene, is available at the MoMA Design Store.
Visiting Instructor of Undergraduate Communications Design Kyle Olmon has been teaching Pop-up Paper Engineering at Pratt since 2005. The course's final assignment is based on the annual MoMA Holiday Card Program, a call for "cards that embrace the spirit of the holidays," and unique designs with "the element of surprise." Takeuchi, who combines the classic and the modern in her work, is the first of Olmon's students to win the competition with a design originating in the course.
The semester-long elective was introduced in 1995 by celebrated children's book creator and Pratt Fine Arts alumnus Robert Sabuda, who was also a Pratt faculty member, to spur a new generation of pop-up book artists. Over 16 weeks, class participants learn the fundamentals of paper structure and movements as a 3-D and 4-D way to illustrate images or ideas. The course brings the world of pop-up books and cards, movable artists books, and dimensional advertisement to students as they work to create increasingly complex pop-up cards and paper-engineered projects through the semester.
See Takeuchi's winning design at the MoMA Design Store.