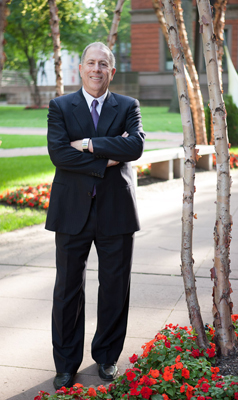 MILGO/BUFKIN CEO Bruce Gitlin has been elected Chair of Pratt Institute's Board of Trustees. He will assume the position on July 1, 2012, succeeding Mike Pratt, a descendant of Pratt Institute founder Charles Pratt and President and Executive Director of the Scherman Foundation, who has served as chair since 2007. Gitlin, whose father graduated from the Pratt School of Engineering in 1936, has served on the Pratt Board since 1997, leading its Buildings and Grounds Committee as it has transformed the Pratt campus into a showplace of sculpture and design.

"Bruce Gitlin possesses both the business acumen and the art and design expertise to lead Pratt and build on the reputation that the Institute has developed as a leader in creativity and innovation for the 21st century," said Pratt Institute Board Chair Mike Pratt, who will remain on the Institute's Board. "I look forward to working with Bruce to continue to enhance Pratt's role as the world's foremost training ground for visionary practitioners in the creative professions."

Gitlin is the third generation in his family to head MILGO/BUFKIN, the Brooklyn-based, internationally renowned metal fabrication company. Under Gitlin's leadership, MILGO/BUFKIN has pioneered cutting-edge technologies while maintaining its tradition of old-world craftsmanship. The firm's almost 100 years of experience in fine metal work has produced innovative creations integral to landmark architecture around the world. MILGO/BUFKIN has also fabricated thousands of monumental sculptures for hundreds of famous artists. Gitlin is also a major collector of contemporary painting and sculpture.

"With Pratt's international reputation for creative and academic excellence in fields ranging from architecture and design to information science, the Institute is poised to play a major role in transforming the way people experience, interact with and sustain their environments," said Gitlin. "Pratt has already made a profound difference in Brooklyn's and New York City's social and cultural landscape, and I look forward to working with President Thomas F. Schutte and my fellow trustees to make Pratt a global model of socially-conscious innovation."

Gitlin, a native New Yorker, received a Bachelor of Science degree in Metallurgical Engineering from Lehigh University in 1963. An avid sportsman, he is also a member of the Board of Directors of The Alaska Wilderness League, which promotes the preservation of the wild lands of Alaska. A former national-level college competitor in soccer, swimming, lacrosse, and rugby, Gitlin remains a serious skier, kayaker, and wilderness explorer. He lives in Manhattan with his wife, the New York attorney Carol A. Schrager, and has three children.
Image: Bruce Gitlin in front of Newman Mall on Pratt's Brooklyn Campus. Photo: Rene Perez
MEDIA CONTACT:
Amy Aronoff at 718-636-3554 or aarono29@pratt.edu