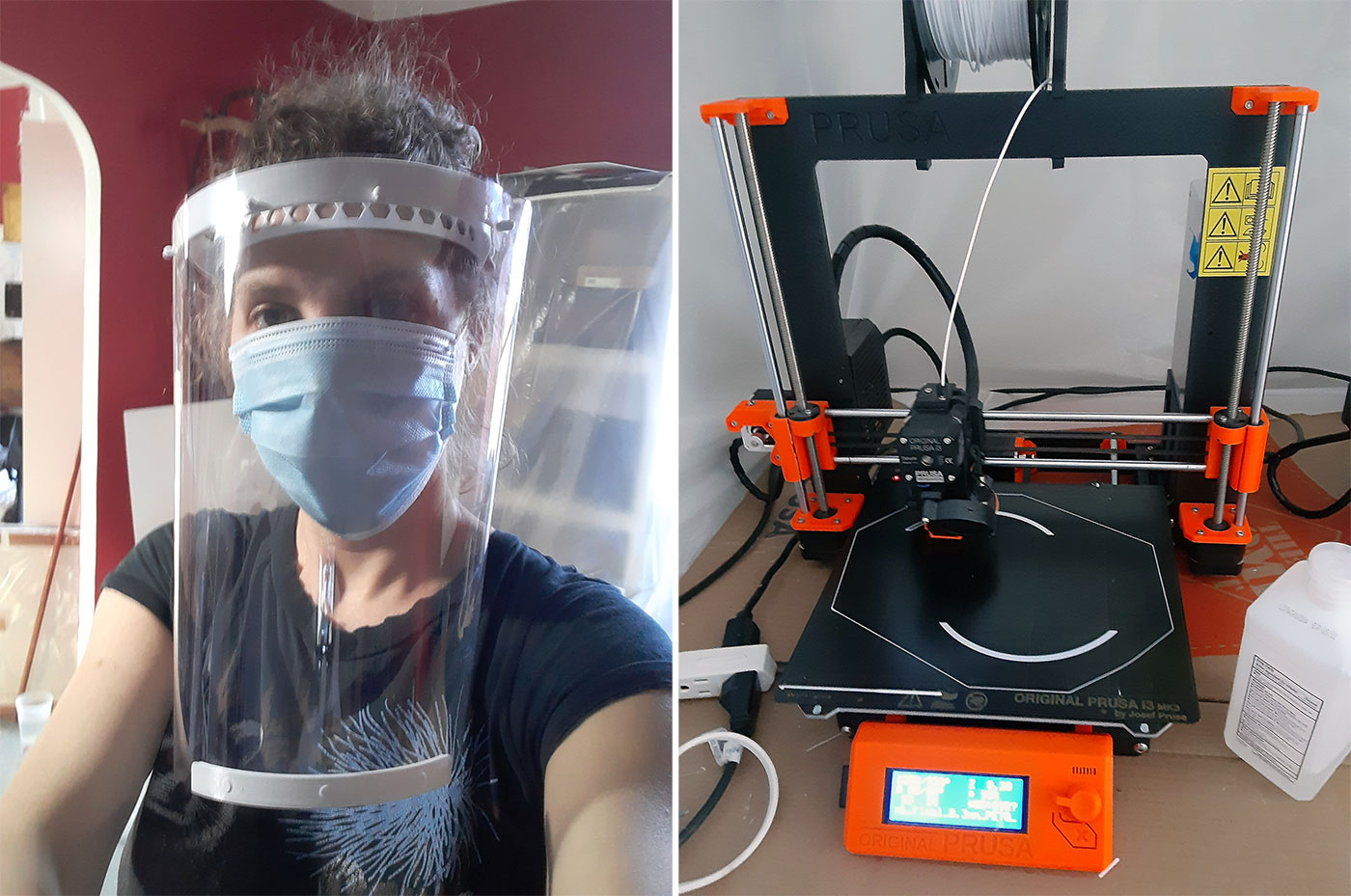 Luba Drozd, BFA Computer Graphics '06, making face shields with the 3D printer in her apartment (courtesy Luba Drozd)
This is the first in a series of posts exploring how the Pratt Institute community is rallying its creative resources to help with the challenges of COVID-19. In this story, we highlight how individuals are taking action to create PPE for healthcare workers and others in need.
With the increase of COVID-19 cases, healthcare workers and others in need of masks, medical supplies, and other PPE (personal protective equipment) have faced dwindling resources. Members of the Pratt Institute community are adapting their skills to meet this incredible challenge, whether it's 3D-printing face shields or donating supplies from their studios.
While face shields and homemade masks are not substitutes for the heavy-duty N95 respirator masks, they offer some protection and can cover the scarce N95 and surgical masks to extend their usage. Clarissa Hurst, BFA Painting '20, turned her small Brooklyn apartment into a DIY workshop to sew masks for Masks4Medicine, a homemade mask campaign organized by New York City doctors.
Finding space among all the art and supplies she'd brought home from her campus studio, she got to work on her sewing machine turning tight-knit cotton and elastic into masks. "I feel that if someone is in need of help, and I am able to help, I will, it's just that simple," Hurst said. "As artists and idea makers, and just as people, we have power to make the world a better place."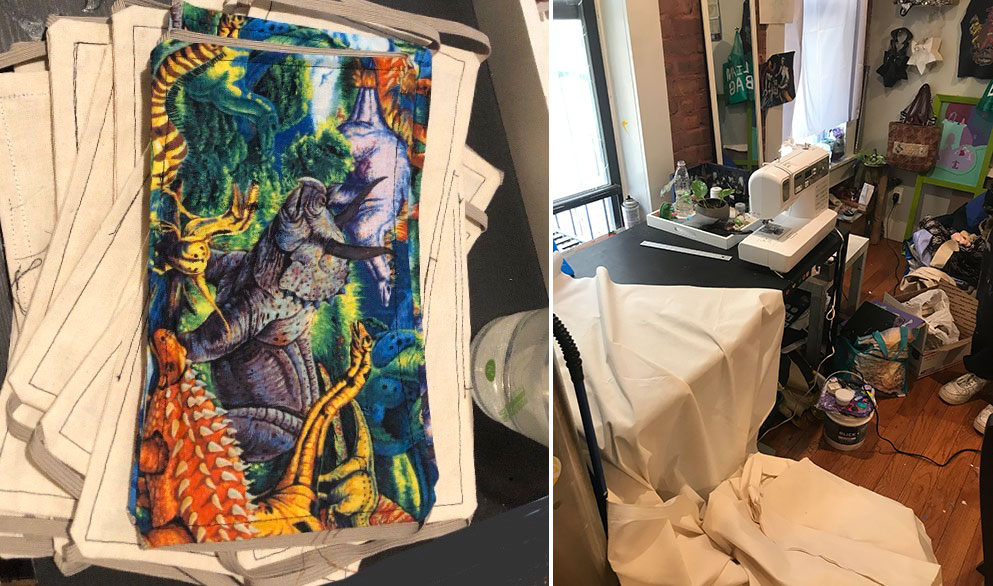 Clarissa Hurst, BFA Painting '20, sewing masks in her Brooklyn apartment (courtesy Clarissa Hurst)
Designers and artists throughout the Pratt community are likewise using their home sewing machines to help with the mask scarcity, such as Jane South, Chair of Fine Arts, who has been using her studio to sew small orders of pay-what-you-wish masks with the funds going to the NYC COVID-19 Response & Impact Fund. "As I know most of the people who are requesting them, I'm thinking about the individual while I am making their mask so they are becoming rather bespoke," South said. Still others are bringing essential positivity to doctors and nurses in overwhelmed healthcare spaces: Susan Cianciolo, Assistant Professor of Fashion, and Harry Moritz, BFA Sculpture '15, are among several artists who have contributed inspirational posters to a pop-up gallery in the break room at Lenox Hill Hospital in Manhattan.
Others are using home studios to 3D-print components for face shields. Luba Drozd, BFA Computer Graphics '06 and a former Digital Arts faculty member, was reading about how 3D-printed medical valves in Italy were helping in the crowded hospitals and she started to look for ways to get involved in something from her Brooklyn apartment. "I wondered if there was a simple and effective solution to create protection for doctors and nurses that was immediate and easy to construct," she said. In her research, she came across a 3D-printed armature for a face shield with a laser-cut acrylic visor and created her first prototype on March 21.
"Because I didn't have a laser cutter or acrylic, I used a roll of acetate from my studio practice, single hole puncher, and a glue gun to create a template and a prototype," she said. She also made her shield wider and longer to protect a larger area of the head and neck. The following day, she had 12 shields to deliver; in seven days, she had donated 110 shields to health workers in New York City hospitals and was raising funds to support other groups and individuals doing their own printing.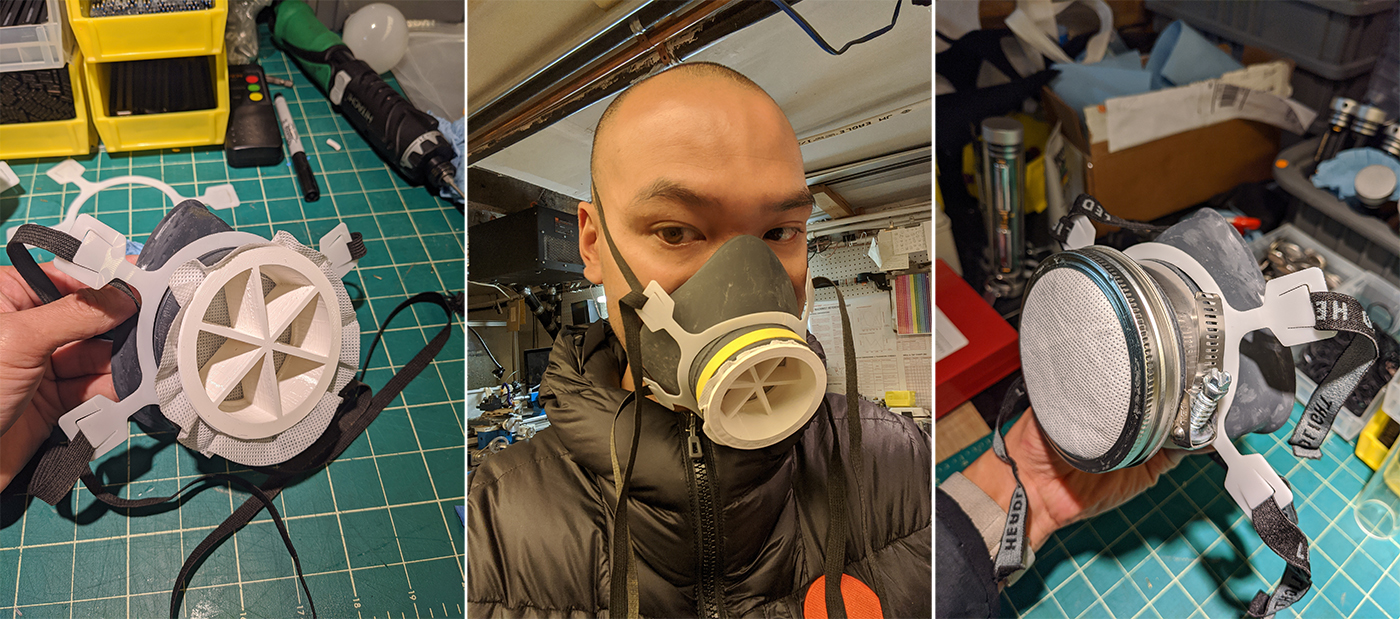 Che-Wei Wang, BArch '03 and Adjunct Assistant Professor of Undergraduate Architecture, designing and prototyping a respirator mask (courtesy Che-Wei Wang)
Che-Wei Wang, BArch '03 and Adjunct Assistant Professor of Undergraduate Architecture, likewise has been exploring how to use prototyping to support healthcare needs through his art and design practice CW&T. "The past two weeks, I've been spending almost 100% of my time designing and prototyping an open-source, filter media-agnostic respirator alternative with a brilliant team at Helpful Engineering," he said. Their latest design involves an injection-molded mask that can hold material that filters the air. They're putting it through the National Institute for Occupational Safety and Health (NIOSH) testing to ensure it could be used in a hospital setting.
Wang has also donated supplies through Mask Crusaders, which is connecting artists, designers, arts institutions, and workshops who have extra masks, gloves, or other protective gear to frontline workers who need them. Although due to social distancing people around the world are staying apart, online collaboration on open-source design and the sharing of resources is bringing friends, strangers, classmates, and colleagues together to do what they can to help.
"I think it's important that everyone finds a way to contribute right now," Wang said. "People are putting their own lives on the line to help others, so I feel like the least we can do is find a way to contribute, even if it's a small contribution. I'm hopeful that we'll all come out of this as better collaborators and a stronger community."
To share your own COVID-19 actions, tag @PrattInstitute or #PrattInstitute on social media.