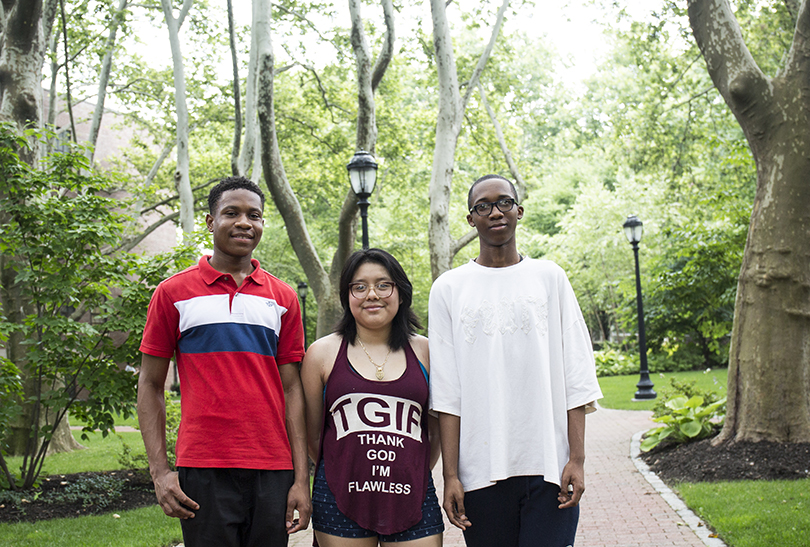 Pratt is welcoming close to 400 high school students from around the world to the Brooklyn campus for its summer 2018 PreCollege program this July. While pursuing college-level studies in art, design, architecture, and creative writing, the students have the opportunity to experience Pratt's academic culture, study with expert faculty who are working artists and designers, and explore the unique cultural benefits New York City has to offer. Among this summer's students are The Black Alumni of Pratt (BAP) PreCollege Summer Program Scholars Mariel Hernandez, Ajani Stewart, and Amir Tate. The three, who hail from New York City, were selected to attend the program as BAP Scholars based on the strength of their portfolios.
Pratt Institute's social media channels are following the BAP Scholars during their month at Pratt for an up-close look at their work and experiences as they encounter life as art and design pre-college students. Meet the three BAP Scholars below and return to this page each week for updates on their progress, or follow along on social media.
AMIR TATE
Amir Tate has been in love with fashion since the third grade. From mastering sketching skills as part of Pratt's Saturday Art School program to learning new sewing techniques at Mood Fabrics, Amir draws his inspiration from Victorian and vintage clothing to create unique clothing designs. Amir looks up to the work of Jeremy Scott, a Pratt alumnus, and influences from Korean pop culture (K-Pop) while designing. Amir is looking forward to learning new techniques and broadening his fashion horizon while here at Pratt for the PreCollege program.
MARIEL HERNANDEZ
Mariel Hernandez found her passion for oil painting while participating in the Pratt Young Scholars program. Mariel started the program during her sophomore year in high school, gaining exposure to new painting styles and materials along the way. Mariel is inspired by the work of Tim Burton and looks to explore filmmaking later on in her college career, hoping to marry her passions of science and art to create films for young children. While attending the PreCollege program this summer, Mariel hopes to figure out if residence hall life is the right option for her in her next step as a college student.
AJANI STEWART
Ajani Stewart is deeply interested in figuring out the way products work. Ajani's curiosity about industrial design sparks from his experience with sculpture and making objects while in art classes at his high school and as part of the Pratt Young Scholars program. Ajani is inspired most by the works of  Leonardo da Vinci and Michelangelo, and in addition to exploring creative work in the program, he hopes to learn time management skills while here at Pratt for the PreCollege program.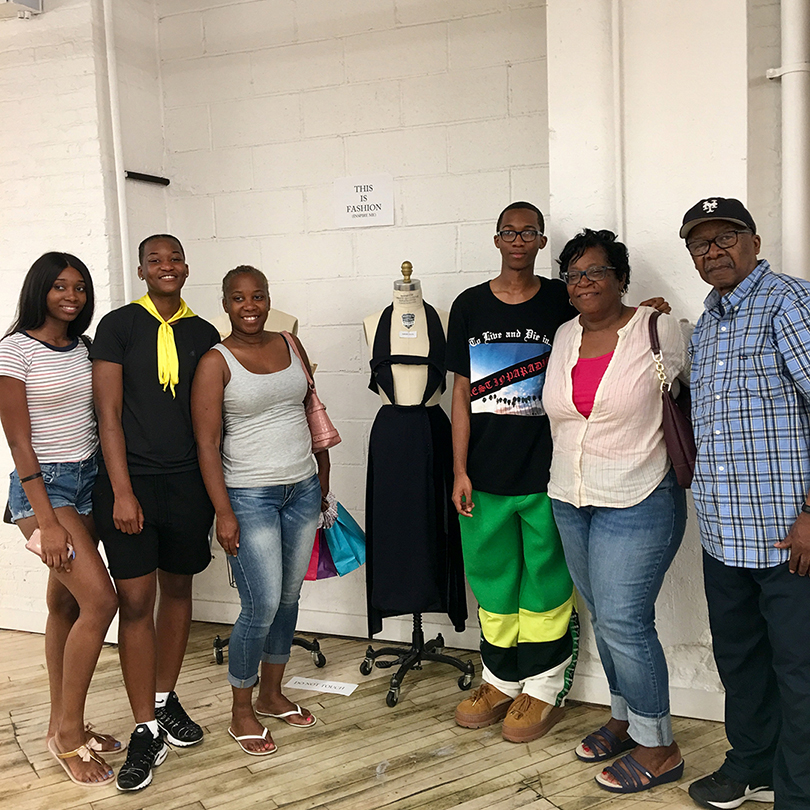 AMIR TATE
Amir is enrolled in the Fashion Design course as part of the PreCollege program. The course, taught by Fashion Department faculty member Adrienne Jones, focuses on the fundamentals of fashion including drawing, sourcing, stitching, and more. One class project focuses on the reconstruction of garments from the Salvation Army, taking items from their original state, deconstructing them, and giving them a new life. "It's all about the inspiration. I'm trying to get them to put a lot of different ingredients into what I call their 'creative pot,' and take their imagination and creativity to levels that they haven't used before," says Jones.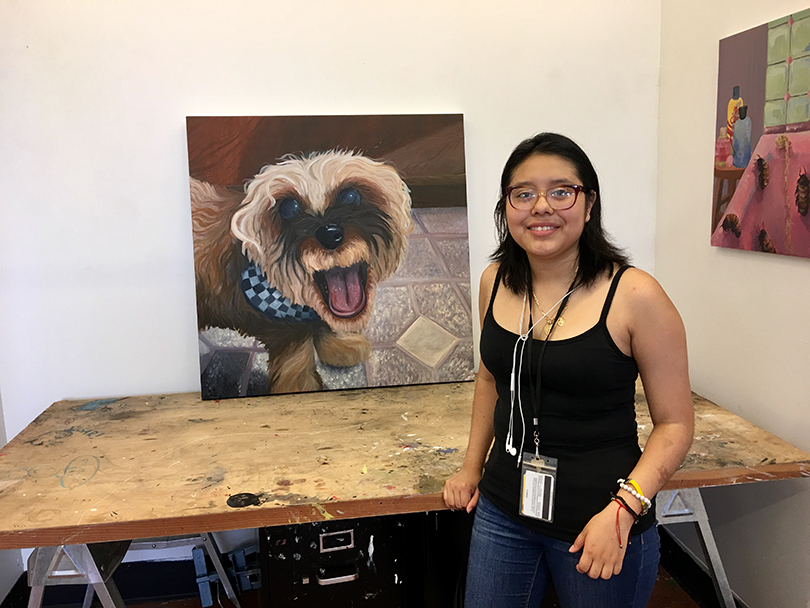 MARIEL HERNANDEZ
From sketching techniques to still life painting and more, Mariel is learning the essentials of a Pratt Fine Arts education in the Fine Art/Painting and Drawing PreCollege course. Mariel's final work for the course is the largest painting she has ever done, and is informed by her inspirations of connecting science, art, and design.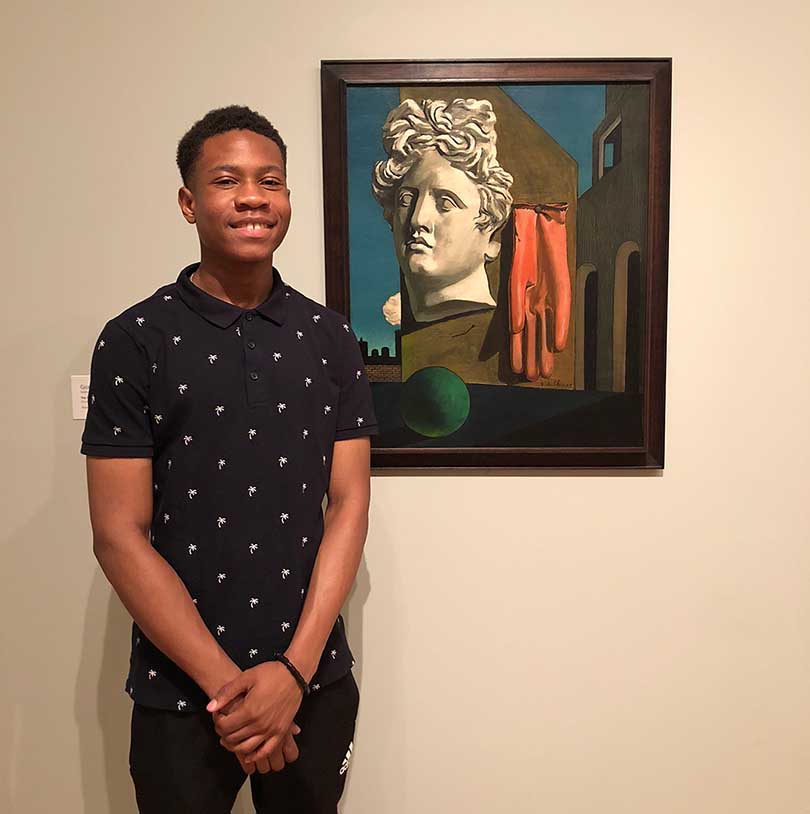 AJANI STEWART
Along with hands on classroom learning and experiencing life on a college campus, students in the PreCollege program travel to museums and cultural institutions throughout the New York metro area to get a sense of the real world application of their work. Ajani joined his student group at a recent visit to the Museum of Modern Art exploring the expansive exhibits that have housed many works of Pratt Alumni throughout the years.
AMIR TATE
Amir's family joined him at the final exhibition of work from PreCollege students. The program, which brought together over 400 high school students for immersive arts and design education, concluded on July 27 on our Brooklyn campus. Amir's final design is the culmination of work as part of the Fashion Design course during the program.
MARIEL HERNANDEZ
Mariel's dog, named Lucky, was the inspiration for her final work of the PreCollege program. As part of the Fine Art/Painting and Drawing course, Mariel learned the foundations of a Pratt Fine Arts education, exploring new practices in color tones and perspectives in her work.
AJANI STEWART
Ajani focused on drawing and model making during his time in the Industrial Design course as part of the PreCollege program. The program allowed him to examine the needs of everyday society and offer creative solutions through the use of innovative design practices.