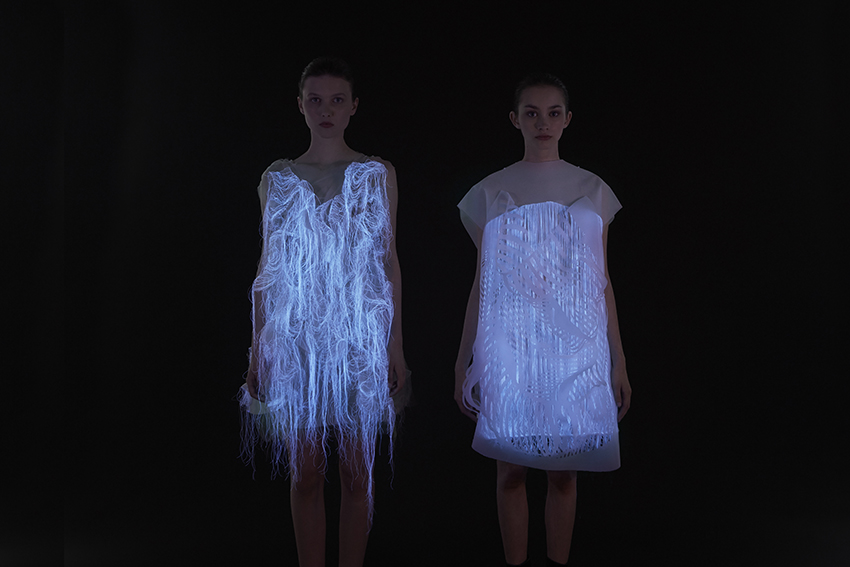 Pratt Manhattan Gallery's CODED_COUTURE exhibition, which attracted large crowds to its opening on February 12 at the height of New York Fashion Week, has continued to draw visitors and generate strong media interest for its forward-thinking exploration of technology and fashion. The exhibition considers how coding can be the ultimate design tool for creating customized clothing and accessories, and has been covered in publications including Vogue, Women's Wear Daily, U.S. News & World Report, Fast Company Design, and BLOUIN ARTINFO. The show will be on view at the Pratt Manhattan Gallery through April 30 before traveling to galleries across the United States.
Curated by Ginger Gregg Duggan and Judith Hoos Fox of c2-curatorsquared, CODED_COUTURE presents work by 13 international designers exploring the future of the fashion world, from forward-looking garments to video projections, objects, drawings, photographs, and interactive applications. The works explore how different aspects of coding intersect with topics of identity and representation, and how we relate to others through highly personalized fashion designs.
Nick Battis, director of exhibitions at Pratt, is highlighted in the U.S. News & World Report article. Written by Amy Golod, the story explains how Battis read about a show that Duggan and Fox curated for the Design Museum Holon in Israel in 2010, which led to the idea for CODED_COUTURE.
Duggan is quoted in the Fast Company Design article written by Diane Budds, saying, "This exhibition is about using coding as a tool for extreme customization. Like couture is meant to shape your physical measurements, this [work] takes it to the next level in how fashion can reflect your psyche and your interaction with others and the world at large."
More information about the CODED_COUTURE exhibition at Pratt Manhattan Gallery can be found here.
Image: Ying Gao, (No) Where (Now) Here, 2013, two interactive dresses, super organza, photo luminescent thread, PVDF, electronic devices (photo: Dominique Lafond)