Bridging the expertise of Pratt students and faculty with communities beyond the gates begins with strong partnerships. For six years, the Taconic Fellowship, a program of the Pratt Center for Community Development, has supported projects driven by faculty, students, and staff working together with a variety of community organizations in New York City. Prattfolio looks at some recent Taconic Fellowship projects that have made an impact on Pratt's neighboring communities.
Opportunities to share our strengths and touch others' lives are often closer than we think. A few years ago, Theodora Skipitares, Associate Professor of Art and Design Education, learned about Gibb Mansion, a supportive-housing campus in Bedford-Stuyvesant, from visiting faculty member Jonathan Bogarin when they were developing a course in community engagement through the arts. In Gibb, which provides residential and social services for formerly homeless people and is run by IMPACCT Brooklyn (formerly known as the Pratt Area Community Council), Skipitares saw an opportunity to build a bridge with students at Pratt. She began exploring with the residence's staff how Pratt talent might further enrich the experience of the community at what she describes as "a beautiful place to be."
"I've always been interested in education in alternative settings, and in those circumstances I've seen how an individual can really help someone in a very tangible way," she says—and the bond stretches both ways: "Participating in community work like this is really meaningful and life changing for students."
With the support of the Taconic Fellowship, she was able to engage students in the conceptualization and realization of two related projects that would enable Gibb Mansion residents to explore their personal narratives. Spurred by her interest in creating space for oral histories, Skipitares first planned a series of storytelling sessions that could eventually give participants a platform beyond the workshop. She envisioned a "listening bench" where residents could sit, press a button, and hear someone's story. "It would become an enduring kind of artifact, or archive," she says.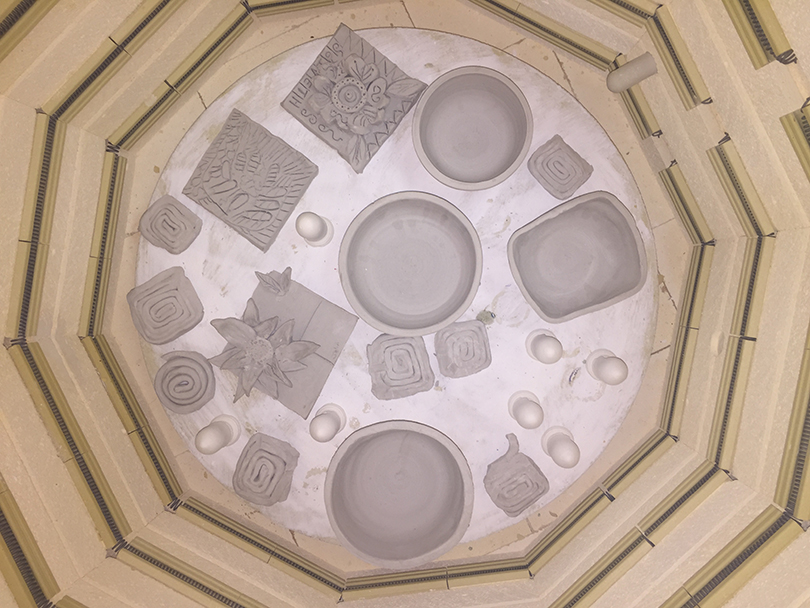 From start to finish, the process was a team effort. Students majoring in art and design education and industrial design—Emmett Miller and Theodore Atuluku, BID '16—joined Skipitares to lead the initial 10 workshops. When it came time to create the physical object, Anita Cooney, Dean of the School of Design, made an instrumental introduction between Skipitares and Joseph Morris, Visiting Instructor and Lecturer in Industrial Design and Form and Tech Lab Manager; Morris came on board to troubleshoot design and install the technology that made the bench function. Heather Lewis, Chair of Art and Design Education, also provided constant support of the projects through the years. Meanwhile, Sharon Haberer, Gibb Mansion's director of social services, was a steady force among the Gibb community and a dynamic partner in making the project possible. "She's very realistic, but also very optimistic and willing to try a lot of experiments," says Skipitares.
The listening bench was just the beginning. Skipitares emphasizes how important continuity is in a setting where building trust is crucial to making a difference, and even after the initial workshops ended, she kept going back. This also allowed her to work with staff to think about what resources the campus had that could be utilized for added benefit to the residents. For one, there was a fairly new kiln that one of Skipitares's former students, Alexandra Cochran, BFA Fine Arts; MS Art and Design Education '11—who went on to work at Gibb for several years as an activities director—had purchased for residents to practice clay making. "I thought, Pratt has got so many great resources. Let me go to the ceramics department and see if there's a student who would like to join in on a project," says Skipitares.
That student was Michelle Wen, BFA '18, who helped launch Stories in Clay, a series of ceramics workshops that added another layer to Skipitares's storytelling initiative. Angelica Croker, a student in Art and Design Education, also joined the project.
"I thought the project was a lovely way to preserve the legacy of Brooklyn's history in its residents," says Croker, noting the positive effects that resonated both ways. "It was a really beautiful relationship that formed. . . . Not only did we spend a lot of time making artwork and sharing stories and poems and song lyrics but we really got a chance to know each other."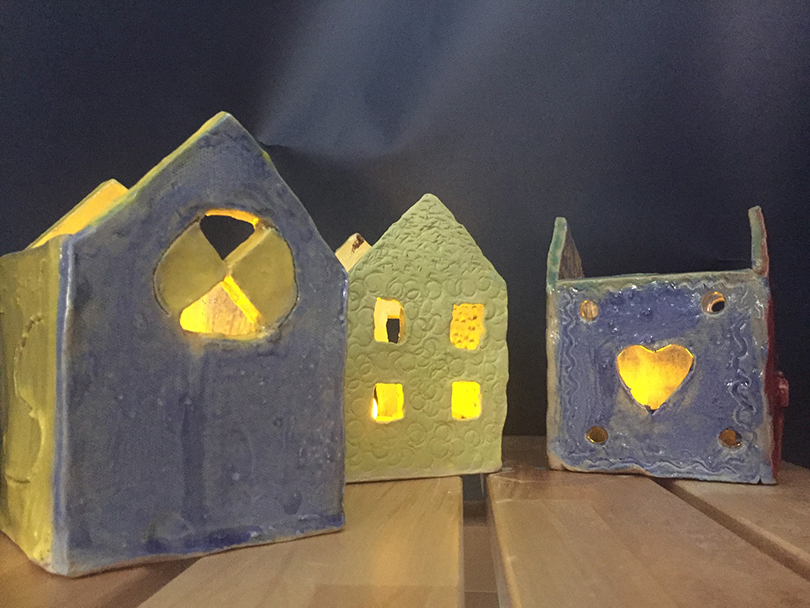 Wen, who continues to teach weekly workshops to a dedicated group of 12 to 15 participants, shares a similar sentiment about the project: "It has opened my eyes to the significance of working locally, within the community, to share art with those who may have otherwise never had the opportunity to have an art class."
Over time, participants have learned a range of techniques, from hand-building to wheel-throwing, in addition to delving into the more personal, expressive side of art practice. Marking a milestone for Stories in Clay, workshop participants' artworks, stories, and portraits were collected in a limited edition book this past January.
For today's students looking to make a meaningful impact beyond Pratt's gates, Wen offers these words of encouragement: "Reach out to real people, become an integral part of their lives, as we are all sharing the same community and therefore we must enrich it, protect it, and help it prosper."
About the Taconic Fellowship
Funded by an endowment from the Taconic Foundation, the Taconic Fellowship is emblematic of Pratt Center's mission to promote a just, equitable, and sustainable city for all New Yorkers. In the 55 years since its founding, Pratt Center has advanced meaningful community participation in public decision-making and has tirelessly offered technical assistance and policy research in support of affordable housing, environmental sustainability, and equitable economic opportunity. Its three fellowship programs (the Graduate Planning, Made in NYC, and Taconic fellowships) offer financial support to Pratt faculty, students, and staff who seek to engage in community-building work in partnership with community organizations across New York City.
Taconic Fellows partner with community organizations and work with them to shape projects that address local needs. Pratt Center staff members provide administrative support and project oversight to ensure that each Taconic project is implemented in a way that best leverages the creativity, talent, and skills of the Pratt community. Since 2014, 40 Taconic Fellowships have been awarded, engaging 127 fellows from 18 departments in projects with 37 partner organizations throughout the city.
Photos courtesy of Theodora Skipitares.