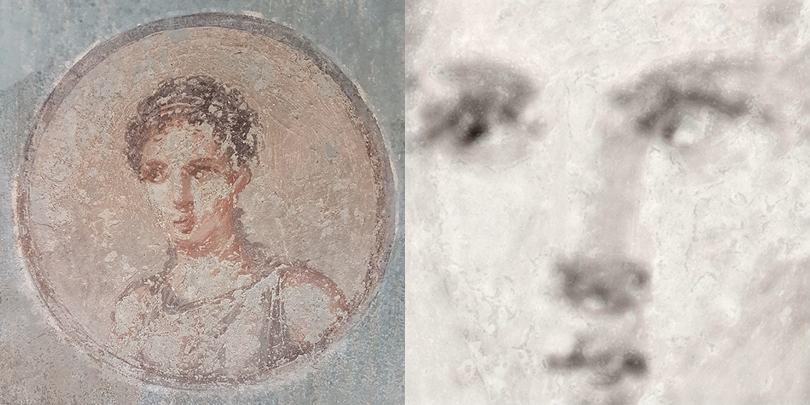 A number of prominent publications, including Forbes, National Geographic, Smithsonian Magazine, and Archeology Magazine, have recently spotlighted the cutting-edge work of Eleonora Del Federico, professor of chemistry at Pratt Institute, and a network of scientists and researchers to restore a Roman painting in the ancient town of Herculaneum. The work was discovered in the early 20th century after being buried by soot and ash from an eruption of Mount Vesuvius in 79 A.D that led Herculaneum to suffer the same fate as Pompeii, which is located nearby.
Del Federico worked with a team that included Pratt School of Liberal Arts and Sciences faculty member Cindie Kehlet, professor in the department of Math and Science, and Pratt alumnae Haerin Kang, (B.A. Fine Arts '17) and Megan Welchel (B.A. History of Art and Design '07), who also serves as Math and Science Lab Technician at Pratt. The coverage has focused on how the team used a portable machine provided by XGLab, that allowed them to scan the painting, a portrait of a Roman woman, using a new type of high resolution X-ray technology. The technique, which reveals how stunning the original painting was and gives information on materials and processes used to create it, could help conservators to more precisely restore the image as well as other ancient artworks.
The researchers presented their work at the 254th National Meeting & Exposition of the American Chemical Society, which is the world's largest scientific society. The meeting was held in Washington, D.C., from August 21-24, 2017.
This work has taken place in the context of the Herculaneum Conservation Project's collaborative program for scientific research and site trials that address the conservation challenges at the archaeological site of Herculaneum, Italy.
The researchers acknowledge funding from the School of Liberal Arts and Sciences Dean's Fund for Faculty Research, the Alfred P. Sloan Foundation, the Camille & Henry Dreyfus Foundation, and the Friedman endowed scholarship for Chemistry for the Arts.
Read the articles in Forbes, National Geographic, Smithsonian Magazine, Archeology Magazine, and Sci-News. In addition, Del Federico will give a lecture, Portrait of an Ancient Woman Uncovered by New X-Ray Technology, at Pratt Institute's Manhattan campus on November 9, 2017.
Images: Courtesy of Roberto Alberti