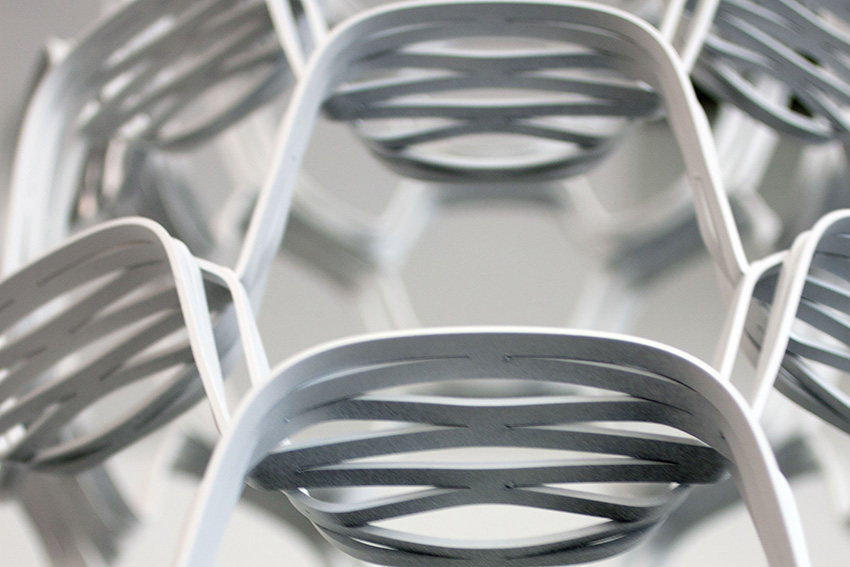 Pratt alumni, faculty, and trustees are featured in the Museum of Arts and Design's (MAD) inaugural NYC Makers: The MAD Biennial exhibition, which showcases work of 100 makers from across New York City's five boroughs. The exhibition will be on display through October 12.
Upon entering the museum, visitors are immediately greeted by a sculptural work by alumnus and architecture professor Haresh Lalvani. The experimental work, from Lalvani's X-TOWER series, was stretched from a single flat sheet of stainless steel and demonstrates Lalvani's innovative work at the intersection of art, science, and design. It was created in conjunction with renowned Brooklyn-based art-metal fabricator Milgo Bufkin, a company that is headed by Pratt Board Chair Bruce Gitlin. The exhibition also features eye-catching red mannequin designs by Pratt Trustee Ralph Pucci's Ralph Pucci International; minimalist lighting designs by industrial design alumni Gregory Buntain and Ian Collings of Fort Standard; and a colorful vessel of poured cement by industrial design alumni Chen Chen and Kai Williams.
The exhibition highlights "maker culture" and the growing community of makers in New York City. Though the term may be recent, Pratt has been fertile ground for makers for more than 125 years, with alumni, faculty, and students creating innovative works through a blend of technical, hands-on expertise and intellectual curiosity.
According to MAD's website, NYC Makers is the first exhibition to be organized under the leadership of MAD's new Director Glenn Adamson. The exhibition showcases the work of highly inventive artisans, artists, and designers who create objects or environments through exquisite workmanship and skill. Makers were nominated by a pool of more than 300 New York City-based cultural leaders and civic figures from a range of trades and disciplines, including museum curators, choreographers, academics, chefs, musicians, and journalists, with final participants selected by a jury led by Adamson and exhibition curator Jake Yuzna.
Image: Detail of work from Haresh Lalvani's X-TOWER series (courtesy of the artist)