On January 12 Macy's Herald Square unveiled seven new window displays on Broadway between 34th and 35th streets in Manhattan featuring stunning paper works by fashion design, fine arts, industrial design, and interior design students from Pratt Institute's School of Art and Design. The display showcases sophisticated and beautiful paper looks that complement Ralph Pucci's Spring 2011 "GIRL 2" mannequins as well as inventive paper sculptures and will be on view through January 26, 2011. The work is part of an exhibition titled "Pratt + Paper & Ralph Pucci" that was on view at Pucci's Gallery Nine Showroom in December 2010.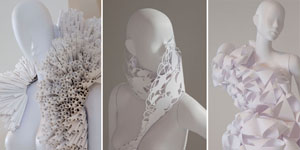 "As soon as I saw the students' work I knew immediately I wanted to showcase it in our Broadway windows," said Paul Olszewski, Director of Windows, Macy's Herald Square. "The creativity and craftsmanship that the students exhibited on this project is just amazing. At Macy's we truly believe in promoting art and artistry in our windows. It is this fusion between art and fashion that really makes our windows unique and working on this collaboration has been no exception. I'm excited for the students, as well as for the thousands of people who will get to view these incredible designs," he added.

From its inception, Macy's Herald Square was a store unlike any other and over the past 150 years it has become a true New York City icon. Built in 1902, Herald Square was the first building to have the modern day escalator. Since then, Macy's Herald Square has continued to be a trendsetter and today, "America's Largest Department Store" covers an entire city block with ten and a half levels of the latest fashions.

The work on display emerged from an interdisciplinary, semester-long study in texture and form to dress Pucci's mannequins entirely in paper. The project was led by Rebeccah Pailes-Friedman, Acting Chair of the Department of Fashion Design at Pratt, with the help of Anita Cooney, Chair of the Department of Interior Design; Josh Longo, Visting Instructor, Industrial Design; and Donna Moran, Chair of the Department of Fine Arts. The "Pratt + Paper & Ralph Pucci" exhibition highlighted the best work from the project as selected by Ralph Pucci.

"This exhibition truly highlights Pratt's exceptional programs and superb students who aspire to work in the art and design fields," said Rebeccah Pailes-Friedman, acting chair of the Pratt Fashion Design Department. " In every piece, the paper was transformed to a point where we no longer see it for what it was but it becomes something completely new and unexpected," she added.
A panel of distinguished judges selected the top three looks and top sculpture, which were announced at a December 7 event. The winning looks were created by Dana Otto (Industrial Design '11 from State College, Pa.), Meredith Lyon and Beatrice Weiland (Fashion Design '12 from Newburyport, Mass. and Bexley, Ohio, respectively), and Thom Forsyth (Interior Design '11 from Boston, Mass.). Su Ting Chen and Samantha Johnson (Interior Design '11 from Maspbeth, N.Y. and Pullman, Wash., respectively) received top prize for their show-stopping sculpture. The winning designers received awards in the form of 12-inch mannequins hand sculpted by Pucci designer Michael Evert.

Those on the judging panel represented some of the best and creative minds from the worlds of fashion and design and included Linda Fargo, Vice President of Fashion, Bergdorf Goodman; Nicole Fischelis, Vice President of Fashion, Macy's; Greg Mills, Founder of Greg Mills Showroom; Jens Risom, furniture designer; Anna Sui, fashion designer; Deborah Turbeville, photographer; and Vicente Wolf, interior designer.

"When I saw the work, I was blown away," said Ralph Pucci in a December 2010 interview with The New York Daily News. "These Pratt students are incredibly talented."

Select works from "Pratt + Paper & Ralph Pucci" including a sculptural piece by Emily Vislocky (Industrial Design'11) and 12 paper looks will travel to EuroShop, a global retail trade show in Dusseldorf, Germany, that will take place from February 26-March 2, 2011. COFRAD MANNEQUINS, a French-based family-run mannequin business, will display the work and Pucci's Spring 2011 mannequins in a show titled "COFRAD Presents Pratt + Paper & Ralph Pucci." In addition, graduate interior design student KC Weakley 's ('11 from Brooklyn, N.Y.) large pencil murals of the Pucci mannequins that were on display as part of "Pratt + Paper & Ralph Pucci" will be featured in WALL (Glitterati Press 2011), a book on Ralph Pucci International's wall murals.

A full exhibition catalog of "Pratt + Paper & Ralph Pucci" is also being produced and will include photographs of the work by Antoine Bootz.
Pictured: Select looks in paper created by Pratt students Thom Forsyth (Interior Design, '11), James Ian Killinger (Industrial Design, '12), and Chia Lin Hsu (Industrial Design, '11)
Photo credit: Antoine Bootz
For more images, please visit http://gateway.pratt.edu/pucci-gallery/pucci-gallery/