On Thursday, November 9, Pratt Institute held its Legends gala, the annual scholarship benefit that pays tribute to icons of art, design, and architecture, and serves as a fundraiser for scholarships that prioritize diversity, inclusion, and equal access to education. This year, three distinguished Pratt alumni—celebrated furniture designer Kenneth Cobonpue, visionary architect Edward Mazria, and renowned artist Kay WalkingStick—were honored at the historic Weylin in Brooklyn, with more than 200 guests gathering for the festive occasion. Nearly 80 percent of Pratt students receive financial aid to pursue their educational and creative ambitions. The event was featured in the November 20 edition of Surface's Culture Club and Design Dispatch Newsletter.
The evening opened with a lively performance by the Brooklyn United Music and Arts Marching Band and Dance Team. In her welcoming remarks, Pratt President Frances Bronet highlighted the importance of creativity, interdisciplinary collaboration, and the role of education in addressing global challenges, while celebrating the achievements and contributions of Pratt's alumni, faculty, and students. "Our role as academics is to support our students intellectually, emotionally, so they have the capacity to take risks, to design for just futures," she said. "They will build lives of responsible creativity and positive impact."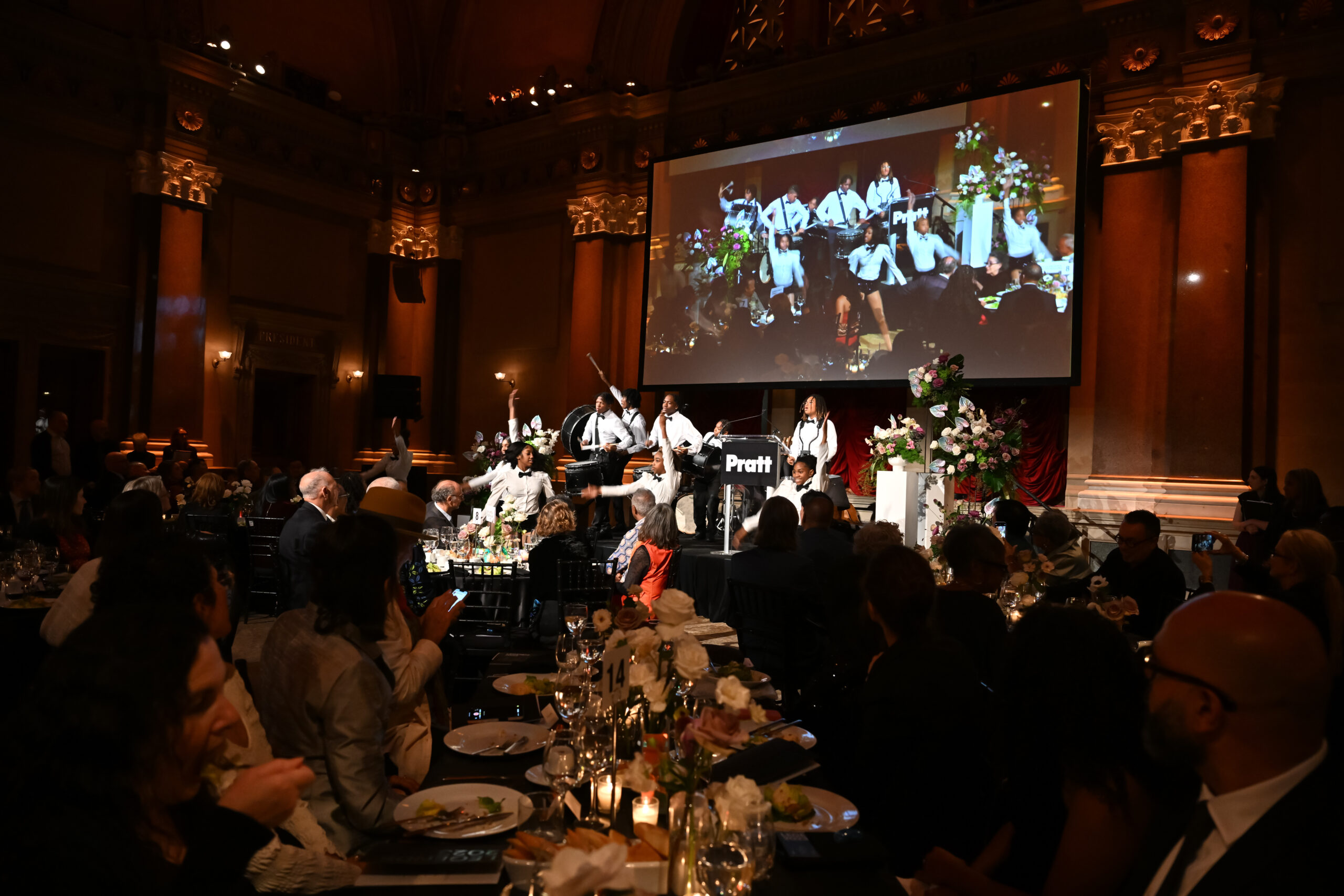 Board of Trustees Chair Gary Hattem followed President Bronet to announce fifth-year architecture student Catherine Chattergoon '24 as the 2023 Legends Student Speaker. Chattergoon spoke of her personal journey, from childhood dreams of being an architect to attending Pratt, facing adversity with support from what she called an "incredible community." "My time here not only allowed me to realize my own dreams but also taught me the power of advocacy, leadership, and the transformative impact of design," Chattergoon remarked. "As I stand in my final year, I am grateful for the opportunities, the relationships, and the invaluable lessons. Pratt is more than a school; it's a collective force that believes in the power of creativity to drive just and equitable change. Together, we have the strength to design a better world into existence. Thank you, Pratt, for the dreams, the challenges, and the journey."
The event featured a call to action led by Charlotte Van Dercook, vice president and specialist in contemporary art at Sotheby's. The audience actively engaged in the call to support the upcoming generation of creative leaders.
The award ceremony began with Patti Carpenter, principal of carpenter + company, presenting the 2023 Legend Award to alumnus and accomplished furniture designer Kenneth Cobonpue. "This award is a tribute to the foundation Pratt provided me, the support of my family, and the collaborative efforts of a dedicated community. It honors not just my journey but also the contributions of Pratt graduates, my late father's sacrifices, and my mother's inspiration," said Cobonpue. "My work, achieved with the dedication of my team, is dedicated to Southeast Asian designers seeking recognition. I share this honor with them, my family, business partner, and the craftsmen who bring my designs to life. Congratulations to my fellow awardees. May our commitment to our craft reflect in the impact we make."
School of Architecture Dean Quilian Riano presented the 2023 Legend Award to Edward Mazria, a Pratt alumnus and visionary architect. Mazria was unable to attend the event, but he spoke to the crowd via video message. His niece, Marisa Mazria Katz, accepted the award on his behalf. "My uncle Edward Mazria's journey to sustainable design started serendipitously, leading to the groundbreaking Passive Solar Energy Book, which sold over a million copies worldwide," Mazria Katz shared. "Today, back in Brooklyn, we celebrate his commitment to addressing the global climate crisis—a testament to Pratt's transformative impact on shaping individuals dedicated to a better, more inhabitable world."
David W. Penney, associate director of museum scholarship at the National Museum of the American Indian, presented the 2023 Legend Award to painter and alumna Kay WalkingStick, remarking on her artistic journey, from her early days as a painter to her transformative experiences at Pratt, her significant contributions to abstract art, and her continuous reinvention as an artist exploring Indigenous themes, landscapes, and the human experience. WalkingStick referred to her journey to graduate school at Pratt as a wonderful and enlightening experience. "Pratt opened doors for me that would not have been opened otherwise. I would never have taught at Cornell if I didn't have this degree," she shared. "But there were other things, and it was primarily artistic; it was about making art, and thinking about art, and developing art, and contextualizing art, that I got from Pratt. I had a really good education and I thank you from the bottom of my heart."
Each honoree was presented with a Legend Award designed by Jessica Yan Chen, BID '24, and fabricated under the mentorship of Dana D'Amico, adjunct associate professor of industrial design. A short video illustrating her design process was shared at the event.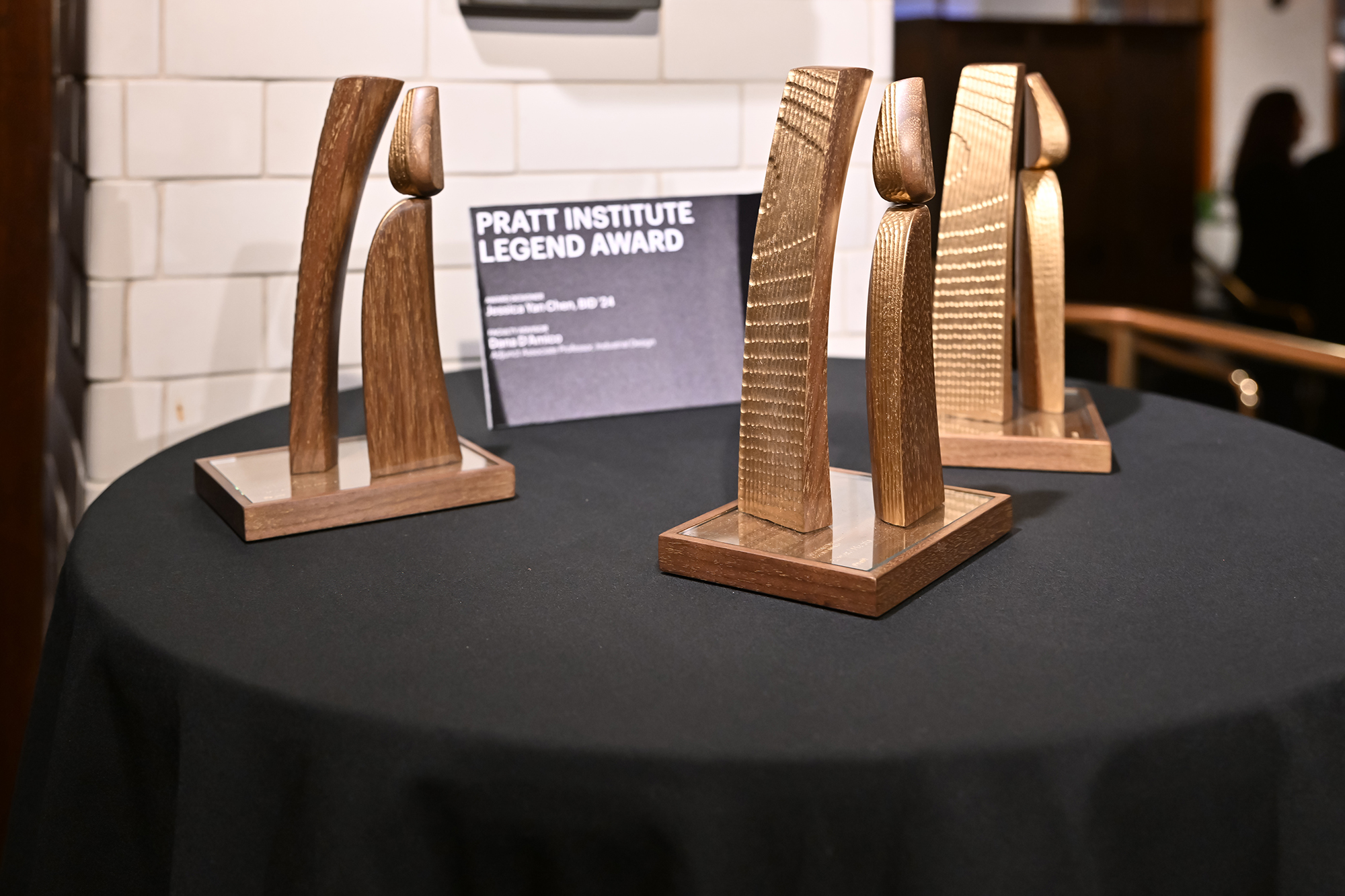 President Bronet closed out the evening's festivities with a message of gratitude and congratulations. "You all embody the values that we seek to instill and foster in our students, and your careers and work are truly inspirational," she said. "Your generosity and capacities are extraordinary. We hope that you will carry the honor of being a Pratt Legend, and display your beautiful Legend Award, with pride."