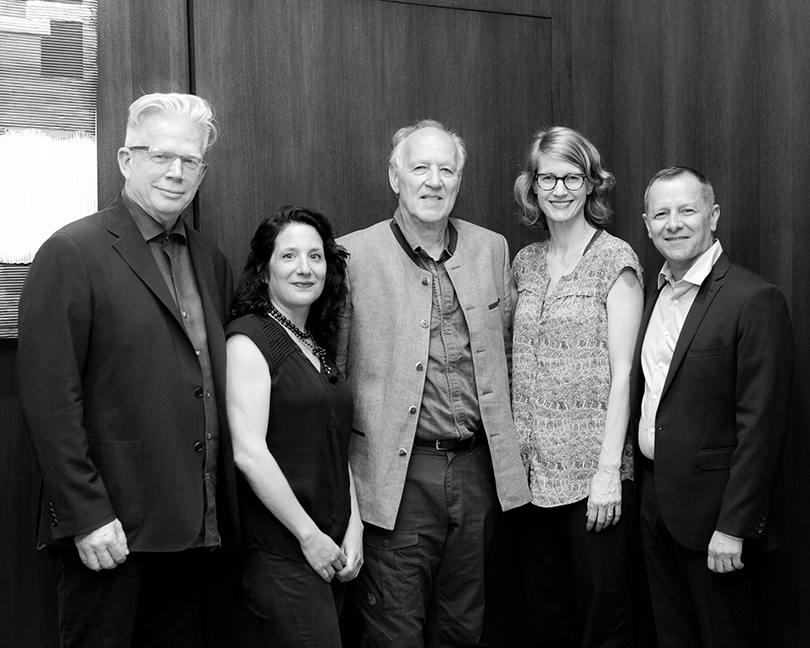 Acclaimed filmmaker Werner Herzog recently came to Pratt Institute's Brooklyn campus and spoke with film and media curator and writer Sally Berger in the inaugural event of the new School of Art Lecture Series at Pratt Institute. The following day, he returned to campus to meet with Film/Video students and take part in critiques and discussion.
The School of Art Lecture Series event on April 12, which was co-presented by the Film/Video Department and supported by Pratt Presents, drew a packed audience of students, alumni, faculty, and the general public to Memorial Hall, where Herzog discussed his influential career of more than 50 years and gave advice and insight for young filmmakers.
Introducing the evening's discussion, Film/Video Chair Jorge Oliver spoke of the importance of an interdisciplinary education for filmmakers, and how Herzog embodies the spirit of exploration into other creative fields. Berger then began the discussion by asking Herzog about his early years.
Herzog discussed his childhood in Germany, his introduction to cinema at the age of 11, and making his first films as a teenager. "I am quintessentially self-taught," he said, "Whatever I learned, I learned on my own."
Speaking about his desire to be self-reliant, Herzog advised aspiring filmmakers, "When you make films you should try to be on top of the essentials," such as budgeting and contracts. He also told students, "You have to look beyond the first films you are making. You have to look at long-term survival . . . How do you articulate your own identity? How do you find your own voice?"
A clip was shown from Herzog's 1972 film Aguirre, the Wrath of God, and Herzog discussed working on the film with a modest budget and small crew, something he does not see in the industry anymore. He talked about overcoming negative reviews of his work, finding inspiration for film in real-life experiences, the importance of taking risks, and his aversion to the use of digital effects in films: "I want audiences to trust their eyes again," he said.
Clips were also shown from several other Herzog films, including his 1974 documentary The Ecstasy of Woodcarver Steiner, about the famed ski-jumper. "I always dreamt to be a filmmaker and a poet and an athlete. I wanted to fly," said Herzog, explaining that many of his films feature a motif of flying. "I just kind of dislike gravity," he joked, and told the story of how he devised a system of turnstiles to pull a 300-ton ship over a mountain for his 1982 film Fitzcarraldo.
A question-and-answer session followed the discussion, and a student asked Herzog for advice about whether to take film-related jobs or to forge his own path. Herzog advised him to pursue interesting jobs that will lead to unusual experiences. He also said that reading is essential for any film student: "Film students I see everywhere do not read anymore. I read every day, but only see three-to-four films every year," he said, adding that it is also vital that students study film history and international cinema.
The evening concluded with a clip from Herzog's 2009 film Bad Lieutenant: Port of Call New Orleans, in which a character played by Nicholas Cage hallucinates that two iguanas are sitting on a desk. As the audience laughed, Herzog said, "People are starting to see the humor in my films."
The next day, Herzog met with a group of Pratt Film/Video majors who have been studying the filmmaker this semester, and he participated in critiques, offering feedback on several of the students' film projects. The students also had the opportunity to pose questions to the filmmaker about the creative process, logistical challenges, and the decision-making that goes into each film.
Image: (L-R) Pratt Institute School of Art Dean Gerry Snyder, School of Art Assistant Dean Dianne Bellino, Werner Herzog, Film/Video Department Assistant Chair Kara Hearn, Film/Video Department Chair Jorge Oliver