The five boroughs of New York City are vibrant with museums, historic sites, archives, galleries, and more that preserve, present, and celebrate global and local culture. As part of their time at Pratt Institute, students have the opportunity to engage with this resource through their campus experience.
This year, Pratt Foundation is piloting a new program called Foundation RAD (Research Across Disciplines), which includes a focus on getting first-year students out and about in New York City.
"One of the most important aspects of RAD is the idea of an expanded teaching environment and of the city as the classroom," said Juan Jofre Lora, assistant professor in the Foundation Department. "We purposefully don't have a designated classroom space for our meetings and instead meet in a different location every week. As a result, the students are not only exposed to traditional cultural spaces in the city but to all kinds of places that are significant in one way or another. We have been to multiple parks, different neighborhoods, water treatment centers, fabrication facilities, artist studios, and maker spaces, as well as galleries and museum spaces."
The year-long immersive experience concentrates on six thematic areas—community, sustainability, research, technology, social engagement, and synthesis—that complement what they are learning in their studio classes.
"As a non-native to this state, the field trips to sites all across the city are both educational and show another side of the city," said Hannah Wong Nakata, BID '26. "For example, our trip to Roosevelt Island accentuated how different neighborhoods work in harmony with each other. As a visual and hands-on learner, it allows me to be immersed in design and experience the art of the city."
A fall 2022 digital photography class led by Federico Savini, technician for fine arts and a visiting instructor in the Associate Degree Programs, visited the International Center of Photography and New Museum in Manhattan to see Young Lords and Their Traces, the first major museum survey of work by artist Theaster Gates. They had the chance to meet Gates in the gallery, and he joined them in a conversation about his art and broader ideas of visual culture, something that resonated with the class's involvement in photography as part of literature, global events, personal issues, and technology.
"I always try to include photography in the broader spectrum of all art mediums," Savini said. "The students were able to talk with Theaster Gates and especially listen to the artist not only talk about his work but about art in general, social activism, and educational issues."
Finn Evans, AOS Graphic Design '24, was impressed by Gates's insights on being intentional with creating artwork: "In the Associate Degree Programs, we are constantly encouraged to think about how we will apply the skills we learn in class to come up with creative solutions to the challenges we will face later in life. Theaster Gates thinks big, using a lot of different mediums, all while having the same message and goal in mind. Getting to meet him, see his intention, and view his work among many other talented artists was a refreshing and much-needed dose of inspiration."
"I am a student from the Southside of Chicago, the same as Theaster Gates," added Crystal Chen, AOS Graphic Design '24. "Meeting Gates was amazing because in Chicago, there isn't a lot of room for people of color to thrive in the fields of art. He was so open to us and it meant a lot to me to see one of the heroes of my city in the flesh. The visit to the New Museum showed me that the world of art is changing and that every artist can choose what they want to display to a world that tells them otherwise."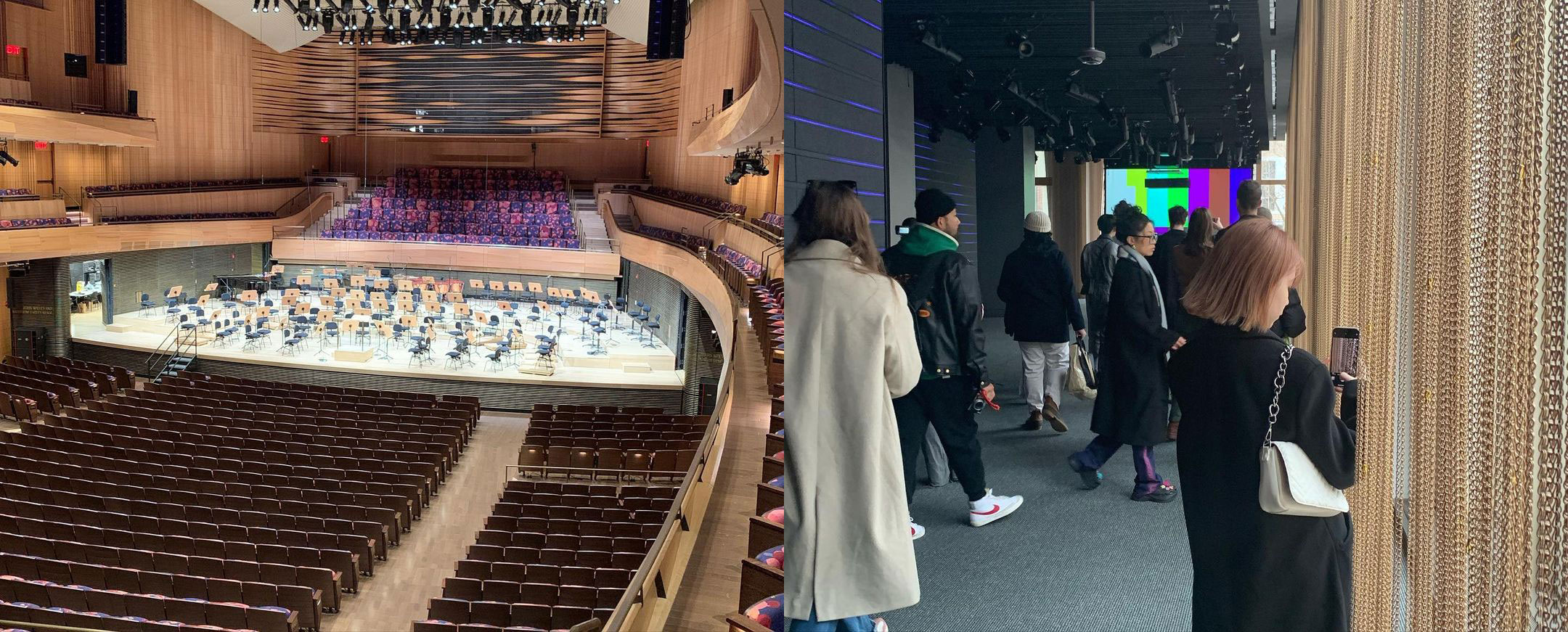 The redesigned David Geffen Hall at Lincoln Center opened in October 2022 with a revamped interior for the New York Philharmonic overseen by Diamond Schmitt Architects and Tod Williams Billie Tsien Architects. The Listening to Materials, Technology, Processes, Fabricators Before Even Thinking about Shapes prototype class led by Kevin Walz, visiting associate professor of industrial design, visited the concert hall on a tour with architect Billie Tsien. Jay Lemire, director of production/labs and material research, led the visit.
"The acoustics are brilliant, and I thought the materials and the way they flowed and integrated would be interesting for this class," Walz said. "They got to see that it was a remarkable change in so many ways. The concert hall was transformed, and there is now a sense of the audience as a community."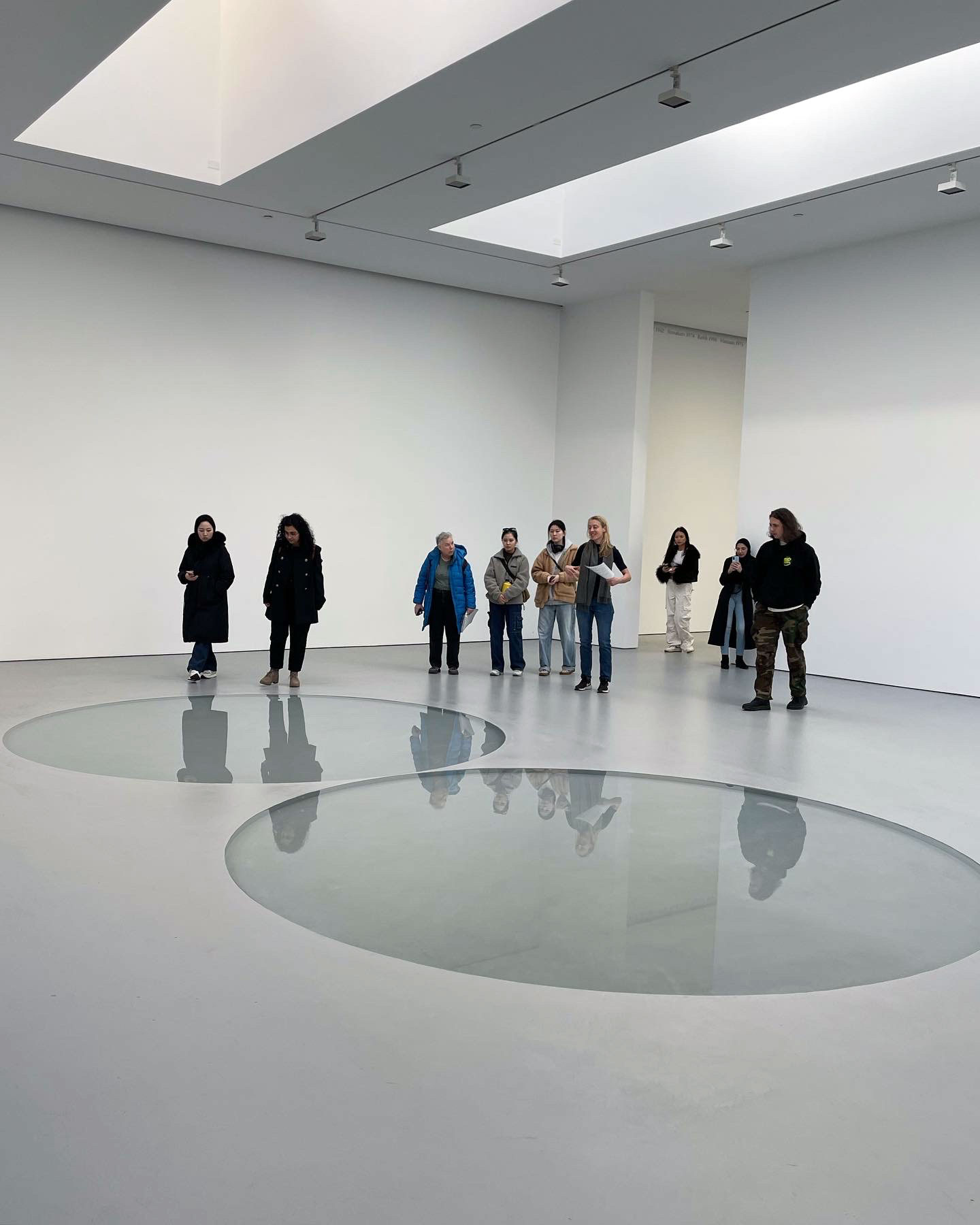 In the Artist As Curator graduate course led by Steven Sergiovanni, visiting assistant professor of fine arts, students curate an exhibition in a campus gallery for their final project. To learn about curation firsthand, they recently visited several galleries in Chelsea, including Ryan Lee Gallery and David Zwirner, which was presenting four major installations by artist and Pratt alumnus Félix González-Torres, BFA Photography '83. Two of the installations were realized for the first time after his death in 1996.
"One of the wonderful things about attending school in New York is that you have the opportunity to visit galleries and museums for free," Sergiovanni said. "Veronique Ansorge, the senior director at David Zwirner, gave us a tour of the exhibition and answered questions. Some of the questions she answered related to the site-specific nature of the large-scale works and how they were installed."
Noormah Jamal, MFA Fine Arts (Painting and Drawing) '23, agreed on the importance of visiting galleries as a class group as part of an artistic education: "Not only does it charge and generate meaningful discourse, a class like Artist As Curator functions to show artists another aspect of exhibition making. The gallerists during these visits make us privy to their decision-making and behind-the-scenes insight or possible limitations."
"It's a huge expansion of your art studies to be in the world-class, art-based city of New York," said Victoria Arthur, MFA Fine Arts (Painting) '23. "This was an example of how attending Pratt provides invaluable art experiences and helps emerging artists learn about the inner workings of the art world. My friend and I have also made a weekly practice of visiting new gallery shows and art museums, as well as attending show openings. Much of my inspiration as an artist comes from being exposed to all of this creativity."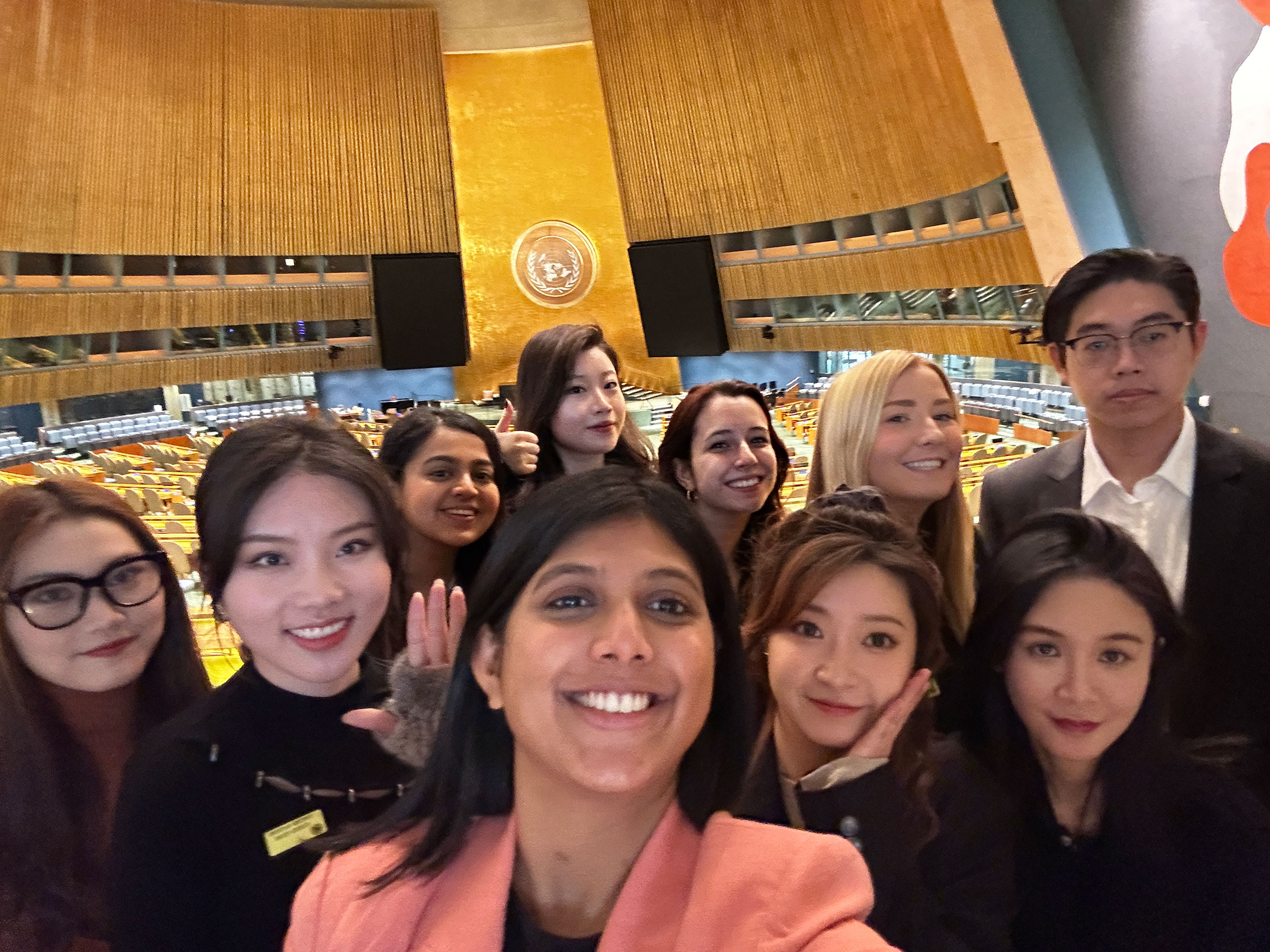 Sameera Chukkapalli Holmes, visiting associate professor of interior design, brought her design class to the United Nations (UN) headquarters in Manhattan. The field trip was part of a studio called Space as Mirror of Life and expanded on their classroom dialogues about the meaningful potential of design.
"This year, I am taking my students on a journey to understand how design can be used to both hurt and heal," Chukkapalli Holmes said. "Design has wronged us in many ways. It has failed to make us feel included at one point or another. Our visit to the United Nations headquarters in New York continued that conversation and the students' work towards designing a more just and inclusive community."
Chukkapalli Holmes is an Obama Leader and the founder of Needlab, a nonprofit research organization based in Barcelona that works on helping communities solve sustainability issues. Her work focuses on how design can uplift and provide dignity, with the studio engaging students in a discussion on the power of design and designers to heal and harm. This has included conversations around the UN's Sustainable Development Goals, something furthered by their visit to the UN headquarters.
"The opportunity to visit the place that I had just read and studied about in class felt insightful," said Priyashi Mehta, MFA Interior Design '24. "The interiors of the UN resonate with the idea of peace, unity, oneness, inclusivity, and equality. It makes you feel that your voice is heard, be it a small country or a large one."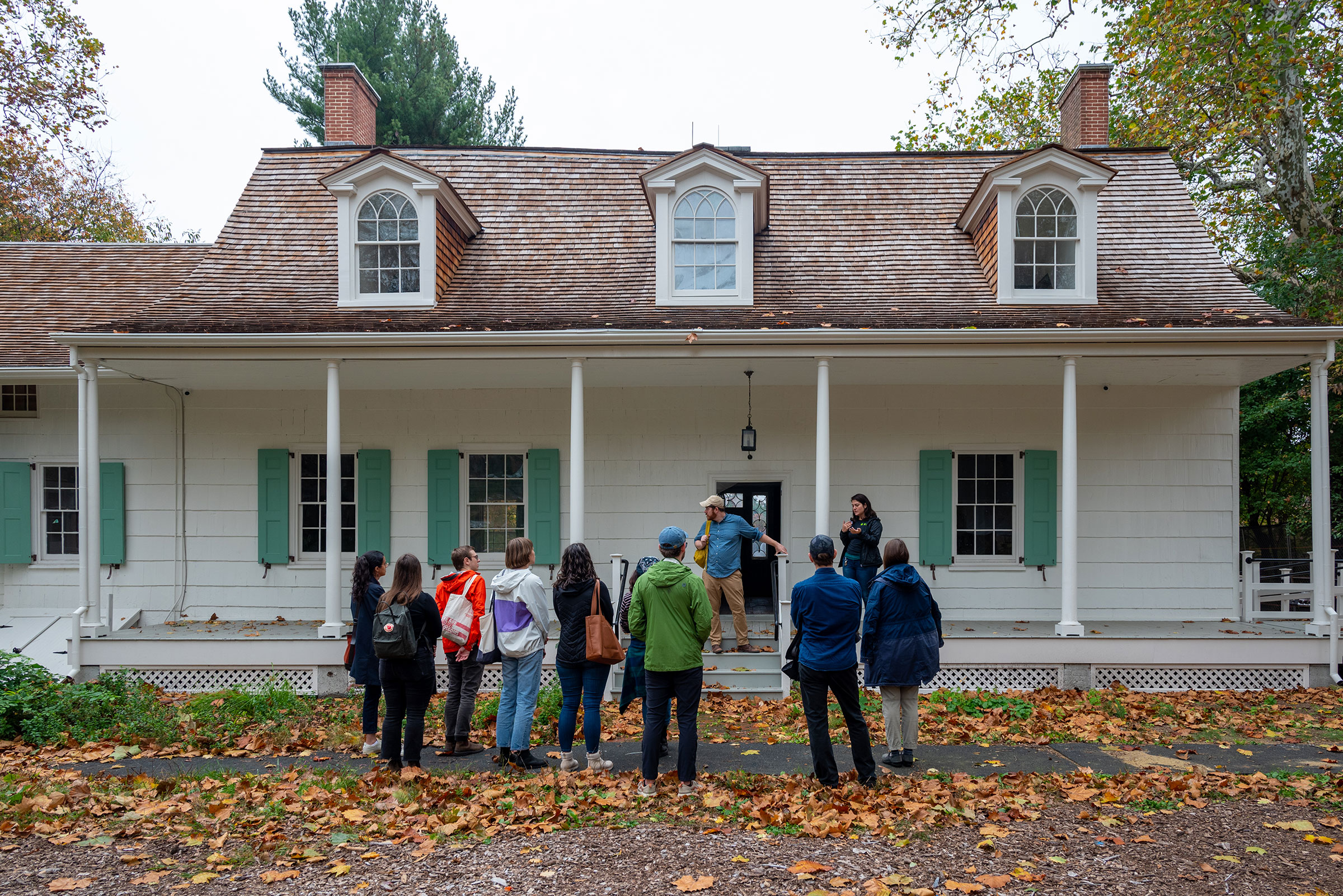 Students in a Graduate Center for Planning and the Environment (GCPE) advanced studio led by Adjunct Associate Professor Beth Bingham, MS City and Regional Planning '10, and Adjunct Professor of Interior Design Jack Travis have been working with the Prospect Park Alliance on examining the history of the 18th-century Lefferts Historic House in Prospect Park.
Along with researching and analyzing a history that spans early Dutch settlement, slaveholding, community space, and a relocation of the house from its original location to the park, they visited the site throughout the fall semester to consider its context going back to the precolonial era. The Lefferts House is currently being reimagined to center Indigenous and Black heritage in a more inclusive story about Brooklyn's past.
"We were lucky to work closely with the Prospect Park Alliance staff as a new role for the Lefferts House is being considered," Bingham said. "The students were very eager to engage residents and park users as part of their research. Those local voices formed the foundation of the students' project and carried through to their final plan for the historic site."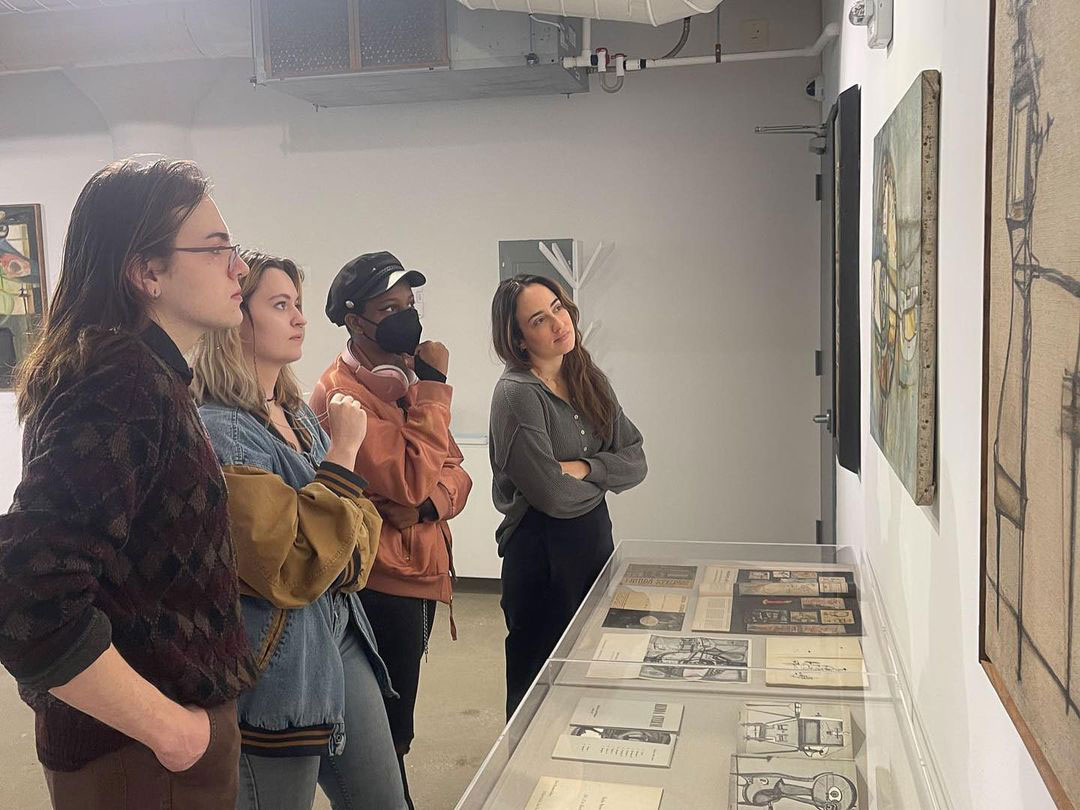 A visit to the Hedda Sterne Foundation in the Brooklyn Navy Yard brought together a painting class led by Visiting Instructor Theresa Daddezio in Fine Arts and a History of Art and Design class—Art Since the 60s—led by Greg Lindquist, visiting assistant professor of history of art and design. The students explored a chronological survey of work, publications, and archival material related to the late Romanian-born artist who engaged in Surrealism, Abstract Expressionism, and the New York School after arriving in the city during World War II.
"Visiting the Hedda Sterne Foundation was a very inspiring experience," said Jordan Ramsey, BFA Fine Arts (Drawing) '25. "Seeing an artist contribute so many decades of work is motivating for my future as an artist."
Executive Director Shaina Larrivee also provided a kaleidoscopic introductory narrative of Hedda Sterne's storied life and relationships with other Abstract Expressionists, as well as a portrait of how Sterne thought about painting and the role of the artist over the almost eight decades of her working life.
All of these explorations and visits enrich the Pratt student experience, where every level of learning is enhanced by the vibrant and inspiring setting of New York City.