Four 2011 graduates from Pratt Institute's studio jewelry program in the undergraduate fine arts department will present stunning jewelry designs as part of "LOOT 2011: MAD about Jewelry," a juried selling exhibition of artist-made jewelry at The Museum of Arts and Design (MAD) from October 11-14, 2011. Now in its 11th year, "LOOT: MAD about Jewelry" has earned the reputation of being the ultimate pop-up shop for contemporary art and studio jewelry by both artists and collectors alike, also allowing the public the rare opportunity to acquire pieces directly from some of the most innovative jewelry artists in the world. This year, the creations of 50 emerging and acclaimed jewelry artists, including Bona Ha, Jina Lee, Yoon Ah Paik, and Inhwa Yu of Pratt, will be on sale. Proceeds from the selling show will benefit the museum's exhibition and education programs.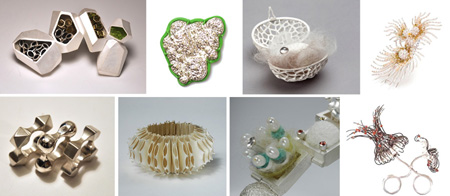 Please see the below text for more on the participating Pratt designers who represent the extraordinary talent of the jewelry design students in Pratt's undergraduate fine arts department, the curriculum of which embraces all aspects of design, creativity, fabrication, and social responsibility in jewelry and metalsmithing.
Bona Ha
Jewelry major Bona Ha graduated from Pratt Institute with a bachelor of fine art's degree in spring 2011. Ha's pieces derive from her thesis collection "Geometry Geometry," in which she employs geometric shapes using sterling silver, copper and brass tubing, stones, and glass beads to produce stunning effects. She forms the geometric shapes into three dimensions by shaping metal and utilizing the lost wax casting process. By layering these shapes and placing them together she achieves depth and elevation.
Jina Lee
Recipient of the Myron Toback Senior Jewelry award, Jina Lee graduated from Pratt Institute with a bachelor of fine arts degree in spring 2011. Lee's pieces derive from her thesis collection "Sea Creatures," influenced by the mysterious and beautiful organic forms of the sea. She interprets this in tiny, delicately crafted repeating elements that use wires and beads to capture the buoyant, weightless sense and intriguing colors of this magical world.
Yoon Ah Paik
President's List jewelry major Yoon Ah Paik graduated from Pratt Institute with a bachelor of fine arts degree in spring 2011. Paik's work was created as part of her senior thesis at Pratt; it is inspired by the repeating and three-dimensional patterns of the cactus. Her collection references two different elements of the cactus-the hard and protected outer barricade and the soft inside-and employs multiple materials such as silver, fabric, plastics, and natural pearls to represent the cactus's unique shape and texture. Paik, who was born and raised in Seoul, South Korea, placed third in Pratt's 2011 Senior Jewelry Show.
Inhwa Yu
Recipient of both the Metalifferous Junior Jewelry award and the Myron Toback Senior Jewelry award, Inhwa Yu graduated from Pratt Institute with a bachelor of fine arts degree in spring 2011. Her "Memory" thesis collection draws heavily upon the influence of her native Korea, where cocoons and threads represent ancestral strength and spirit. Yu's designs are constructions of memories that she endeavors to make tangible as forms to touch and feel. Most of Yu's design inspiration derives from nature, which she believes is the basis for the pure beauty of all design.
Michele Cohen, the chair of LOOT 2011, and her committee members, Bryna Pomp, a jewelry specialist, and Nancy Olnick, served as the jurors for this event, carefully selecting artists for their originality, range of materials, and expert craftsmanship. Most of the artists will be on hand to share their vision and inspiration with visitors.
From left to right: jewelry designs by Bona Ha, Yoon Ah Paik, Inhwa Yu, and Jina Lee, all 2011 graduates of the undergraduate studio jewelry program in Pratt's department of fine arts. Photo credits from left to right: Bona Ha, Timothy McMahon (top) and David Butler (bottom), Jun Lee, and Seung hoon Cha.