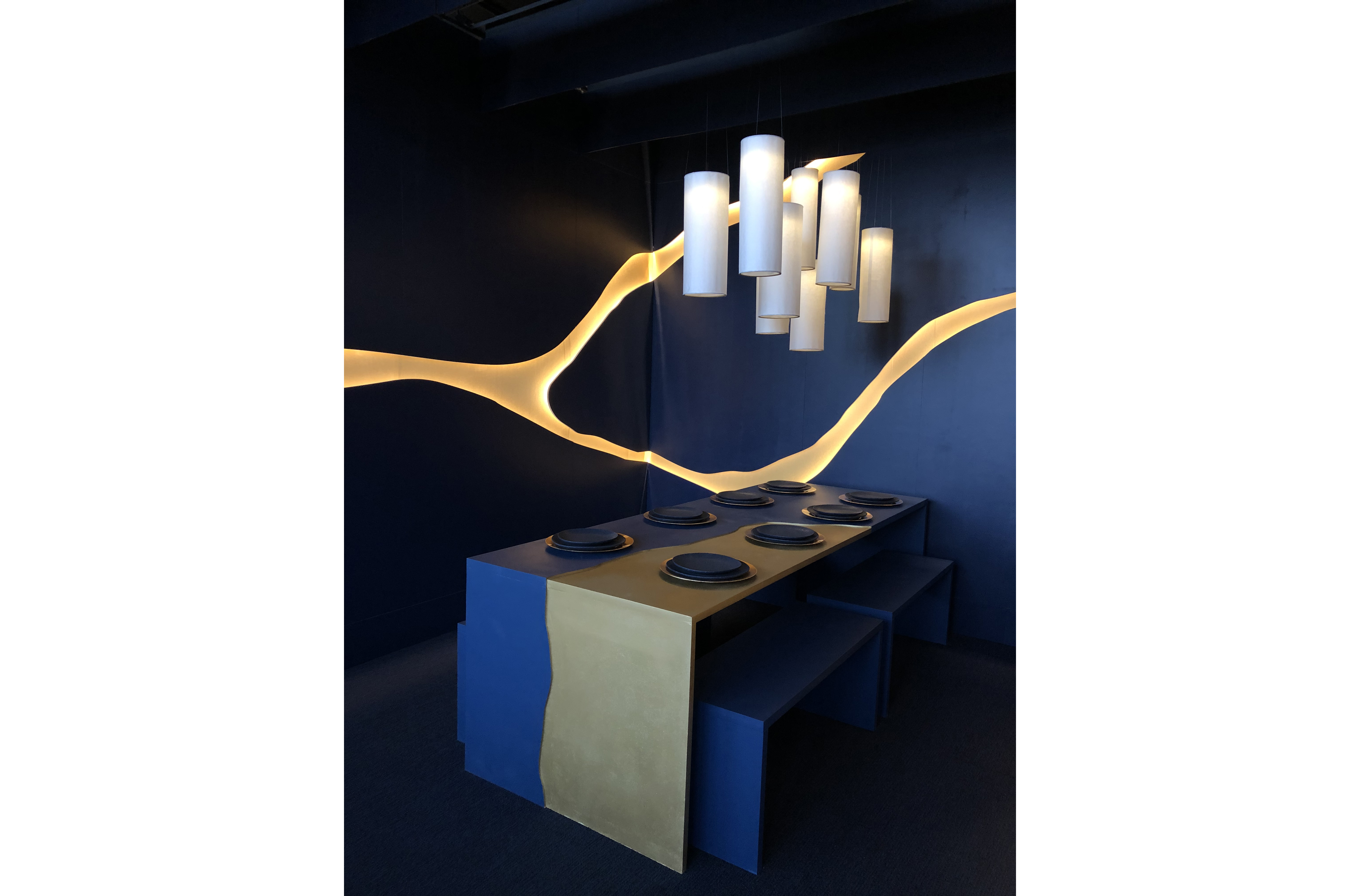 In the Japanese art of kintsugi, broken pottery is repaired with gold lacquer. Pratt interior design graduate students were inspired by this mending technique in their dining environment concept for the annual Design Industries Foundation Fighting AIDS (DIFFA) Dining by Design event held this spring. The Pratt team included Katherine Levinton, Claire Keener, Gabriela Barrera, and Eloise McEniry. Called "Stronger Together," their design features one vein of gold that breaks through a blue wall, a luminous scar that recalls how united the world can best fight the fragmenting effects of HIV/AIDS.
"The design came from trying to dig deeper into thinking about something strong that represents our concept around HIV and AIDS, which is about coming together and unifying," explained Keener. Kintsugi arose as a conceptual theme during their workshopping session for ideas that would resonate with the mission of DIFFA. "It came from this idea of having things broken up into pieces coming together."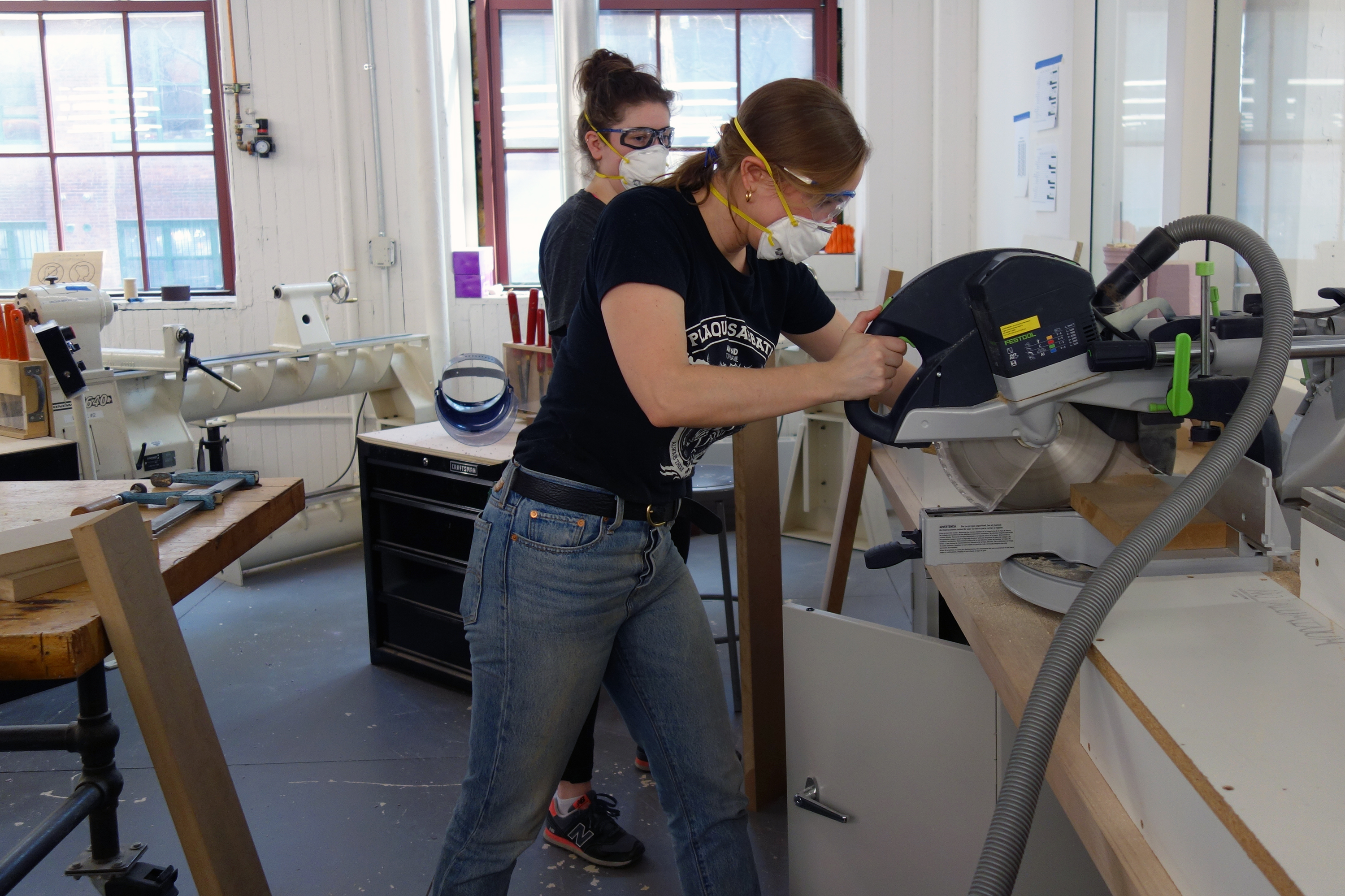 In "Stronger Together," a rectangular table that is half blue, half gold, is positioned in an environment of blue panels and columns, all interrupted by the gold fissure. Overhead, a cluster of cylindrical lamps illuminates the space. Each element reflects the kintsugi philosophy of connecting pieces into a whole, with the visibility of the healing enhancing the beauty.
DIFFA is one of the largest supporters in the country for organizations involved in HIV/AIDS service, education, and advocacy. Dining by Design, which is organized alongside the Architectural Digest Design Show, has local and international designers building functional dining environments on Pier 92 in Manhattan. This year's event began on March 21 and culminated with the March 25 Dining by Design Gala where guests had the opportunity to dine at the designed tables. During the five-day run the public was invited to explore the elaborate installations. Pratt has participated for the past eight years, with previous installations including 2018's "The Elephant in the Room" with a suspended chicken-wire elephant representing the heaviness of a conversation about being HIV positive, 2017's "Movers and Shakers" with a nightlife theme referencing both the Shaker community and KiKi Balls, and 2016's "Transcending Darkness" which had a light sculpture responding to the Desmond Tutu quote, "Hope is being able to see that there is light despite all the darkness."
Pratt's 2019 team participated through DIFFA's Student Design Initiative, which connects young designers to design experts. Lydia Marks and Lisa Frantz of Marks & Frantz interior design firm acted as their design mentors. While the DIFFA project was not part of a class— and the students devoted much of their spring break to its implementation—this valuable hands-on experience in support of a meaningful event made their participation important.
"We don't really ever have the opportunity to design something and build it at such a huge, full scale," Keener said. "It's also for a great cause and a really great organization. And it's great to work on a team as a lot of our studio projects are individual." Fellow team member Levinton added: "Usually we only get to see a rendering. To take it many steps further and actually build it is a big difference."