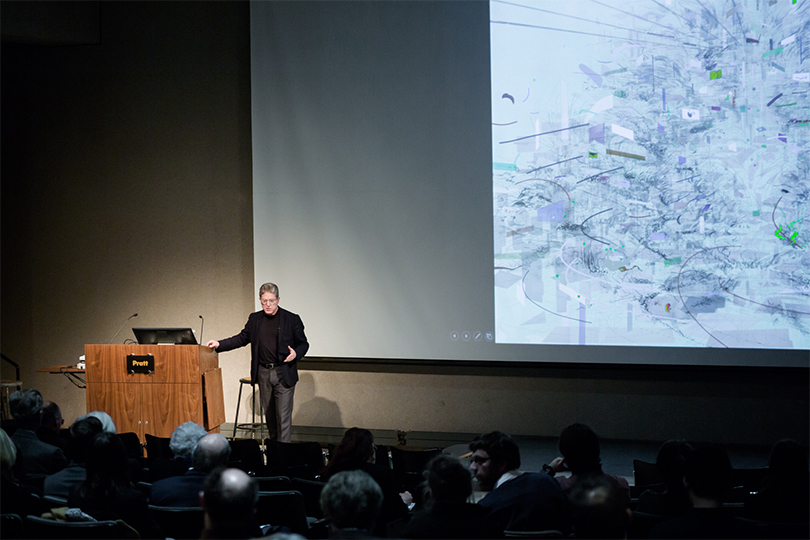 Pratt welcomed James von Klemperer, President and Design Principal of international architecture firm Kohn Pedersen Fox Associates (KPF), to the Brooklyn campus on February 26 to speak about his work before an attentive audience in Higgins Hall auditorium. The talk was part of the Arnold Syrop (B. Arch '61) and Joanne Syrop Annual Lecture, which highlights outstanding individuals in architecture and is endowed by the Selz Foundation.
Following opening remarks by Pratt Institute President Frances Bronet and an introduction by School of Architecture Dean Thomas Hanrahan, von Klemperer shared a look back at his past work as well as current projects, offering insights into development and design through the lens of "The Multi-Layered City."
A central element of the talk was an exploration of how the key elements of intensity and density combine to create variety within the urban experience. With the help of photographs and renderings, von Klemperer discussed a number of KPF projects from around the world, including R Central Towers (Nagoya, Japan), Lotte World Tower (Seoul, Korea), and Hudson Yards (New York City). He spoke about how the projects embrace a range of concepts—such as climbing, stacking, floating, crowning, healing, and connecting—that bring variety to the urban experience and reveal different approaches to integrating multi-use developments and buildings into the human and urban context.
He described, for example, how the retail and office project Hysan Place in Hong Kong is about climbing, noting how the building communicates vertical movement to the street through features such as the escalator-like shapes of the building's exterior. Closer to home, he talked about One Vanderbilt, the soaring new office tower currently under construction across from Grand Central Station in New York City. He characterized the building as a connector, with layers at the bottom that open up above to public space, design elements such as terracotta soffits that create harmony with its Grand Central Station neighbor, and integration with the city's transportation network.
The talk ended with a question-and-answer session that covered a number of topics, including how to gauge how comfortable people in different parts of the world are with moving around in multi-layered spaces. New Yorkers, for instance, might not be inclined to visit a concert hall located at the top of a building as visitors to the KPF-designed Lotte Concert Hall do in Seoul, but "You shouldn't be afraid of doing something new, as long as you're careful," von Klemperer said about design projects. "Why not put something to a test?"
He also explained that KPF staff includes people from the areas where they build and who have a local understanding of how people function and move through space. In New York, of course, that staff includes Pratt alumni, and von Klemperer mentioned that there are about a dozen Pratt graduates working at KPF, noting that "we prize the sense of independence that comes with Pratt and the diversity of experience" that the Institute's students bring.
The talk was followed by a reception outside the auditorium, where audience members had the opportunity to continue the conversation.