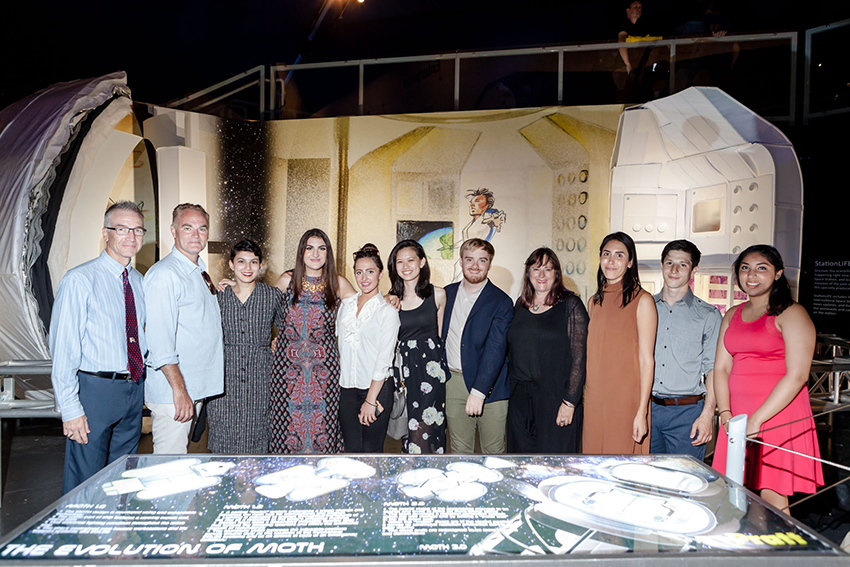 A Mars transit habitat project designed by Pratt architecture and industrial design students was on view at the Intrepid Sea, Air & Space Museum in Manhattan from July 13–18. The project was the result of a challenge presented by NASA, in which the students were inspired to address design concerns related to space travel. For an interdisciplinary studio class led by Adjunct Assistant Professor of Architecture Michael Morris and Adjunct Associate Professor of Industrial Design Rebeccah Pailes-Friedman, the students worked on the eXploration Habitat (X-Hab) 2016 Academic Innovation Challenge "Human Centered: Designs for the Mars Transit Habitat," a NASA project collaboration with academic institutions to develop a transit habitat, or module, for the exploration of Mars. The Intrepid exhibition showcased their work in the museum's Space and Science Festival, including two full-scale prototypes of elements of their design and a short video on the design process.
A comprehensive feature article on the two-semester project appeared in Scientific American. In addition to conference call reviews with NASA through the academic year, students traveled with faculty to NASA's Johnson Space Center last fall to present their work to NASA scientists, doctors, and engineers, and discuss their research and projects.
NASA and the National Space Grant Foundation recently selected Pratt as one of seven university teams to design systems, concepts, and technologies that will help improve NASA's exploration capabilities, including the habitation systems astronauts will need for the agency's journey to Mars. The selections are part of the eXploration Systems and Habitation (X-Hab) 2017 Academic Innovation Challenge.
Under the direction of Morris and Pailes-Friedman, Pratt's new X-Hab project for the 2016-2017 academic year will focus on elements of a habitat designed for the surface of Mars. Titled "Human Centered Design: Mars Transit to Mars Surface Habitat," the project will bring together architecture and industrial design students to use elements from this year's X-Hab Mars transit habitat to create a kitchen and sleeping area concept for a Mars surface habitat.
Learn more about the Intrepid Sea, Air & Space Museum's Space and Science Festival here. Read the Scientific American article here.
Image: (L-R) Tracy R. Gill, Deputy Chief Technologist at NASA Kennedy Space Center; Michael Morris, Adjunct Assistant Professor of Architecture; students Amira Selim, Elvira Melamed, Larissa Naegele, Michelle Chung, Jason Solosk;, Rebeccah Pailes-Friedman, Adjunct Associate Professor of Industrial Design; Visiting Instructor Melodie Yashar; and students John Doria and Rhea Gopal at the Mars Transit Habitat exhibition opening reception at the Intrepid Sea, Air & Space Museum