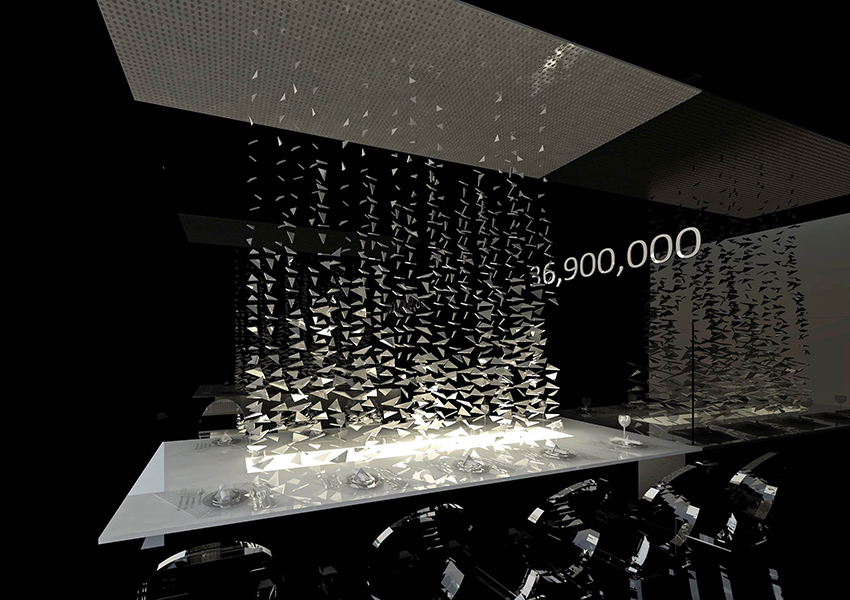 Students from Pratt Institute's Interior Design Department created a unique tabletop installation for Dining by Design 2016, an event held by the Design Industries Foundation Fighting AIDS (DIFFA) from March 17-21. The annual event, which runs concurrently with the Architectural Digest Design Show at Pier 92 in Manhattan, draws thousands of design enthusiasts and luminaries in art, fashion, architecture, and design. A VIP gala dinner held on the final day of the event offers the opportunity to fully experience the installations by dining at the specially designed tables.
DIFFA is one of the country's largest funders of HIV/AIDS service and education programs, mobilizing the immense resources and creativity of the design community. For Dining by Design, participating designers created nearly 50 spectacular dining environments. Pratt was one of several schools to exhibit as part of DIFFA's Student Design Initiative, which provides the next generation of young designers with the rare opportunity to work with top design veterans for the highly anticipated event. Each team was paired with a renowned design industry mentor, and worked within the scope of DIFFA's mission of supporting HIV/AIDS awareness to conceptualize, design, and build the one-of-a-kind installations.
Two Pratt student teams presented their concepts to DIFFA earlier this year and one team was selected to create Pratt's installation for the event. Jon Otis, professor of interior design, served as faculty lead, and Regis Paen and Ilona Parkansky, both visiting assistant professors of interior design, were co-instructors. The team members were Emlyn Hilson (M.S. Interior Design '16), Raleene Cabrera (M.S. Interior Design '16), Regina Macaraeg (M.S. Interior Design '16), and Ana Vasquez (M.S. Interior Design '16).
The Pratt team's concept, "Transcending Darkness," was inspired by a quote from Desmond Tutu, "'Hope is being able to see that there is light despite all the darkness." Their design aims to evoke a hopeful and uplifting experience through the use of a light sculpture as a focal point for viewing and reflection.
The light sculpture is composed of numerous hanging individual pieces of triangles referencing the Silence = Death triangle. The triangles visually represent the 36.9 million people who are living with HIV today. From the bottom to the top, the triangles become progressively less dense before eventually disappearing—representing the hope and aspiration that the number of those infected with the HIV virus will decrease and eventually disappear, and that hope lifts humanity.
The Dining by Design installations were unveiled at a preview party on March 17. They were on view to the public through Sunday, March 20, closing with a VIP gala dinner on March 21.
Click here for more information on DINING BY DESIGN 2016.
Image: Pratt students' "Transcending Darkness" concept for DIFFA's Dining by Design New York Event