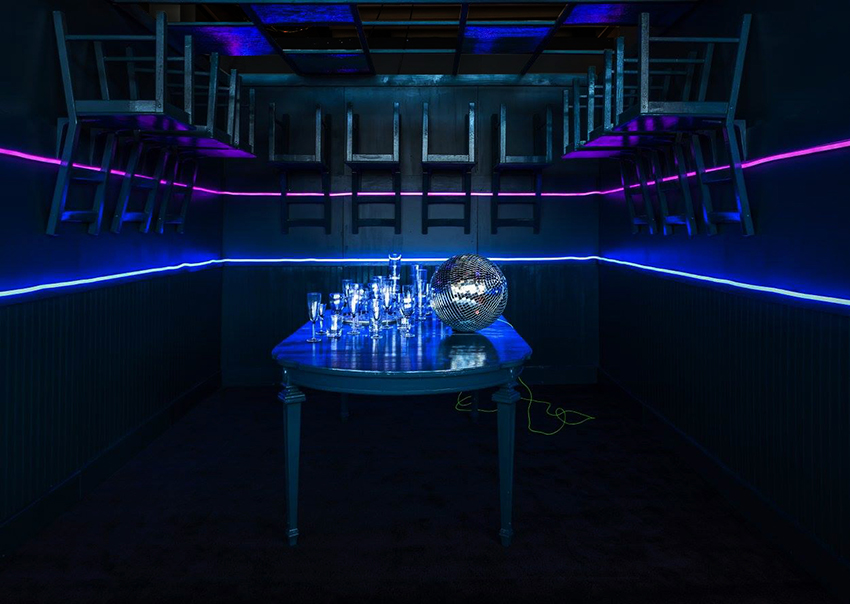 Graduate students from Pratt Institute's Interior Design Department created a distinctive tabletop installation for the Design Industries Foundation Fighting AIDS (DIFFA) Dining By Design event, which was held March 16–20 at Pier 92 in Manhattan. This year marked the 20th anniversary of Dining by Design, which runs simultaneously with the Architectural Digest Design Show, bringing together some of the most talented individuals in the worlds of fashion, interior design, art, and architecture. The five-day event concluded with a VIP gala dinner where guests were able to experience the installations by dining at the elaborately designed tables.
DIFFA is one of the country's largest funders of HIV/AIDS service and education programs, mobilizing the immense resources and creativity of the design community. For Dining by Design, participating designers created nearly 30 remarkable table displays. Pratt's team was one of several to create a dining environment as part of DIFFA's Student Design Initiative, which provides young designers the rare opportunity to work with design experts for the event.
This year marks the sixth year that the Interior Design Department's Exhibition Design Intensive (EDI) class has participated in DIFFA. Pratt's team was paired with Tyler Wisler, New York designer and cast member of HGTV's Design Star, and worked within the scope of DIFFA's mission of supporting HIV/AIDS awareness to conceptualize, design, and build the distinctive installations.
Pratt's team members were Cristina Alverez (M.S. Interior Design '17), Carol Andrews (M.S. Interior Design '17), Rachel Coco (M.S. Interior Design '17), Marianne Mordhorst (M.S. Interior Design '17), and Eve Taylor (M.S. Interior Design '17). Jon Otis, professor of interior design, served as faculty lead.
Pratt's team concept, "Movers and Shakers," focused on the idea of home as not merely a place, but a community of people and tradition within a place. The design celebrated the evolution of the word home in the fight against AIDS. The framework for the space was inspired and created by the functional forms and traditions of dance in the Shaker community. The Shakers united as one to engage in activism through dance and movement. Clearing the space and hanging up their chairs, the Shakers join together as a congregation on the dance floor, similarly to the LGBT communities of the KiKi Balls. Additional layers of color and light reference the houses of KiKi Balls, gatherings where activism and movement materialize in the form of nightlife.
The Dining by Design installations were unveiled at a preview party on March 16. They were on view to the public through Sunday, March 19, closing with a VIP gala dinner on March 20.
Image: "Movers and Shakers" installation at DIFFA Dining by Design
(photo: Alan Berry Photography)