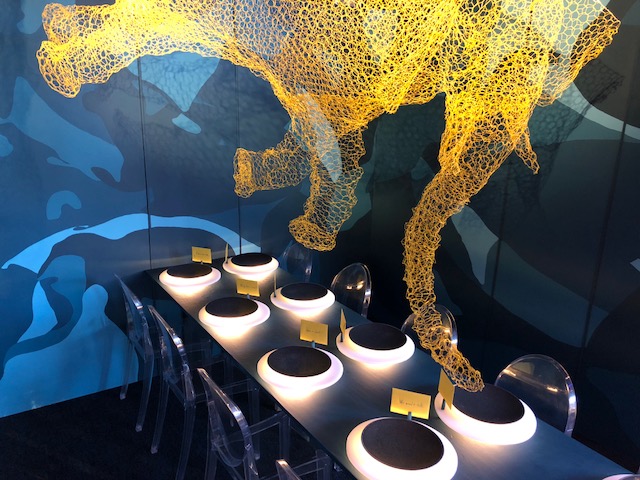 Graduate students from Pratt Institute's Interior Design Department created a distinctive tabletop installation for the Design Industries Foundation Fighting AIDS (DIFFA) Dining by Design event, which was on view at Pier 92 in Manhattan from March 22-26. This year marked the 21st edition of Dining by Design, which ran simultaneously with the Architectural Digest Design Show, bringing together some of the most talented individuals in the worlds of fashion, interior design, art, and architecture. The five-day event concluded with a VIP gala dinner where guests experienced the installations by dining at the elaborately designed tables.
DIFFA is one of the country's largest funders of HIV/AIDS service and education programs, mobilizing the immense resources and creativity of the design community. Pratt's team was one of several to create a dining environment as part of DIFFA's Student Design Initiative, which provides young designers with the rare opportunity to work with design experts for the event.
Pratt students and faculty have participated in the Dining by Design event for seven years, and were again invited by DIFFA to take part for 2018. This year, Pratt's team members were Michelle Marshall, M.F.A. Interior Design '18; Nadia Freeman, M.F.A. Interior Design '18; Mapa Jaramillo Arenas, M.F.A. Interior Design '18; and Elizabeth Bridges, M.F.A. Interior Design '18. Jon Otis, Professor of Interior Design, served as faculty lead, and Barry Richards, a Senior Associate at the Rockwell Group, served as industry mentor. Industrial Design Professor Peter Barna provided assistance to the group with lighting and the firm Bentley Mills donated carpeting.
The team worked within the scope of DIFFA's mission of supporting HIV/AIDS awareness to conceptualize, design, and build the distinctive installation "The Elephant in the Room," which directly addressed the conversation that people have when they tell friends and family they're HIV positive. The design featured a large, yellow chicken-wire elephant suspended above the table, which had a reflective tabletop. The walls were painted dark blue, with elephant camo-print.
The Dining by Design installations were unveiled at a preview party on March 22. They were on view to the public through March 24, and closed with a VIP gala dinner on March 26.