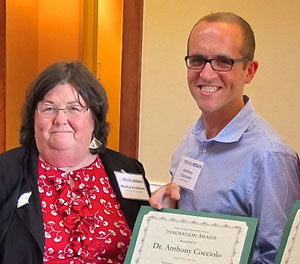 Anthony Cocciolo, an assistant professor in Pratt Institute's School of Information and Library Science, was recently recognized with The Library of Congress' National Digital Stewardship Alliance Innovation Award for his innovative approaches to teaching digital preservation practices at Pratt, in particular his work partnering classes with archival institutions to work on the digitization and digital preservation of analog audio collections.
Institutions that have benefited from partnering with Cocciolo's classes at Pratt include the Dalton School Archives, Archives of the American Field Service and AFS Intercultural Programs, the Lesbian Herstory Archives, and the Archives of the American Jewish Joint Distribution Committee. For example, Cocciolo's classes have collaborated with the Lesbian Herstory Archives (LHA) since 2010 to preserve oral histories and spoken word from Lesbian artists and activists, including Audre Lorde, Adrienne Rich, and Mabel Hampton. Digital archives created by Pratt students in conjunction with LHA can be found at http://boots.prattsils.org andhttp://herstory.prattsils.org.
The Innovation Awards were established by the National Digital Stewardship Alliance to recognize and encourage innovation in the field of digital preservation stewardship. These awards highlight and commend creative individuals, projects, organizations, and future stewards demonstrating originality and excellence in their contributions to the field of digital preservation. The awards were presented at the DigitalPreservation 2012 conference from July 24-26 in Washington, D.C. Cocciolo was one of two people to be recognized in the "Individuals" category.
Cocciolo has taught courses in digital archives, digital libraries, social media, moving image and sound archiving, and instructional technology in Pratt's School of Information and Library Science since Fall 2009. His research interests are in the uses of emerging information and communications technologies (ICTs) to enhance libraries, archives, and museums.
In addition to his work at Pratt, Cocciolo is a reviewer for the Journal of the American Society for Information Science and Technologyand First Monday, and blogs at thinkingprojects.org. He has also developed open source software for digital storytelling (GeoStoryteller: Open Source Place-Based Digital Storytelling Platform) and blogging (EduExpression: Open Source Blogging Software for Use with Children Grades 3-8) and authored or co-authored numerous journal articles and conference papers.
Cocciolo holds doctoral and master's degrees in communication, computing, and technology in education from Teachers College, Columbia University, and a bachelor of science degree in computer science from University of California, Riverside. He lives in Manhattan.

Pratt's School of Information and Library Science fosters creativity and innovation for the digital world — its cutting-edge seminar/lab classrooms are designed for participatory hands-on learning experiences that inspire students to be high academic achievers and to be leaders in the Library and Information Science field. The School, which offers diverse programs across libraries, museums, archives, and IT sectors, is located at 144 West 14th Street in Manhattan. It is the only ALA-accredited graduate school of library and information science based in Manhattan, and is the oldest Library and Information Science School in North America.
The mission of the National Digital Stewardship Alliance is to establish, maintain, and advance the capacity to preserve our nation's digital resources for the benefit of present and future generations.
Martha Anderson, Head of the National Digital Information Infrastructure and Preservation Program, with Pratt faculty member Anthony Cocciolo at the Innovation Awards ceremony in Washington, D.C.
Image Credit: Eugene Mopsik.

MEDIA CONTACT:
Amy Aronoff at 718.636.3554 or aarono29@pratt.edu