Fashionista, a fashion news site that is read by over 1 million readers per month, recently ranked Pratt Institute's fashion design program third in the country following Parsons, The New School for Design, and the Fashion Institute of Technology. According to Fashionista, Pratt's third-place ranking comes in part because its program in fashion design has "shed its image as an up-and-coming fashion design program and become a force to be reckoned with."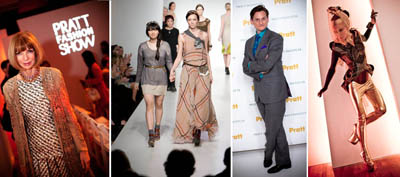 Fashionista went on to mention that Pratt's student shows are getting more attention, and "are attracting such luminaries as Vogue personalities and well-known designers." In 2011, Pratt honored Vogue European Editor at Large Hamish Bowles with the Pratt Fashion Icon Award at its annual fashion runway show where guests included Vogue Editor in Chief Anna Wintour, artist and fashion muse Daphne Guinness, legendary designer Diane von Furstenberg, and Vogue Creative Director Grace Coddington. The publication highlighted that students in Pratt's fashion design department are able to take classes in other art and design disciplines since the department is part of a larger design school and noted that Pratt's is one of the few design programs to offer electives in fashion editorial and magazine publishing.
The online publication explained that its "rankings were not scientific, but considered data, jobs procured, opinions of people in the industry, and standout program offerings." The list also provides an overview of the college's strengths and highlights some of their unique attributes. Fashionista also ranked Pratt on its list of the top 50 fashion schools in the world in a December 2010 report.
One of the most prestigious colleges for art, design, and architecture in the world, Pratt is home to the first fashion design program in the United States. The program prepares students to design apparel for various markets by emphasizing both the technical and creative skills. The department, which includes a bachelor of fine arts in fashion design degree program, is chaired by Jennifer Minniti and is part of the Pratt Institute School of Art & Design, which is led by Dean Concetta Stewart, Ph.D.
One of the largest independent fashion news sites, Fashionista is a finely curated collection of fashion news, criticism, and career advice. As comfortable on the catwalk as it is in the aisles of Target, Fashionista produces daily smartly written business stories on the biggest brands, lively interviews with industry personalities, and guidance on getting into and succeeding in all facets of the fashion world. As one of the most influential voices in the industry, Fashionista is an agenda-setter for the industry as well as influential fashion-focused consumers.
View the complete list of the top fashion programs in the nation.
Images from Pratt's 2011 Fashion Show, including guests Anna Wintour (far left) and Daphne Guinness (far right), 2011 Fashion Icon Award recipient Hamish Bowles (middle right), and award-winning student designer MaRu Jung with model (middle left). Photo Credits: middle left to Renez Perez; all others to Joshua Wong.
MEDIA CONTACT:
Amy Aronoff at 718.636.3554 or aarono29@pratt.edu