The world is overwhelmed with plastic waste, a material that has the potential and need for reuse. In an undergraduate architecture studio, Pratt Institute students created large-scale inflatable structures from recycled plastic to both visualize this environmental issue and present ideas for using excess plastic in design.
"The studio used inflatable structures to create efficient large-scale geometry systems that raise critical questions around the issue of film plastic waste," said Robert Lee Brackett III, adjunct associate professor of undergraduate architecture, who led the course with Duks Koschitz, professor of undergraduate architecture. This type of plastic includes the thin material used in grocery bags, dry cleaning covers, trash bags, plastic wrap, and flexible packaging.
The studio's work was part of the ongoing research at Pratt's d.r.a. Lab (design research in architecture) where Koschitz is director and Brackett is co-director. Working in teams, the students investigated and tested inflatable construction techniques to develop plastic welding patterns for making walls, tubes, domes, and other shapes that could be part of large self-supporting structures. Along with understanding the design of inflatables, they examined ways that plastic waste could be reduced in architectural processes where it has an impact on the environment through its production and life cycle.
The students recently installed their structures outside of the library on the Pratt Brooklyn campus, each presenting a distinct take on inflatable design. One was a maze of undulating forms in which people could discover portals framing perspectives on the campus. Called "Super Maxi," it was designed to spark conversation about single-use plastics in feminine hygiene products. "The inflatable we created is not only a structure for interaction and fun but also a tool and agent to provide awareness on the issues that entail usage of plastic," said Rithika Vedapuri, BArch '23. "It provides a space for people to gain knowledge and begin to start a discussion on what are the possible alternatives for the usage of plastic."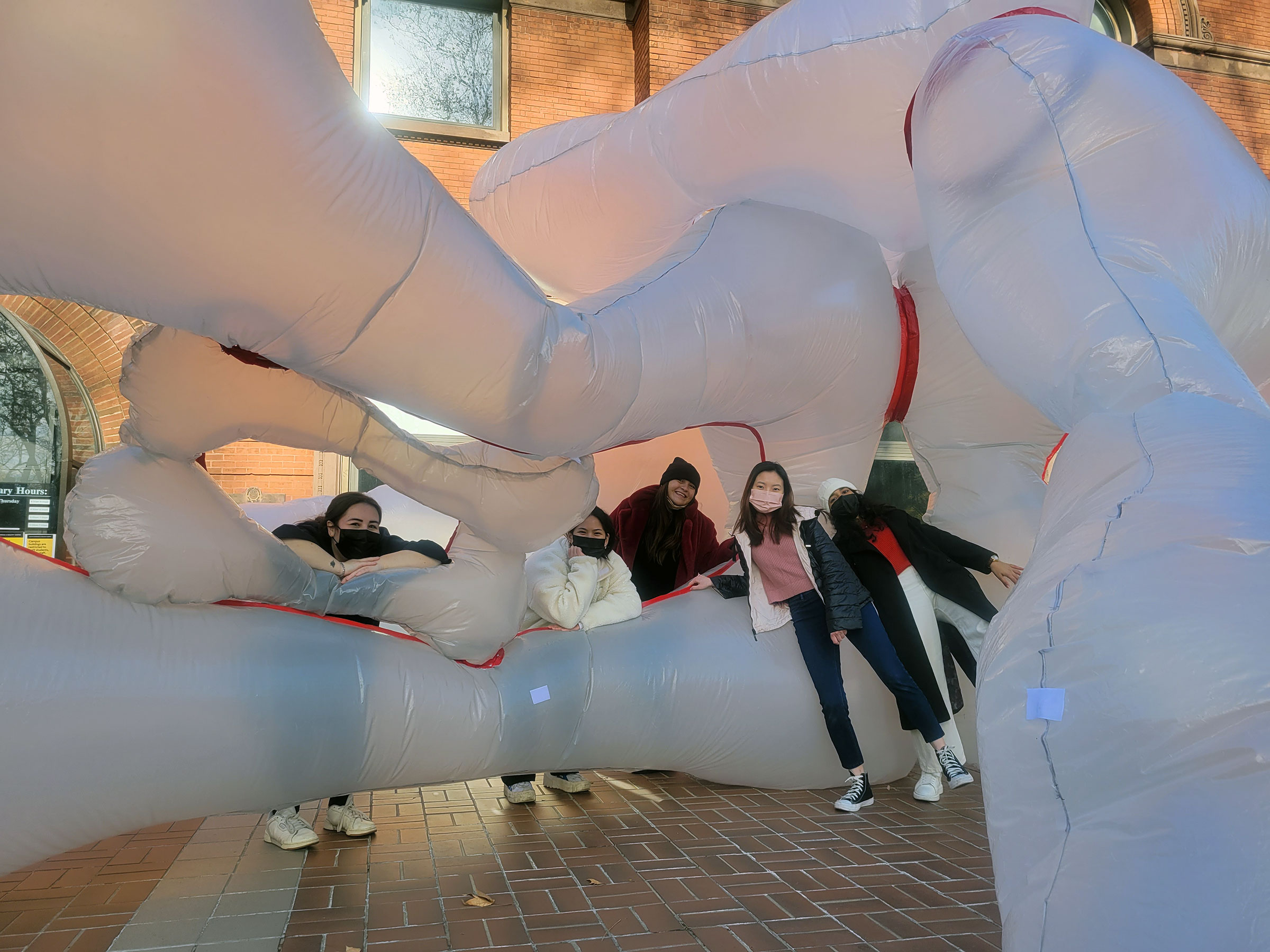 Appearing like a mound of plastic, representing an aggregation of trash, "Super Maxi" allowed for interaction and movement throughout the piece.
"We learned about things like material tectonic relationships, the advantages and limitations of plastic, human-scale factors, and creative problem-solving skills, things that only emerge with building something that is larger than yourself," said Sophi Lilles, BArch '22. "Learning with these parameters really made us think in a completely different way than what we're used to."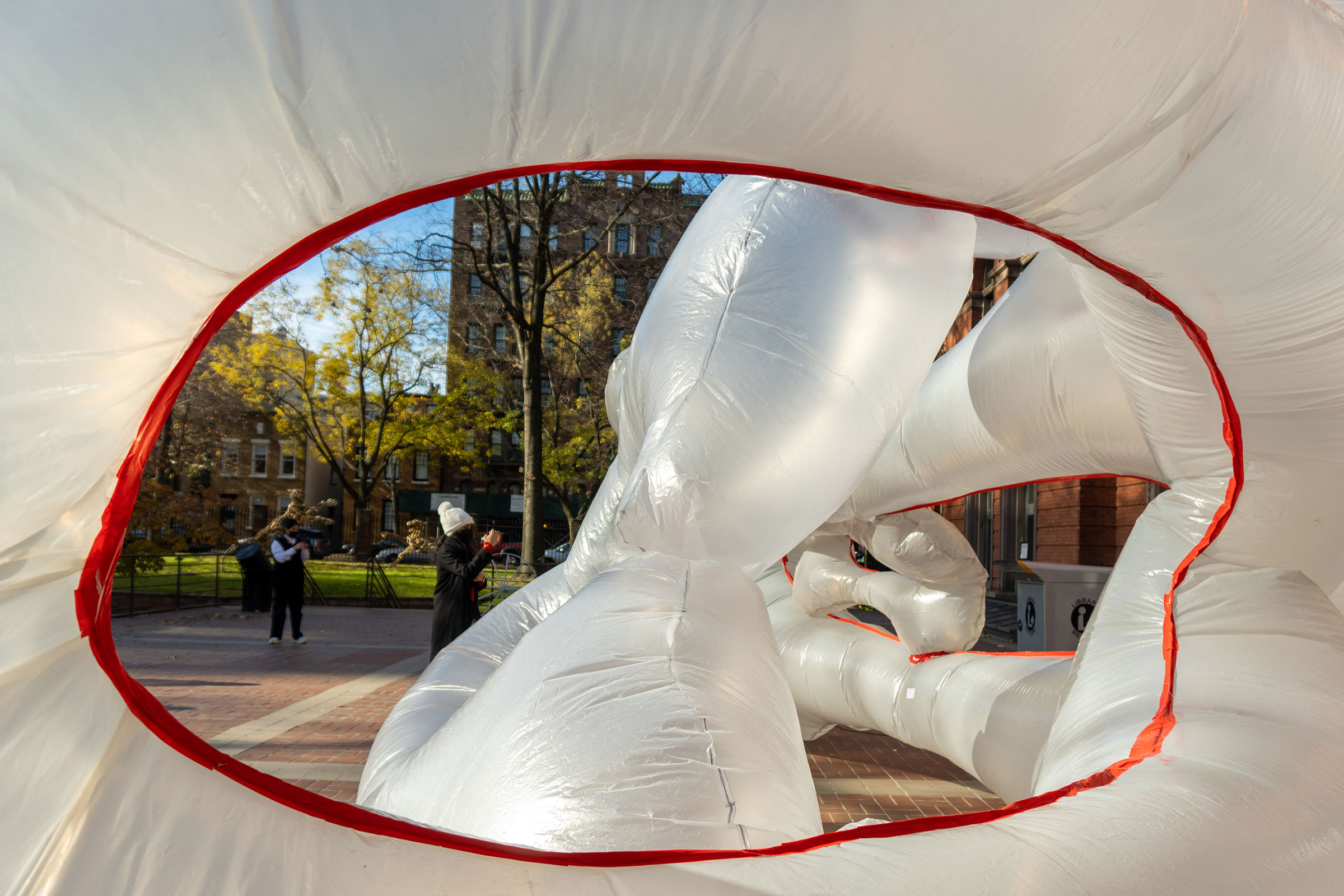 Plastic Confusion was an inflatable involving a pleated black and white cube to reflect on both the good and bad that plastic technology has brought to the world. Visitors had to navigate a tight space to enter, an experience referencing this tension, before they accessed an interior room open to the sky, a moment of revelation evoking how plastic has become an essential material but its toxic life cycle must be considered.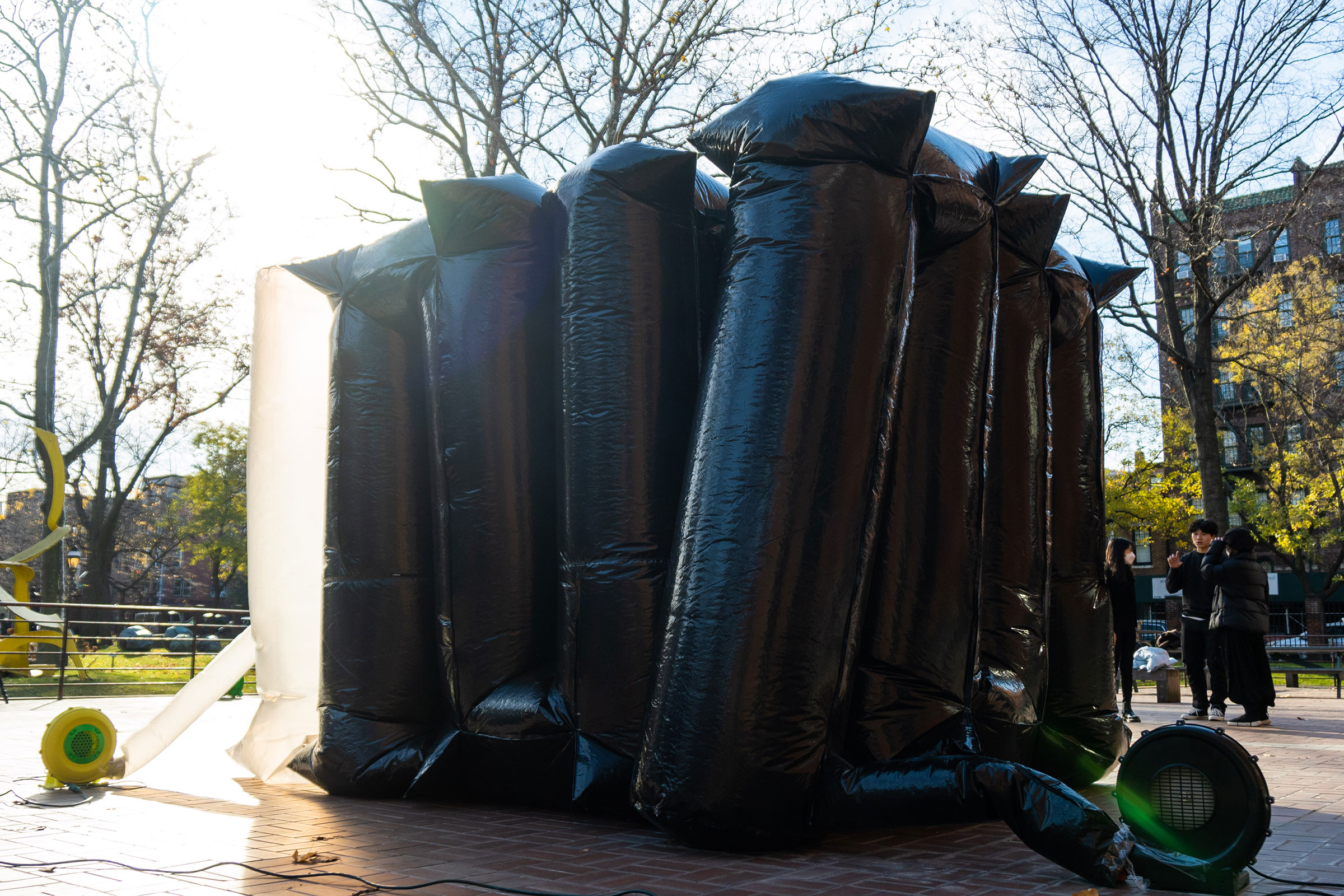 "Plastic has undoubtedly changed the course of our world and through our project, we are examining the duality of plastic, both the good and bad side," said Alan Weng, BArch '23. "It is a constant battle as plastic is often misleading. It can be so easy to use yet so hard to discard. And it is the interstitial space that needs to be dissected—the way we ultimately balance plastic use and plastic waste. As plastic has become an inevitable part of our daily lives, we often forget about where it ends up after it's used."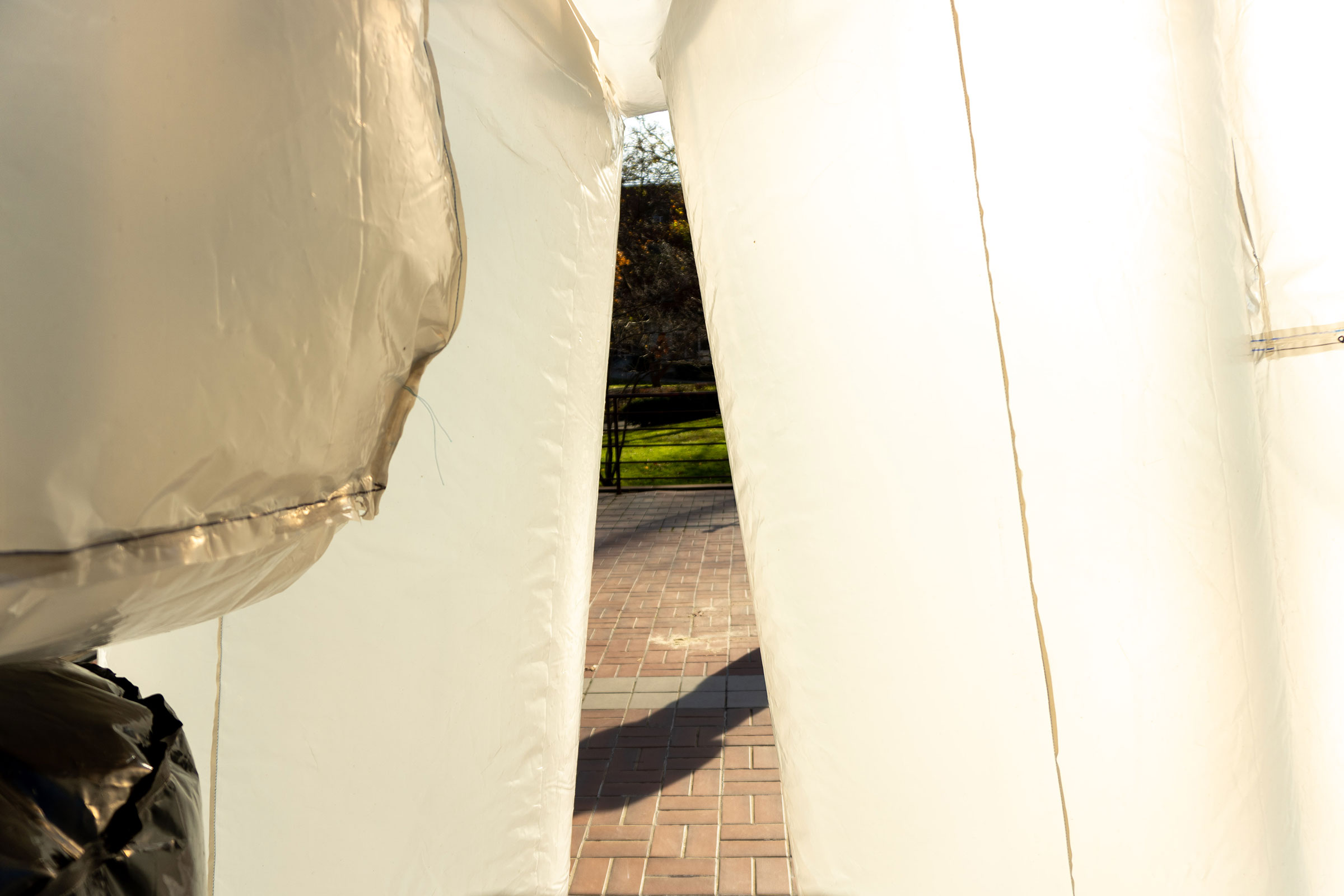 A tent-like pavilion with cantilevered ends called Pop-Up Drop Off was designed by Hannah Bacsoka, Defne Celtikci, Ileana Hernandez, and Meera Ilahi to increase recycling awareness. Outside Higgins Hall ahead of their installation at the library, the team used their inflatable as a plastic film drop-off site where people could deposit plastic into pockets on the structure. They incorporated plastic bags and film plastics sourced from collection points in the neighborhood into one of their structure's sheets, the plastic wrappers from paper towels, grocery bags, and packaging visible in the structure.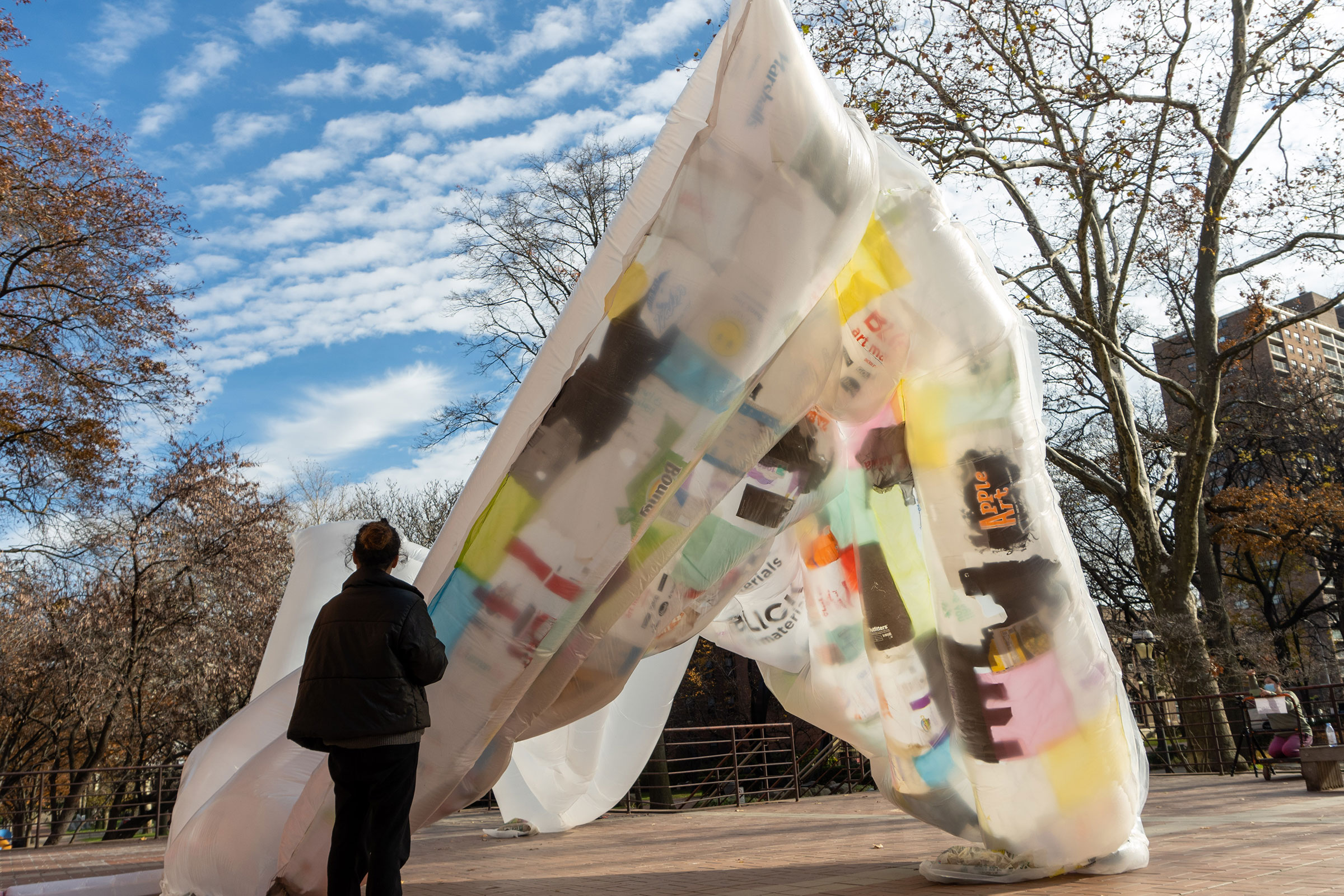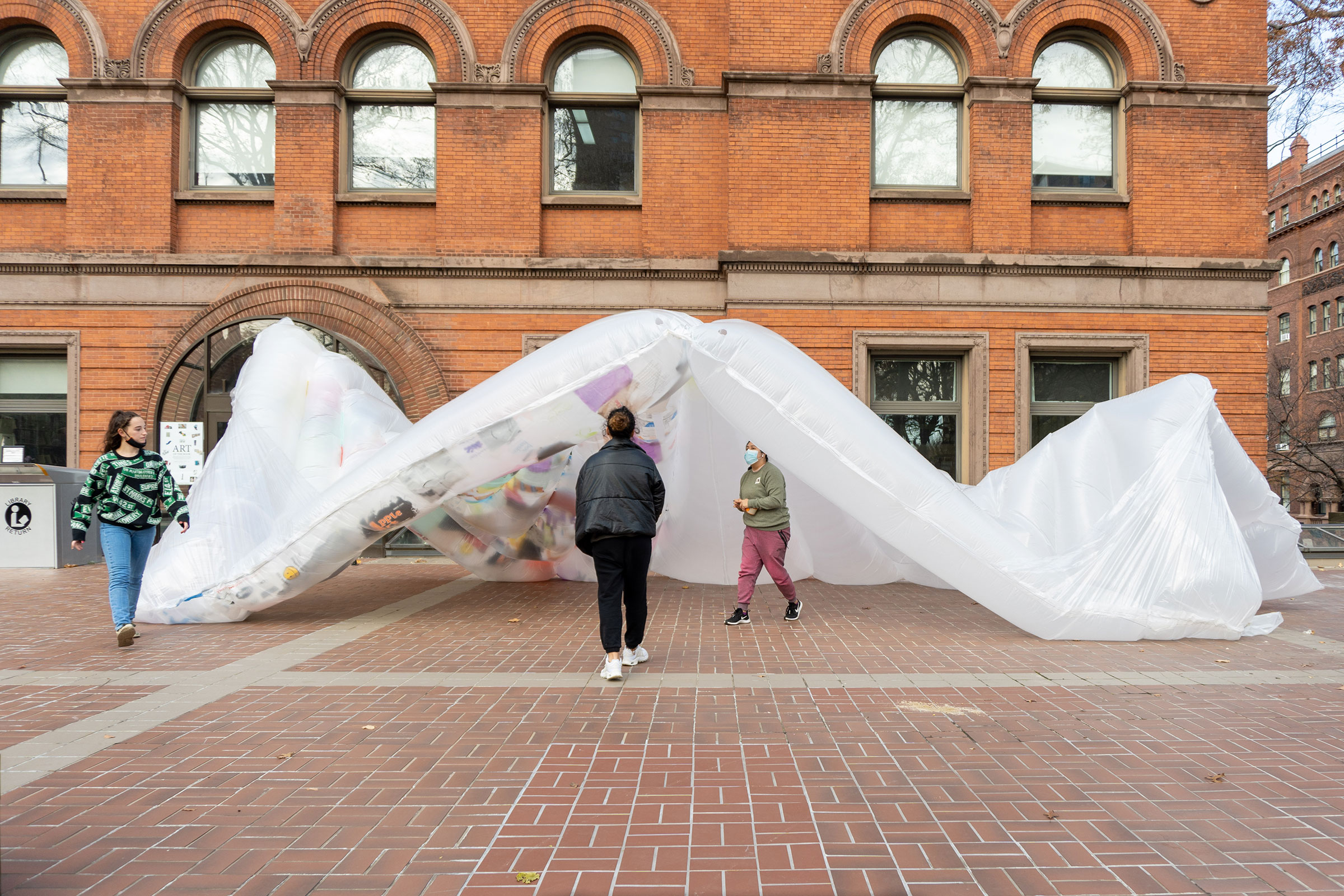 A fourth project called Wrapped Bubble was inflated inside Higgins Hall, its shape referencing the single-use packaging common in shipping boxes. The structure with tubes of plastic and a black layer inside was intended to engulf the visitor to give them the feeling of how plastic is consuming the planet.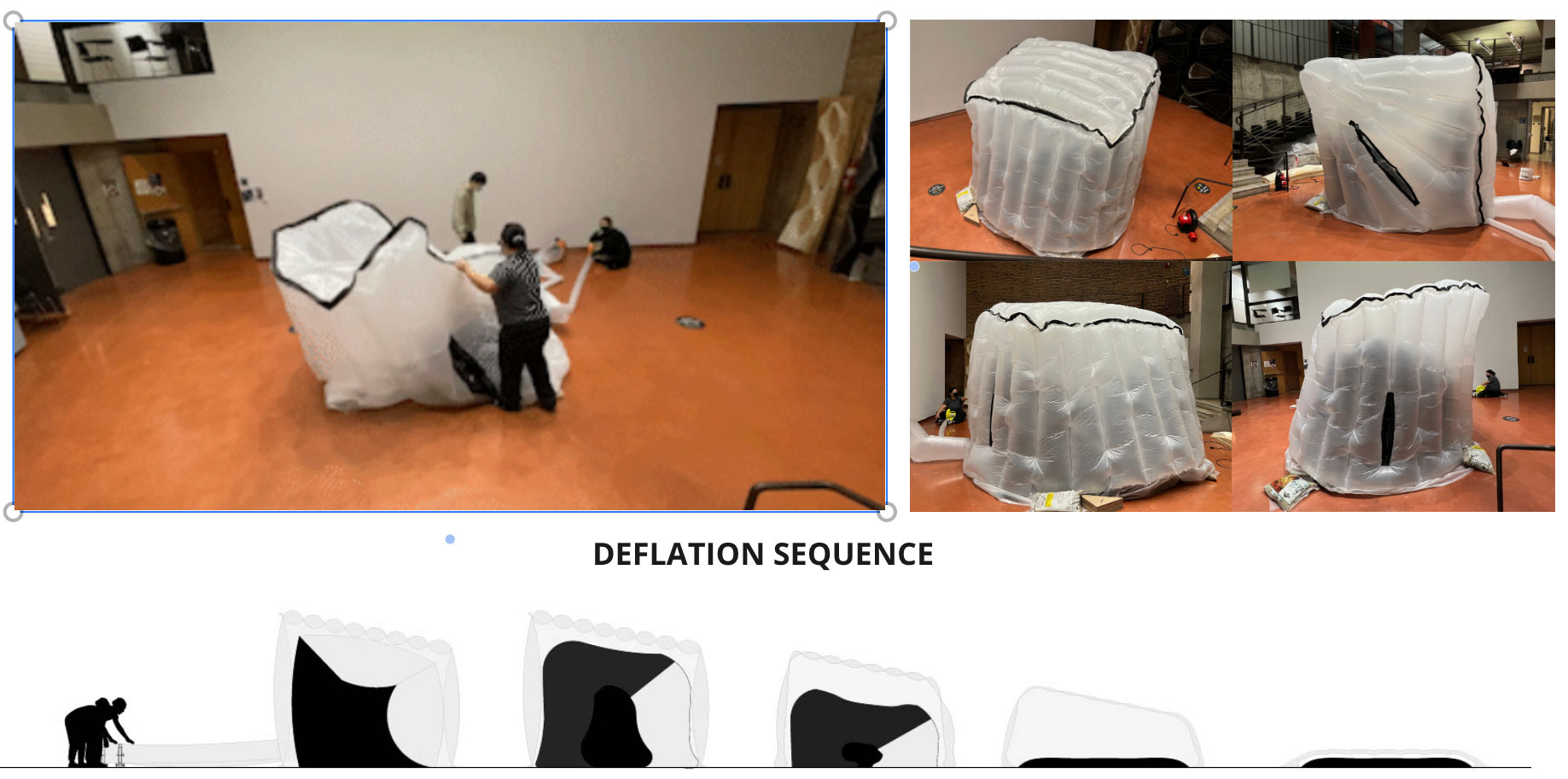 Each of these structures reflected the culmination of the students' research into designing inflatables that can be lightweight and easily deployed in various settings. Their dynamic projects demonstrate how plastic waste could be reused in design as well as how architecture can spark conversation about its detrimental impact on the Earth.