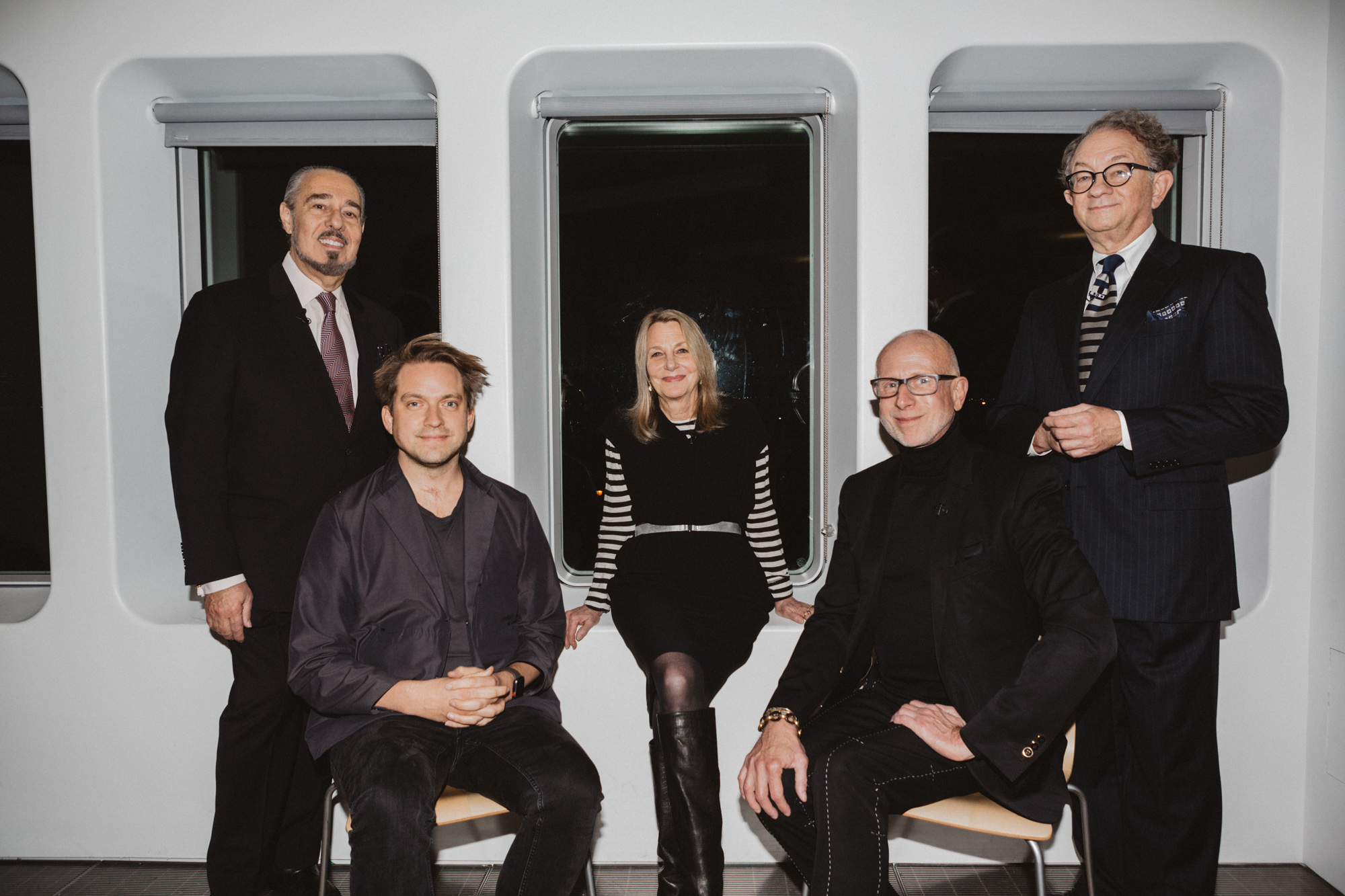 A capacity crowd gathered at the Whitney Museum of American Art's Hess Family Theater and Gallery on November 27 to attend Pratt Institute's Third Annual Design Symposium, which explored the theme, "Designing the Wow Factor."
The symposium brought together a panel of design experts from diverse fields to discuss how the wow factor applies to their fields. Award-winning luxury and cosmetics packaging designer Marc Rosen, Pratt Institute Trustee Emeritus and Professor of Packaging Design, moderated the discussion. The panelists were award-winning interior designer Jamie Drake; Tony Award-winning Broadway costume designer William Ivey Long; Paula Scher, partner at Pentagram Agency; and Daniel Sundlin, partner at BIG Architects.
The panelists each discussed examples of projects from their illustrious careers. Scher opened her presentation by saying, "I think 'wow' is too much pressure. I don't think about that at all when I design." Instead, she explained that her motivation is to raise expectations. She spoke about three major projects, including a packaging system for the skincare company Dr. Jart+ as well as her work rebranding the Quad Cinema and the Public Theater, both in New York City.
Long shared several inspirations for Cinderella's ball gown, which he designed for Broadway's production of Rodgers and Hammerstein's Cinderella. He noted that his favorite old movies, including Gone with the Wind and The Leopard, helped lead him to his final design. He closed his presentation with a sizzle reel of highlights from his impressive career, which has included costume design for Broadway shows such as Nine, Chicago, Hairspray, and Grey Gardens.
Sundlin talked about his firm's process for designing, which begins by understanding how buildings perform and how people experience them. His presentation touched on architecture projects throughout the world, including a spiraling museum for Swiss luxury watchmaker Audemars Piguet, an affordable housing project in BIG's hometown of Copenhagen, and several projects throughout New York City. He closed with a video of the Dryline, a coastal protection barrier in the form of a sizeable city park that addresses the city's vulnerability to coastal flooding.
Drake opened by stating that inspiration for his interior design work comes from everywhere. He shared numerous examples of where he finds inspiration, from art, weather, and nature to food and drink, color, fashion, time, and New York City. He shared images and spoke about his work on New York City's landmark Gracie Mansion, one of his favorite projects.
The discussion ended with a lively Q&A session. One audience member asked what inspires the group to continue doing what they are doing, considering they have reached the pinnacle of their careers, essentially "where do you go from here?" Long replied, "I'm still waiting to do good work and keep thinking the next one is the best one. You can always do better."
The event was sponsored by the Marc Rosen Education Fund with additional funding by Juliana Terian, The Terian Foundation.
Image: (L-R) Marc Rosen, Daniel Sundlin, Paula Scher, Jamie Drake, William Ivey Long