Undergraduate and graduate industrial design students from Pratt Institute, who participated in an intensive, year-long collaboration with Herman Miller to design furniture that promotes physical and mental well-being, will present an exhibition of work as part of the 24th annual International Contemporary Furniture Fair (ICFF) from May 19-22, 2012, at New York City's Jacob K. Javits Convention Center at 655 West 34th Street in Manhattan. Pratt was one of six international design schools selected to exhibit at this year's show by GLM, the producer and manager of the ICFF. This is the fourth consecutive year that Pratt was selected to exhibit. Pratt's booth number is 1267.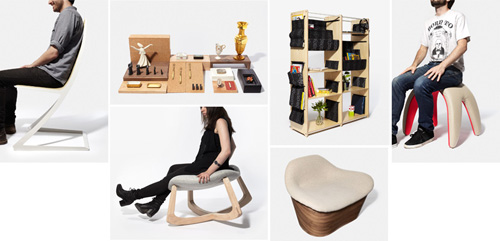 The Pratt and Herman Miller collaboration, themed "Body and Mind," kicked off in September 2011, when students from Mark Goetz (B.I.D. '86) and Tim Richartz's (B.I.D. '86) graduate and undergraduate furniture design studios were presented with the challenge to create designs that balance body and mind in ways that potentially increase health benefits and elevate mood and productivity while providing a greater degree of personal satisfaction from the user experience. The theme was conceived by Pratt ICFF lead faculty advisor Goetz and design directors at Herman Miller. The eight most successful projects by nine Pratt students will be on display at the fair as selected by a team of esteemed designers from Pratt and Herman Miller.

"The premise of 'Body and Mind' encourages our students to go beyond conventional thinking and consider how their original ideas can have a real benefit to individuals physically, intellectually, and emotionally," stated Goetz."Working with Herman Miller, a leader in innovation, inspired our students to think bigger and to consider more of what is needed to improve the physical and mental well-being of individuals and their environment throughout the world," he added.

Designs include:

· A chair design that links posture, physiology, and self-confidence by Scott Jones (M.I.D. '13)
· A stool design that fosters proper bone alignment and a stronger connection between the body and mind by Kelley Proscio (B.I.D. '12)
· A rocking lounge chair that functions as a cradle for adults that calms and refreshes their minds by Youju Rhee (B.I.D. '12)
· A rocking chair that helps to increase concentration by Melodi Bozkurt (B.I.D. '12) and Erin Turkoglu (B.I.D. '12)
· Furniture designs for seniors that are functionally and psychologically supportive by Andrea Brown (M.I.D '13)
· A modular shelving design that addresses the organizational needs of users to create a less stressful environment by Heidy Garay (M.I.D. '12)
· A modular project that encourages active engagement with one's cherished memories by Pete KL (M.I.D. '12)
· A chair design that promotes wellness by prompting the user to sit in the cross-legged position by Fahmida Lam (M.I.D. '13)

During the fall semester, students developed their designs with the guidance of Gary Smith, director of design facilitation, Herman Miller, who traveled to Pratt's Brooklyn campus from Herman Miller headquarters in Holland, Michigan, to participate in mid-term and end-of-term reviews. At the conclusion of the term, the six students whose work showed the most potential for growth and development were selected to continue their projects with the assistance of Herman Miller. Two projects that were considered fully developed by Goetz, Richartz, and Smith, and completed on the undergraduate level, were selected for inclusion in Pratt's ICFF booth.

The six students, five graduate and one undergraduate, whose designs required additional exploration, were invited to visit Herman Miller headquarters in Holland, Michigan, in March 2012 for additional design input. While in Michigan, the students were provided a rare behind-the-scenes look at Herman Miller, that featured a tour of the facilities, including the company's research and development offices and factories. They learned about manufacturing, environmental, and healthcare considerations of the products, and saw such legendary designs as the Aeron® Chair, and Eames and Herman Miller Modern Classic products in production. The students also had the distinct opportunity of presenting to a panel of approximately 10 Herman Miller experts in the areas of engineering, health care, design development, ergonomics, manufacture, and material and color. The students presented their ideas for "Body and Mind," and returned to Brooklyn with expert input on how to capitalize on their ideas and finalize their designs.

This spring, Herman Miller assisted with some of the most technically-challenging projects to ensure that the designs were executed perfectly to fit the student's vision. They also sponsored the professional execution of the student designs to help them realize their vision without compromise. The result, to be displayed for the first time at ICFF, are the culmination of a year's worth of growth and insights into innovative designs that consider both the mind and body.

Each year GLM mounts the design schools' exhibitions, inviting the world's leading design academies and the brightest of the next generation to submit student work for juried review. In addition to Pratt, five colleges will participate including Art Center College of Design, Cranbrook Academy of Art, University of Lapland, University of Tokyo, and Virginia Tech.

——————————————————————————————————————————————–
About Pratt Institute's Department of Industrial Design:

Pratt Institute, an educational leader in art, design, and architecture, offers both undergraduate and graduate degrees in industrial design. Pratt's industrial designers seek to be innovative and impactful in creating beautiful forms and products that express their vision as reflected by the people and culture of the times. Pratt's undergraduate and graduate industrial design programs are among the highest ranked in the country according to 2012 rankings by DesignIntelligence. The Industrial Design department is chaired by Steve Diskin and is part of Pratt Institute's School of Art and Design, which is led by Dean Concetta M. Stewart.

———————————————————————————————————————————————
About ICFF:

ICFF is North America's singular showcase for contemporary design. More than 500 exhibitors will display contemporary furniture, seating, carpet and flooring, lighting, outdoor furniture, materials, wall coverings, accessories, textiles, and kitchen and bath for residential and commercial interiors, with over 25,000 visitors expected from around the world.

The fair is open to the trade Saturday, May 19, and Saturday, May 20 from 10 AM to 5 PM and Monday, May 21 from 9 AM to 6 PM and is open to the trade and general public on Tuesday, May 22, from 10 AM to 4 PM. For ticket information, please visit www.icff.com. Please consult the ICFF guide upon arrival at the Jacob K. Javits Convention Center for booth locations.

———————————————————————————————————————————————-
Other displays at ICFF featuring work by Pratt students and recent alumni include:

Model Citizen NYC's THE COLLECTIVE
Booth #806
Model Citizens NYC introduces THE COLLECTIVE, a curated representation that connects independent and emerging designers with premier retailers to bring exclusive, limited editions, or new collections to the market seasonally. THE COLLECTIVE includes Pratt industrial design alumni David Kim and Mike Seto of Click Boom Pow.

Far Found
Booth #801, IDSA
Far Found is a collection of contemporary residential furniture imbued with the richness of far-off lands and cultures. Each line in the collection embraces and reflects the attitude, materials, and means of the place where it is made. The first line, the Viva Collection, was made entirely in Colombia's capital. Far Found is the latest project by a multi-cultural group of Pratt industrial design alumni that includes Stevenson Aung, Jason Hu, Mike Jozewicz, Sushir Kadidal, and Alvaro Uribe.

Additional Pratt alumni whose work will be shown at ICFF include Harry Allen, designer of such iconic objects as the Banana Bowl and Pig Bank, who plans to show new lighting and chair designs, and Charles Pollock, who designed the iconic Pollock Executive Chair and who will unveil his first new chair design in nearly 30 years at the Bernhardt Design booth. Also unveiling new work will be Cayce Becket and Gregory Horgan, partners in the Brooklyn-based design and furniture company Horgan Becket, and Jinsheng Wang of Wang, Jinsheng's Studio.

Other exhibitions in conjunction with ICFF featuring work by Pratt affiliates include:

The American Design Club (AmDC) Presents "Raw + Unfiltered"
Heller Gallery
420 West 14th Street
Public Hours are May 19-25, 11 AM to 6 PM
Opening Reception: Sunday, May 20 at 6 PM
"Raw + Unfiltered" tapped a select group of designers to showcase new work that highlights a material or process in its most natural, unfiltered state. The event is organized by the American Design Club, which counts Pratt alumnus Kiel Mead as its co-founder. Participating alumni designers include Gregory Buntain and Ian Collings of Fort Standard, Evan Dublin, Sara Ebert, Melissa Gamwell, Brendan Keim, Li-Rong Liao, Cat Merrick, Jason Pfaeffle, Biodidactic Raw/Andie Olive, and Professor Tim Richartz. To RSVP for the opening party, please email rsvp@americandesignclub.com.

Model Citizens NYC 2012
SOHO Exhibition
52 Mercer Street Manhattan
Public Hours are May 19-21 from 10 AM to 7 PM daily Opening Reception: Saturday, May 19 from 5 to 8 PM
Model Citizens NYC's fourth-annual design event will feature an exhibition and pop-up shop of work in a variety of art and design disciplines by over 80 independent and emerging designers, including many current Pratt students and alumni. Participating Pratt-affiliated designers include Tiffany Burnette, Margaret Cabanis-Wicht, Nina D'Amario, Julia Green Catering, Lara Knutson, Elizabeth New, Jin Ah Roe, and Daniel Stillman of Goldsmith. The event is founded and curated by Mika Braakman with assistance from sustainability consultant Kristina Drury, both of whom are graduates of Pratt's graduate industrial design program. The show will also feature an interactive installation, titled "Cosmic Quilt," by Brooklyn-based firm The Principals. (Charles Constantine and Drew Seskunas of The Principals are also graduates of Pratt's graduate industrial design program.) The event is open to the trade and the public. For more information, please contact info@modelcitizensnyc.com.

Wanted Design
Terminal Stores/The Tunnel
11th Avenue and 28th Street, Manhattan
May 19-21, 10 AM to 7 PM
Opening Reception: May 19 from 7 to 10 PM
Wanted Design is a creative platform that brings together designers, architects, craftsmen, editors, manufacturers, curators, and communication specialists to discuss and share exciting, inspiring, and innovative design and build relationships that result in new collaborations and projects. Participating Pratt alumni include Laurie Beckerman, Todd Bracher, Edward Hale, Martin Konrad Gloeckle, and David Kim and Mike Seto of Click Boom Pow. Also included will be a Pratt project, titled "Pop-Up Factory," by Katharine Coburn, Heidy Garay, James Killinger,Wyman Mastin, and Sarah von der Luft (all of whom graduated with M.I.D. degrees in 2012). The project is a collaborative effort to educate consumers to become aware of design and manufacturing systems. For more information on Wanted Design, please visit http://2012.wanteddesignnyc.com

———————————————————————————————————————————————–
Photos clockwise from left: Scott Jones's Poise chair, Pete KL's Memoro design, Heidy Garay's Aerate shelving unit, Kelly Proscio's Atlas stool, Fahmida Lam's Sati Chair, and Melodi Bokurt and Erin Turkoglu's Lilliput stool. Photos credit: Kevin Kunstadt. Not pictured: William Bausback and Angela Lin's Omoi lighting project, Andrea Brown's Boom suite of home furniture for senior citizens, and Youju Rhee's Side-Rocking Lounge Chair.
MEDIA CONTACT:

Amy Aronoff at 718-636-3554 or aarono29@pratt.edu