Pratt Institute's Department of Industrial Design, in collaboration with Italian furniture firm Cappellini, will present an exhibition of furniture designs as part of the 23rd annual International Contemporary Furniture Fair (ICFF) from May 14-17 at New York City's Jacob K. Javits Convention Center at 655 West 34th Street in Manhattan at booth #1779. Pratt was awarded one of six school booth spaces by GLM, the producer and manager of the ICFF. This is the third year in a row that Pratt was selected to exhibit.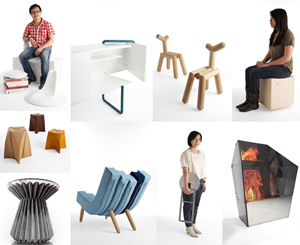 Pratt's Department of Industrial Design was chosen for its theme, "Perpetual Motion," which was conceived by lead faculty advisor Mark Goetz to challenge his graduate students and Adjunct Assistant Professor Tim Richartz's undergraduate industrial design students to create modern and innovative furniture design prototypes that remain rooted in boldly disruptive ideas, while keeping the dynamism of design moving into the future. The most successful designs by nine Pratt students will be on display at the fair as selected by a team of esteemed designers and industry professionals invited by Cappellini marketing representative Frederick McSwain, who provided guidance to the students throughout the creative process.

"The premise of 'Perpetual Motion' is to look at the future of furniture design by coming up with fresh, new ideas that incorporate technology and sustainability and that potentially envision updates to classic designs for the future. Pratt has an outstanding reputation for creative design thinking and innovation and is uniquely suited for this challenge," said Goetz. "We were thrilled that Cappellini, a company well-known for nurturing young designers, helped to guide and advise us in this endeavor," he added.

Participating students include Kyung ho Chang, Wang I Chao, Arnold Chu, Chun Chun, Edward Hale, Li-Rong Liao, Dana Oxiles, Jesse Trentadue, and Elizabeth Joy Wong.

Each year GLM invites the world's leading institutions of design education to submit work to be considered for an exhibition of work by college and university students at ICFF. The work is selected for inclusion through a highly competitive jury process. This year the display will show off six academic projects that will serve as a signpost for evolving trends. While still emphasizing the analytical, problem-solving process essential to design, several of the exhibitors also address the global nature of today's design collaborations and the calculus of practical mechanics necessary for such collaborations to work well, according to the ICFF website.

GLM provides each selected college or university with a complimentary 200-square-foot (18-square-meter) booth for housing its exhibition. In addition to Pratt, eight schools will participate including Maryland Institute College of Art/ University of Washington, Rhode Island School of Design, Philadelphia University/Sane Jose State University/University of Lincoln, University of Oregon, and The University of Tokyo.

Pratt Institute, an educational leader in art, design, and architecture, offers both undergraduate and graduate degrees in industrial design. Pratt's industrial designers seek to be innovative and impactful in creating beautiful forms and products that express their vision as reflected by the people and culture of the times. Pratt's undergraduate and graduate industrial design programs are among the highest ranked in the country according to 2011 rankings by DesignIntelligence. The industrial design department is chaired by Steve Diskin and is part of Pratt Institute's School of Art and Design, which is led by Dean Concetta Stewart, Ph.D.

ICFF is North America's singular showcase for contemporary design. Almost 600 exhibitors will display contemporary furniture, seating, carpet and flooring, lighting, outdoor furniture, materials, wall coverings, accessories, textiles, and kitchen and bath for residential and commercial interiors, with over 24,000 visitors expected from around the world.

The fair is open to the trade Saturday, May 14 through Monday, May 16 from 10 a.m. to 5 p.m. and is open to the trade and general public on Tuesday, May 17 from 10 a.m. to 4 p.m. For ticket information, please visit www.icff.com. Please consult the ICFF guide upon arrival at the Jacob K. Javits Convention Center for booth locations.

Other displays at ICFF featuring work by Pratt students and recent alumni include:

George Nakashima Woodworker, S.A.
Pratt exhibition design students under the direction of Interior Design Professor Jon Otis designed the booth for esteemed furniture maker George Nakashima Woodworker, S.A.

Danish Institute for Study Abroad (DIS)
This booth includes chair designs by four students from Pratt's architecture and design programs who participated in the DIS study abroad program.

Other exhibitions on conjunction with ICFF featuring work by Pratt affiliates include:

"Fraternal Twins" Exhibition
Moss
150 Greene Street, Manhattan
May 16-June 30, 2011; Public Hours are Monday–Saturday, 11 AM to 7 PM
Opening Reception: Saturday, May 14 from 7 to 9 PM
To RSVP, please email rsvp@mossonline.com
The "Fraternal Twins" exhibition will include metal sculptures and designs by Pratt Professor of Architecture Haresh Lalvani and work by Pratt industrial design graduate Chen Chen (B.I.D.'07). As part of the exhibition, Moss will present clocks, tables, chairs, benches, lamps, and vases serially produced by various designers as "multiples" that look genetically similar but not identical.

Model Citizens NYC 2011
Chelsea Art Museum
556 W. 22nd Street, Manhattan
Public Hours are May 13 from 10 AM to 7 PM, May 14 from 10 AM to 8 PM, and May 15 from 10 AM to 6 PM
Opening Reception: Saturday, May 14 from 4 to 8 PM
Model Citizens NYC 2011 is organized by Mika Braakman, Tiffany Burnett, and Kristina Drury, all of whom are graduates of Pratt's graduate industrial design program, and is open to the trade and the public. Model Citizens NYC's third-annual design event will feature an exhibition and pop-up shop of work in a variety of art and design disciplines by over 90 independent and emerging designers, including many current Pratt students and alumni. Please more information, contact info@modelcitizensnyc.com.