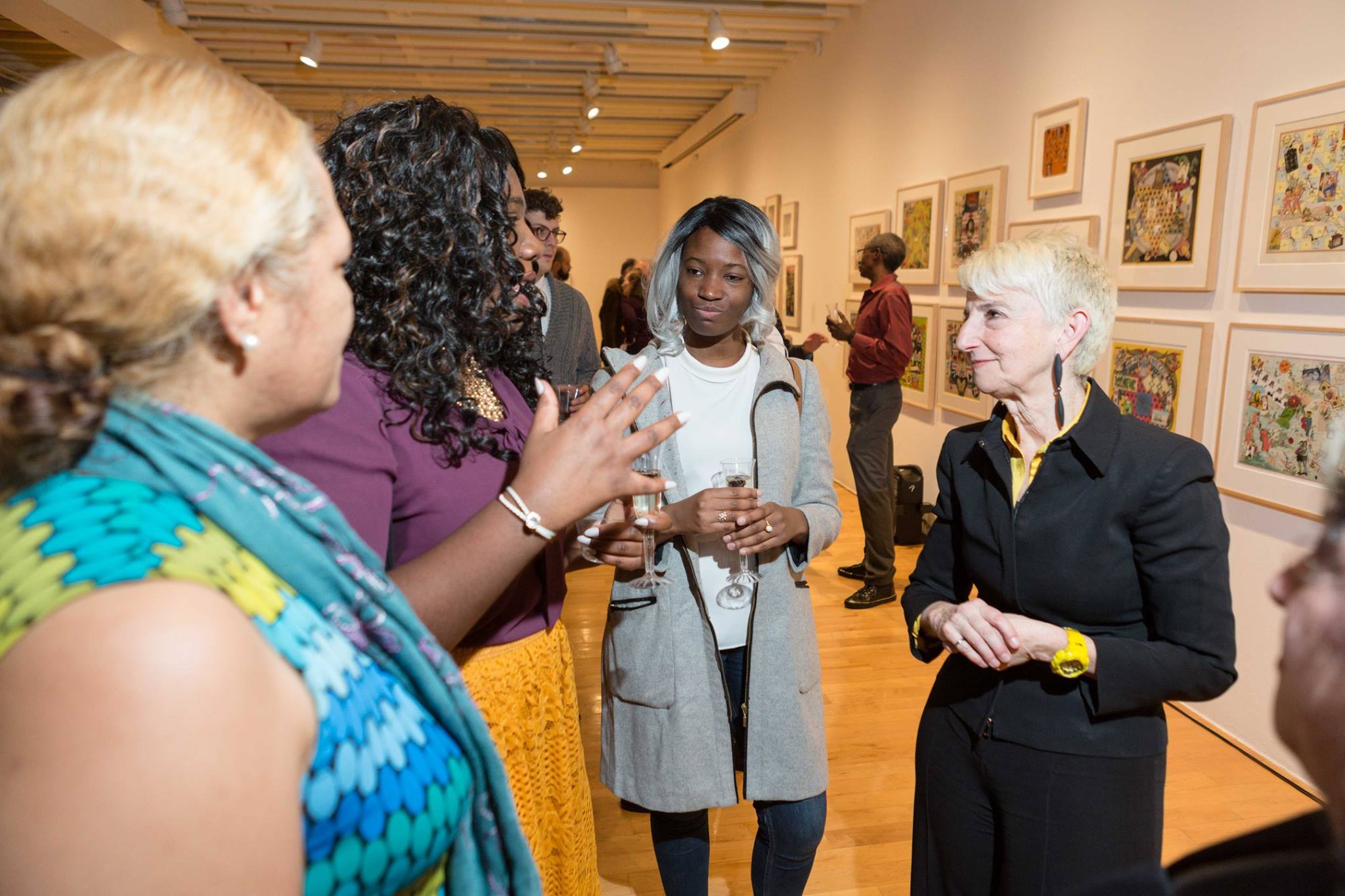 Pratt Institute hosted a reception at its Manhattan campus to celebrate the inauguration of its twelfth president, Frances Bronet. The reception was held on October 30 at the Pratt Manhattan Gallery exhibition John Ashbery: The Construction of Fiction, and was part of a dynamic week of events leading up to Bronet's inauguration ceremony on November 2.
The event was attended by President Bronet and Pratt students, staff, and faculty. The reception opened with welcoming remarks by Ian Flynn, Student Affairs Coordinator for the Pratt Manhattan campus, and a series of toasts in honor of President Bronet and the future of Pratt.
Toasts were given by School of Information Dean Anthony Cocciolo; School of Continuing and Professional Studies Dean Maira Seara; Arts and Cultural Management/Design Management Chair Mary McBride; Associate Professor of Construction/Facilities Management Audrey Shultz, student Eleanor Fessler, Construction Management '19; and School of Information Assistant to the Dean for Administrative Services Vinette Thomas.
President Bronet mingled with students, faculty, and members of the public as they toured the exhibition, which presents more than 120 collages and archival material spanning seven decades of renowned American poet John Ashbery's prolific career. Curated by Antonio Sergio Bessa, Director of Curatorial and Education Programs at the Bronx Museum, the exhibition (on view through November 14) is the most comprehensive showing of the poet's visual artworks to date, and has received widespread media coverage in outlets including Art in America, HyperAllergic, Artsy, and ARTnews.
Speaking at the event, President Bronet said, "The goal is for all of us to have a collective ability and boldness to do good in the world, to make good, to think about those of us in this room and beyond this place. I cannot tell you how thrilled I am to be on this journey with you."
At the reception, attendees received a deck of cards made by students in the Pratt Integrative Course "Games, Glitches, and Creativity" taught by Pratt Visiting Instructor and staff member Luke Degnan, MFA Writing '16. Titled "A Deck of Cards Always Will," the cards offer prompts or "events" designed to encourage lateral thinking and promote creativity. Degnan gave a short introduction to the project, and attendees were encouraged to look at the cards and talk to each other about how they could use them in their creative practices.
During the evening, three students were named the winners of a free raffle to have lunch with President Bronet: Raquel Martin, Facilities Management '19; Marielle Bertrac, Facilities Management '19; and Nick Barnette, Design Management '19.
Learn more about inauguration and view an album of photos from Inauguration Week.
Image credit: Samuel Herrera, BFA Photography '20