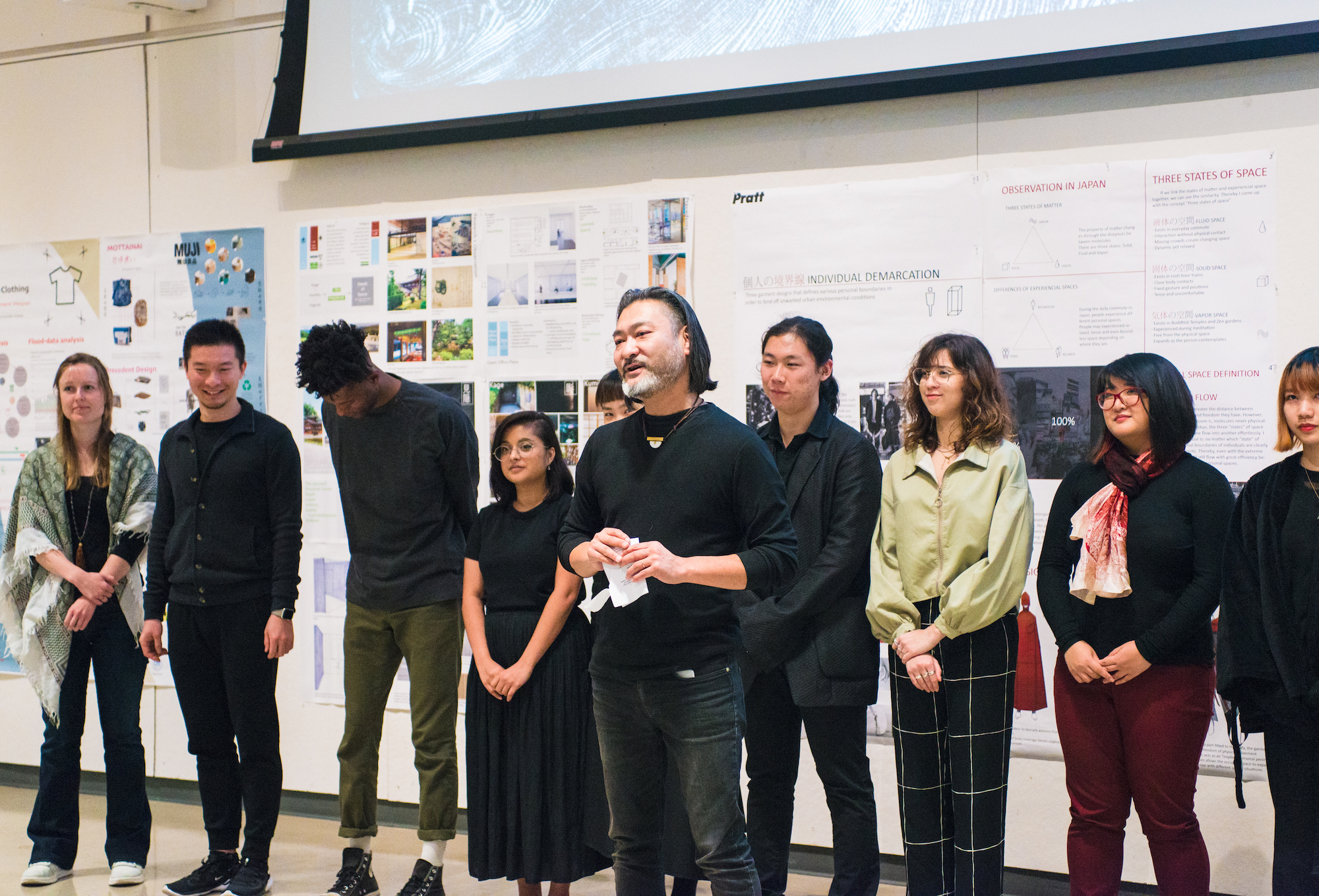 Opportunities for Pratt students to experience a globally-engaged education range from studying Scandinavian design in Copenhagen to an exploration of art and its history in Venice, with each program aimed at inspiring students to ask new questions and develop creative solutions to issues that have no national borders. The benefits of studying abroad continue beyond the initial travel, with exposure to new ideas, perspectives, and traditions encouraging a broader understanding of the world. Months after their return from studying in Japan, one group of students continues to explore how the experience has transformed their approach to design.
This past summer, these students from across design departments were immersed in Japanese culture in a six-week-course called "Gather. Immerse. Inspire." Led by Tetsu Ohara, Adjunct Associate Professor of Interior Design, they reconsidered the definition of "interior space" in relation to personal space, boundaries in architecture, and how to live well in crowded urban areas. This included visits to offices, design organizations, heritage sites, and museums in Tokyo and Kyoto, such as the Issey Miyake Reality Lab, MUJI, Kengo Kuma & Associates, the Mori Building Digital Art Museum, the Nezu Museum, and Nanzen-ji temple, as well as a partnership with Musashino Art University. In each of these contexts, they examined Japan's design sensibility, ecological awareness, and its traditions of craft and building.
Participating students recently presented their design projects alongside a pop-up display in the Pratt Student Union. They discussed how their time in Japan led to their individual research paths, ranging from social to spatial issues, and ways their ideas could be applied to global challenges.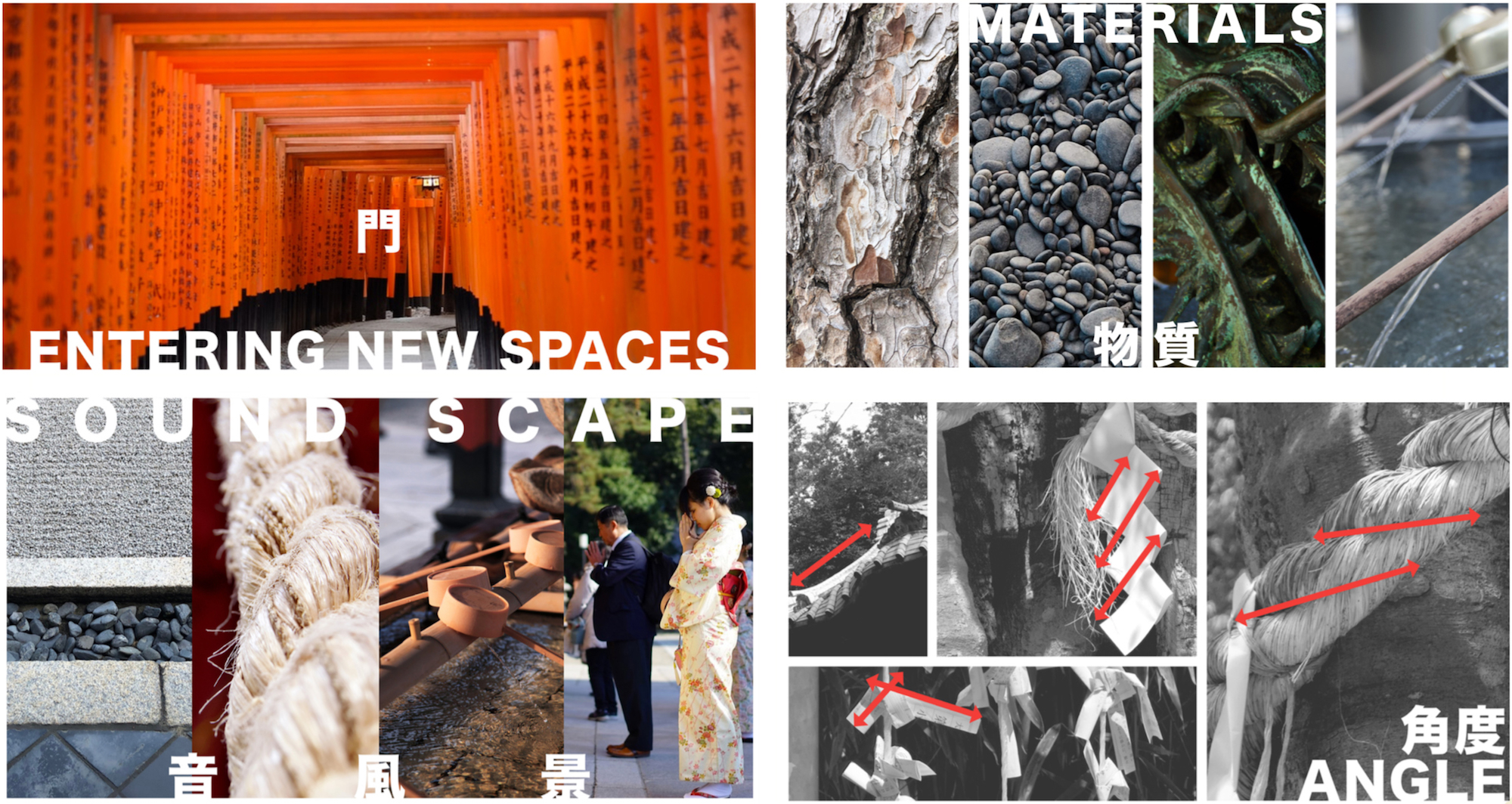 "Being immersed in Japanese culture changed the foundation of my perspective of design," said Ami Cai, BFA Communications Design '20, who was drawn to the communal experiences of Shinto shrines. Visiting various sizes of shrines, both urban and rural, old and new, she noticed that although their physical qualities could be incredibly different, she felt a similar tranquility at every site. "I started to wonder what defines a structure as a Shinto shrine in the first place," Cai said. "What are the design elements? What is the common denominator?"
For her research proposal "The Design of Awe: A Case Study on Shinto," she concentrated on two Tokyo shrines—Akasaka Hikawa Shrine and Toranomon Kotohiragu Shrine—and interviewed visitors about their interactions and relationships to the spaces. In asking what made a Shinto shrine, she discovered the importance of culture and community as part of an environment that emphasizes daily practices. She's now extending her investigation into "Green Shinto" and design in the context of climate change.
"I realized that design is not only an individual user experience but also a communal experience," Cai said. "In my own design process, I now consider if my design practice is heavily based on a given community and what exactly that community is."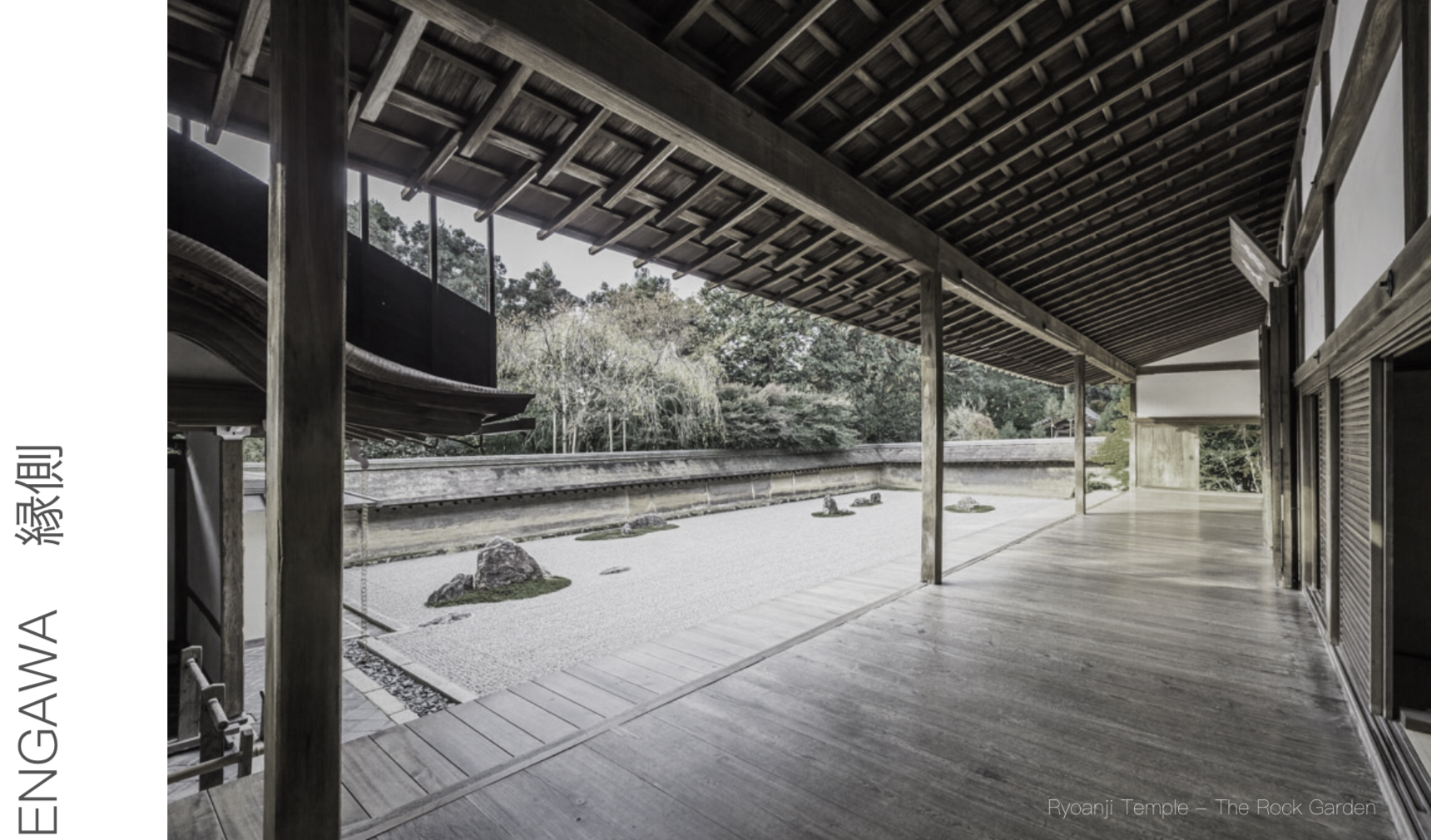 The personal journey through shared space is also present in the research of Bingxiao Yang, MFA Interior Design '20. In Kyoto, Yang was drawn to the temples, which were already familiar to her due to their ubiquity in pop culture and photography. "The feeling of being in the space is completely different from watching it through screens," Yang said. "I can feel the scale of the space, the wind that goes through the space, and the sunlight that fills the space. These experiences inspired me, so I started to focus on how the space will be experienced when people are in it."
In "Spatial Boundary," Yang studied how Japanese traditional architecture blurs the interior and exterior with semi-transparent boundaries like bamboo screens, Shoji windows that provide privacy as well as shadows from outside, and the engawa flooring that offers a vantage point to observe the exterior gardens while being within the house. Yang then explored how these features could be applied to 21st-century design.
"In the contemporary interior design world, the most frequent issue being discussed is privacy," Yang said. "Private and public spaces are no longer isolated from each other. While we used walls and doors to separate private and public spaces in the past, we now use various partitions to define the space." A more connected interior and exterior can contribute to a more cohesive, calm environment while recognizing this shift into a more public life, including in increasingly dense urban areas.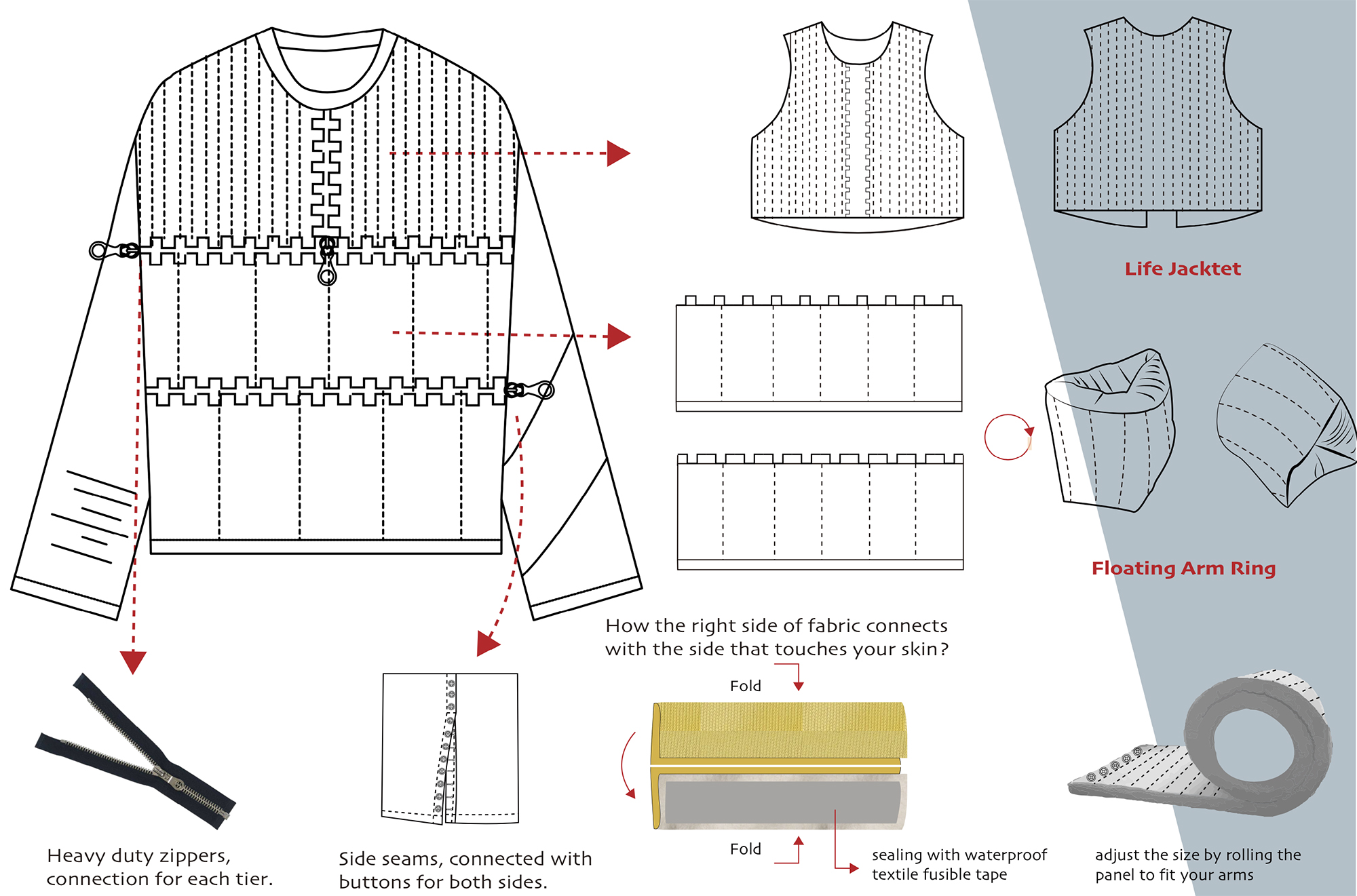 Jiajie Xu, BFA Fashion '21, also addressed an issue with particular resonance today: waste. Especially in the clothing industry, items are mass-produced with a limited lifespan. In "Beyond Clothing: Prolonging a garment lifespan," Xu researched how to extend a garment's usefulness by giving it a new purpose, namely protection during natural disasters. This was inspired by the recent cataclysmic floods in Japan, a growing concern when rising sea levels and extreme weather are linked to climate change.
"For the fashion industry, overproduction causes the lifespan of a garment to decrease," he said. "My research was on a solution that can prolong a garment's lifespan so it can be utilized in a different area." Research into MUJI's chairs made from recycled paper and Japanese second-hand fashion influenced his reimagination of unwanted objects into something new.
In Xu's design, a life jacket or floating arm wings could be made from clothing at the end of its cycle of wear. These garments would come with instructions for consumers to later transform them, keeping them out of the landfill. "In Japan, I learned the idea of 'mottainai,' which is a philosophy of appreciating the life of everything and maximizing its use until the end of its lifespan," he said. "I was inspired by this idea of 'too good to waste.'"
All of the students' experiences in this program and other ongoing international partnerships—both on the Pratt campus and abroad—have a lasting influence on globally-minded creative thinking. Next year, the Japan program will introduce another group of students to this valuable experience.
"This course will focus on 'Re-Designing the Design' by exposing students to Japanese lifestyle and its design culture, while thinking about important global issues," said Ohara. "The students will propose design solutions that contribute to our society and prepare for what will inevitably await us in the future. The plan is to stay in Japan for a longer period so that students can immerse even more and articulate their design vision."
Images: The "Special Projects Summer in Japan-Opening Reception" with participants in the course "Gather. Immerse. Inspire."; Detail of Ami Cai's "The Design of Awe: A Case Study on Shinto" research presentation; Detail of Bingxiao Yang's "Spatial Boundary" research presentation; Detail of Jiajie Xu's "Beyond Clothing: Prolonging a garment lifespan" research presentation