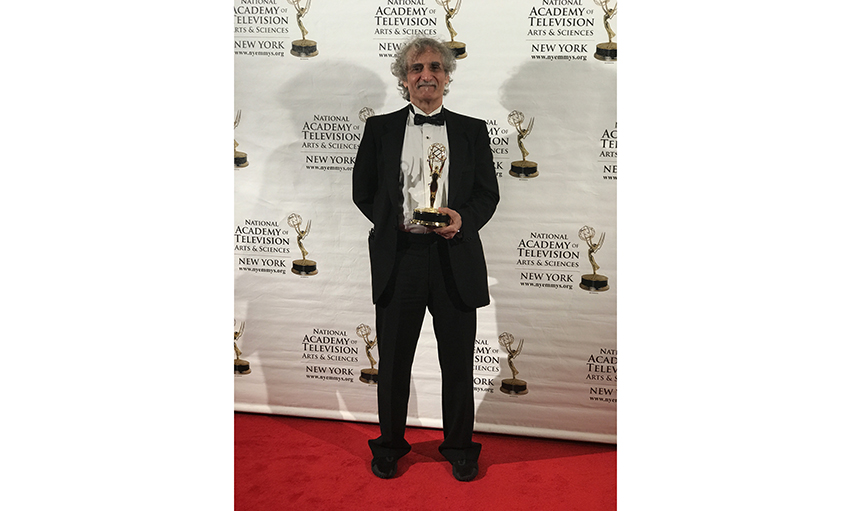 Steven Doloff, professor and acting chair of the Department of Humanities and Media Studies within Pratt Institute's School of Liberal Arts and Sciences, has received a 2017 New York Emmy Award for his work as one of the producers of the show, Talk to Remember, an episode of the television series Theater Talk.
The prestigious Emmy Awards are administered by the National Academy of Television Arts and Sciences to recognize excellence in various areas of television and emerging media. Doloff was honored at the 60th Anniversary New York Emmy Awards Gala on May 6 at the Marriott Marquis in Times Square.
The show's executive producer and co-host, Susan Haskins, also received an Emmy Award for the show. Haskins, who is married to Doloff, is a former Pratt faculty member who taught in the Intensive English Program for many years.
Talk to Remember was named the best television show in the Interview/Discussion category in New York for 2016. It features a compilation of interviews with actors Danielle Brooks, Cynthia Erivo, Jennifer Hudson, Jeff Daniels, and George Takei; directors John Doyle and Ivo van Hove; and critics Ben Brantley, Peter Marks, and Elisabeth Vincentelli. The show was co-produced by CUNY-TV and Theater Talk Productions, Inc., and broadcast on PBS/Thirteen, CUNY-TV, and other PBS stations around the country.
Doloff teaches the World Literature Survey I and II; Topics in European Literatures: Shakespeare; and other courses at Pratt.
Read more about the New York Emmy Awards.
Photo: Courtesy of Theater Talk Productions, Inc.