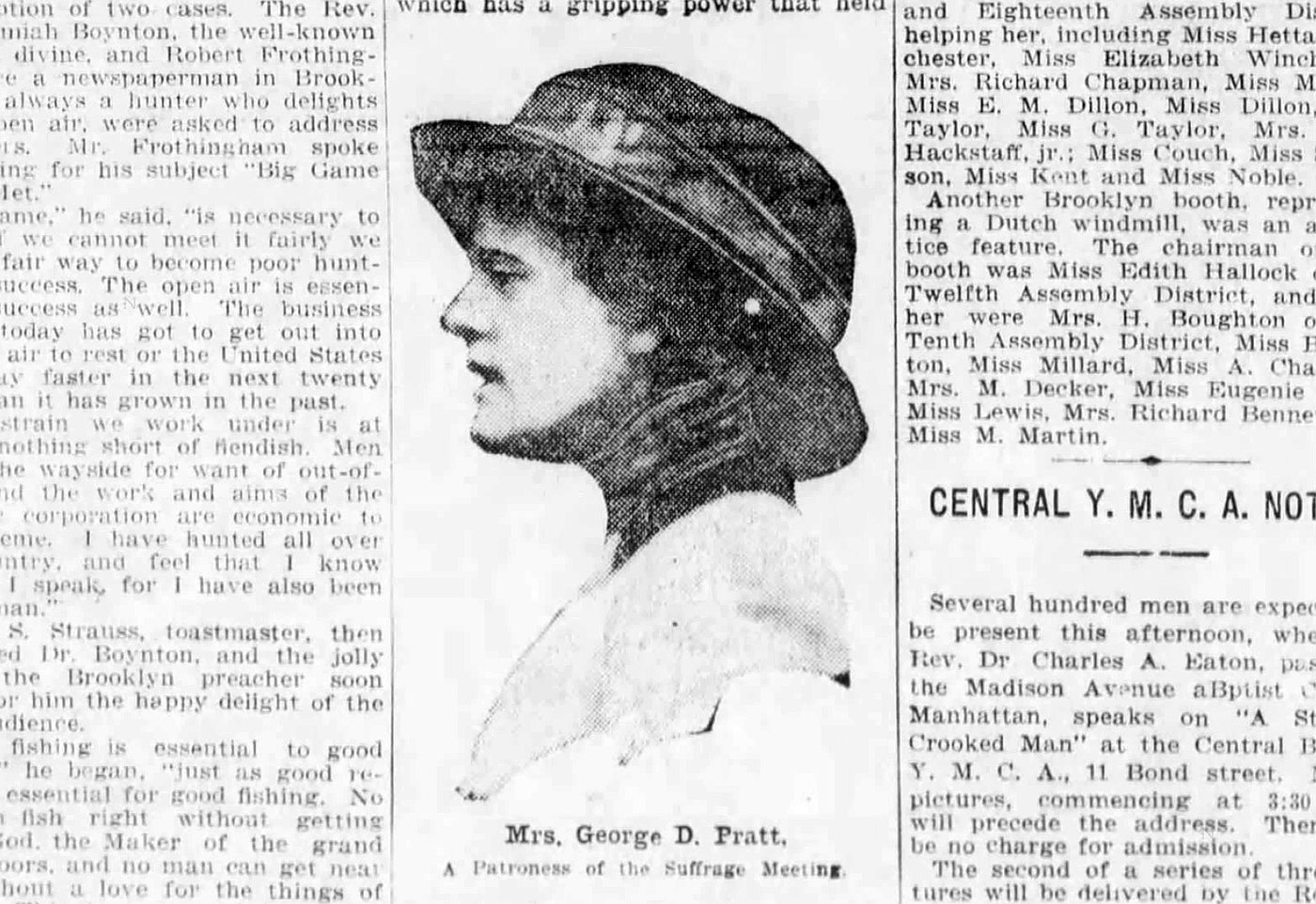 "Mrs. George D. Pratt: A patroness of the Suffrage Meeting," from the March 19, 1914, Brooklyn Daily Eagle (via Brooklyn Newsstand)
Before the 19th Amendment to the United States Constitution was ratified on August 18, 1920, there were decades of grassroots activism for women's right to vote. On the North Shore of Long Island, two sisters-in-law in the Pratt family—Helen Deming Sherman Pratt and Florence Gibb Pratt—were pivotal members of the local movement, hosting meetings in their homes, providing financial support to events, and taking leadership roles in organizations that rallied for change.
They were among a number of women from prominent New York families who used their resources and social positions to sustain the long fight for suffrage and raise the profile of the movement. As historian Johanna Neuman wrote in Gilded Suffragists: The New York Socialites who Fought for Women's Right to Vote, in "leveraging their social standing for political gain" they "normalized the idea that women of all stripes—not just those of the intellectual circle who had originated the idea—wanted the vote." Their efforts were just part of a still ongoing battle to give everyone everywhere the right to vote.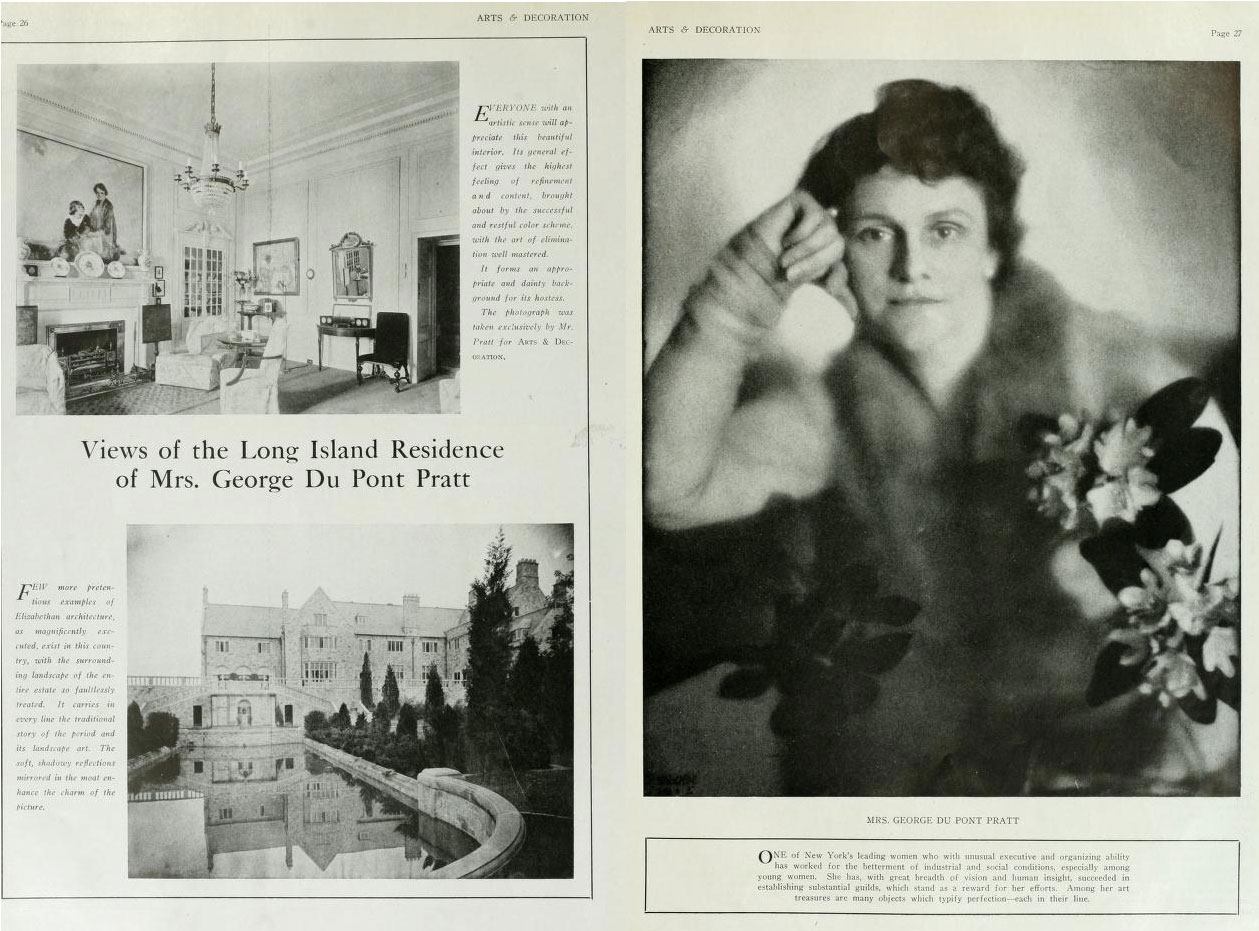 Helen Deming Sherman Pratt in Arts & Decoration magazine (1919) (via Internet Archive)
The Pratt sisters-in-law were active in local philanthropy before joining the suffrage movement, particularly in Glen Cove, Long Island, where Pratt Institute founder Charles Pratt built country estates for his family. Born in Brooklyn in 1869, Helen Deming Sherman attended the Packer Collegiate Institute in Brooklyn Heights before marrying Charles's son George Dupont Pratt in 1897. In Glen Cove, she was heavily involved in establishing the Lincoln House Settlement, which offered social services to the Black community, as well as the Orchard House which supported Italian immigrants.
Helen gave that tireless energy for tackling civic issues to suffrage. This included her membership in the New York State League of Women Voters and the pro-suffrage Women's Trade Union League which advocated for better working conditions for women laborers. As the social and political magazine The Survey recalled in 1923, the fact that she joined these groups "at a time when they had their stiffest fights on for protective legislation for woman wage-earners was characteristic of her spirit."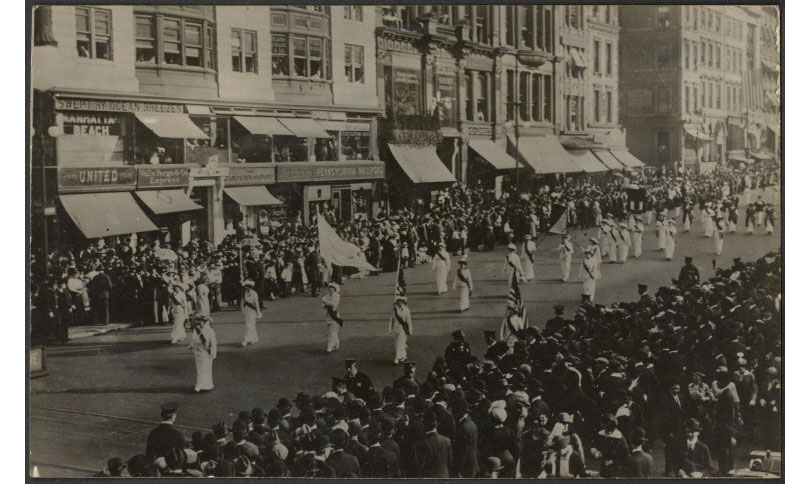 The May 3, 1913, suffrage parade on Fifth Avenue in Manhattan (courtesy Manuscripts and Archives Division, the New York Public Library)
She also acted as a patron for suffrage events in Nassau County and joined marches such as the May 3, 1913, parade that brought around 30,000 representatives from suffrage associations in the New York City area to the Manhattan streets. For the Equal Franchise Society, she contributed books to a free circulating library, and for the local assembly districts of the Woman Suffrage Party, she opened the doors of her Brooklyn home at 245 Clinton Avenue (today's St. Joseph College's Burns Hall) to meetings.
Like Helen, Florence Balsdon Gibb was a Brooklyn native—born in 1872—and attended the Packer Collegiate Institute. After marrying Charles Pratt's son Herbert Lee Pratt in 1897, she became involved in Glen Cove philanthropy. She supported the founding of the first hospital on Long Island—Nassau Hospital in Mineola, today's NYU Winthrop Hospital—and served on its board of trustees.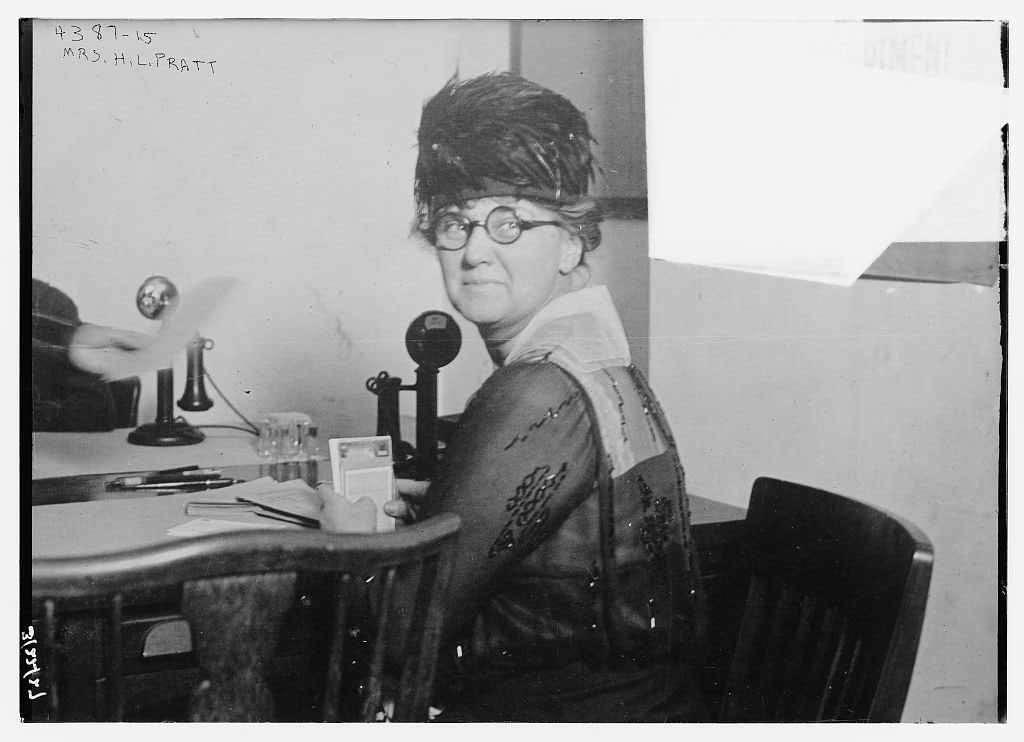 Photograph of Florence Gibb Pratt working for war relief (courtesy Bain News Service, via Library of Congress)
Alongside her sister-in-law, Florence became active in the suffrage movement. She was on the committee of the Brooklyn Woman Suffrage Association in 1912 and over the years was a patron for numerous events, from fundraising parties to parades. With activist Katrina Ely Tiffany, she was part of a suffrage delegation that met with President Woodrow Wilson on October 25, 1917, and that same year she attended the National American Woman Suffrage Association (NAWSA) convention in Washington, DC. She also served as the treasurer for the Woman Suffrage Party of New York City and as vice-chair of its Manhattan Borough Branch, as well as chair of its literature committee. In that role, she coordinated the distribution of leaflets and other publications aimed at covering, as the Brooklyn Daily Eagle reported, "many languages and special appeals for many different groups and classes." After the United States entered World War I in 1917, she led a Woman Suffrage Party campaign to raise money for the Red Cross.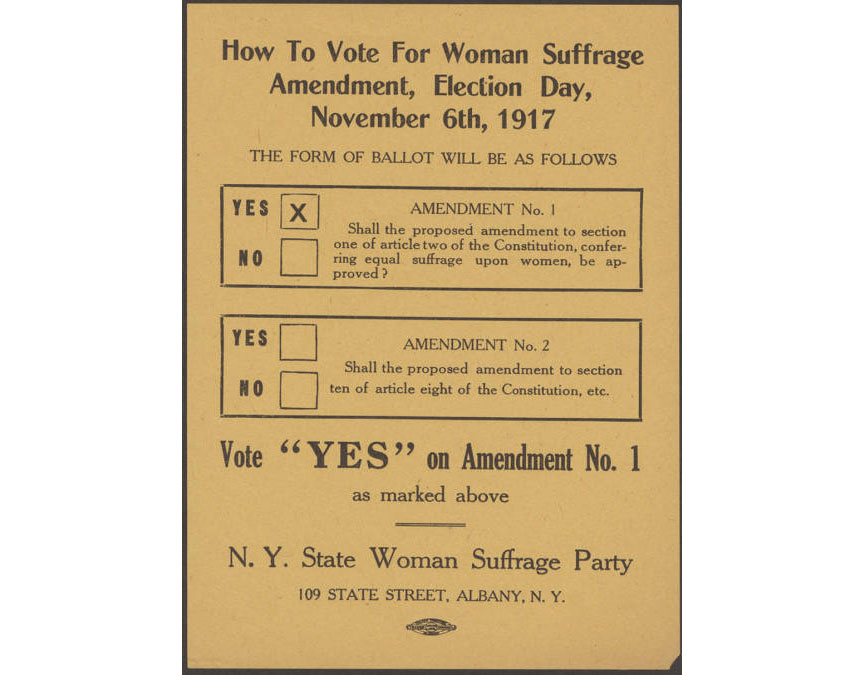 Broadside from the New York State Woman Suffrage Party for the November 6, 1917, vote on women's suffrage (courtesy NYC Department of Records and Information Services)
While New York passed its referendum granting women the right to vote on November 6, 1917, it wasn't until August 18, 1920, that the 19th Amendment was ratified, granting all American women the right to vote. (However, through Jim Crow laws racial discrimination and disenfranchisement would persist for many women, leading to the Voting Rights Act of 1965.) After suffrage was won, the Pratt sisters-in-law continued their advocacy, with Helen hosting the June 1920 Long Island Convention of the League of Women Voters at her Glen Cove home, Killenworth. In 1927, Florence became the first woman elected to the New York State Board of Regents. When Helen died in 1923, her Brooklyn Daily Eagle obituary declared her an "indefatigable welfare worker." Florence, who lived until 1935, was remembered in the New York Times for her "valuable public service" from her hospital philanthropy to her leadership in education.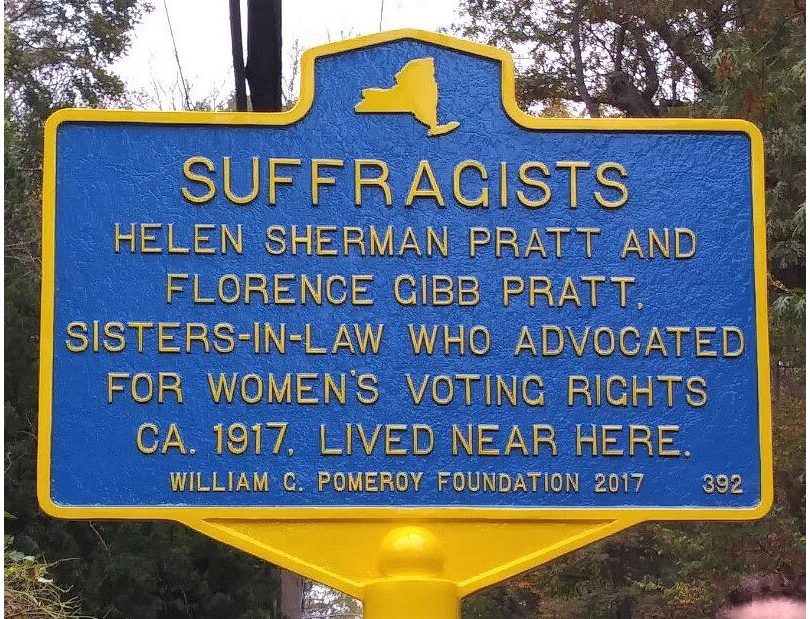 Historic marker for Helen Sherman Pratt and Florence Gibb Pratt in Glen Cove, New York (courtesy William G. Pomeroy Foundation)

Today their work towards equality and access to education continues to resonate with Pratt Institute's commitment to these principles. In 2017, a historic roadside marker recognizing their contributions was unveiled on Dosoris Lane in an event attended by the great-grandchildren of Helen Sherman Pratt and Florence Gibb Pratt, as well as local government and school officials. Funded by the William G. Pomeroy Foundation and dedicated by the City of Glen Cove and the Long Island Woman Suffrage Association, it reads: "Helen Sherman Pratt and Florence Gibb Pratt, sisters-in-law who advocated for women's voting rights ca. 1917, lived near here." Now a century after the passage of the 19th Amendment, it commemorates their leadership and influence in the movement that gave American women the right to vote.