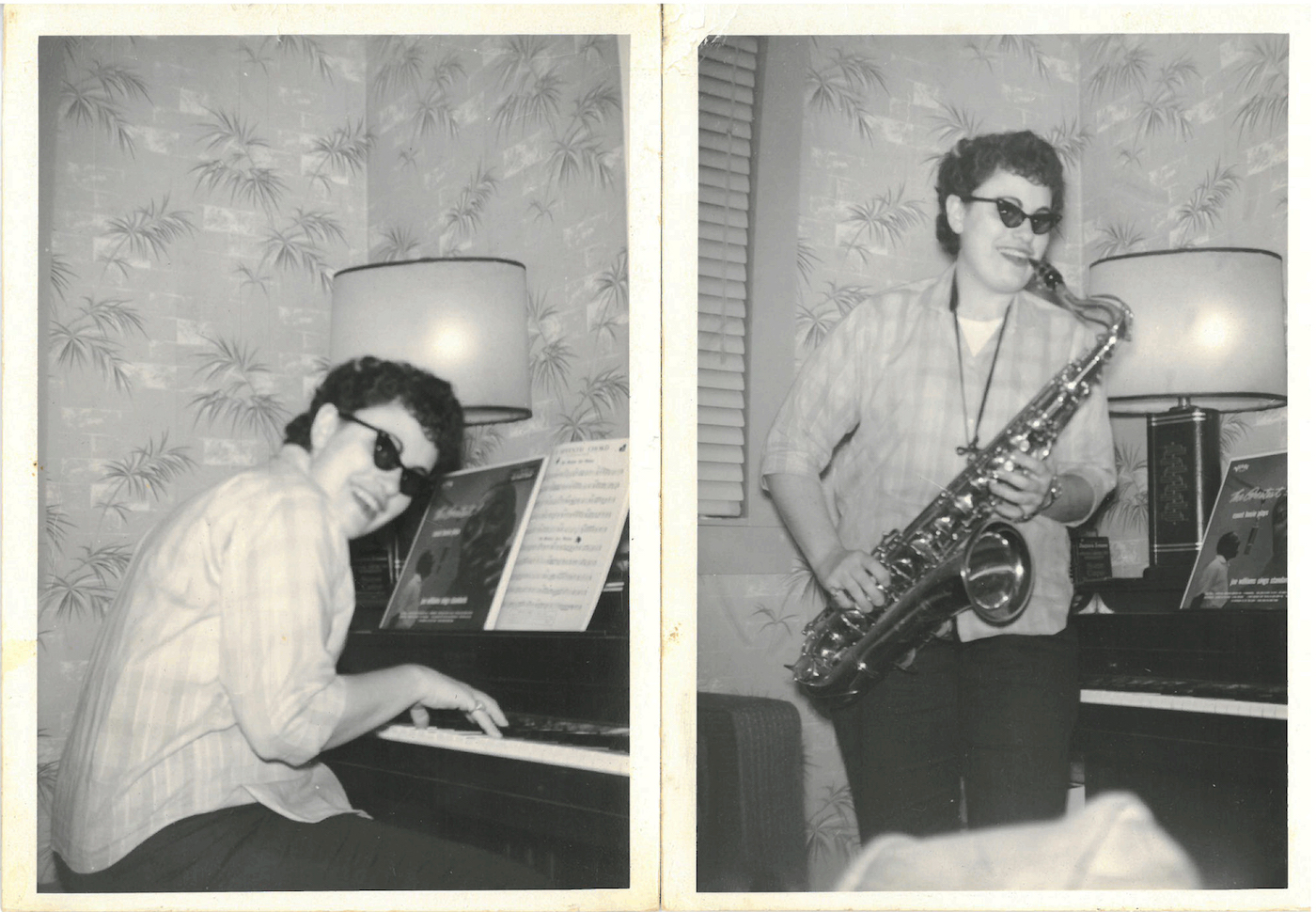 1960s photographs of jazz musician Zena Latto in her sister Claire Richmond's New Orleans home (courtesy Claire Richmond)
Creativity is supported by community, especially in jazz which thrives on collaboration. When Cristina Pattuelli, Professor in the Pratt Institute School of Information, interviewed the then 89-year-old musician Zena Latto in 2015, Latto did not just discuss her own incredible career, but a whole ecology of midcentury jazz. She related how she watched her future mentor Benny Goodman perform at the Paramount Theatre in New York and decided that night to become a clarinet player; later, Lester Young of the Count Basie Orchestra helped her pick out a saxophone. As she says, "musicians are like family," and as she toured in the 1940s and '50s with the International Sweethearts of Rhythm—considered the first integrated all-women band in the United States—she was part of a network that stretched from New York to New Orleans.
The ongoing Linked Jazz project was founded in 2011 to visualize and deepen understanding of this network through research like the interview with Latto. Directed by Pattuelli, its team includes faculty, staff, students, and visiting scholars working together as part of Pratt's Semantic Lab. Introduced in 2018 and co-directed by Pattuelli and her colleague Matt Miller, Adjunct Assistant Professor in the School of Information, the Semantic Lab explores and incubates cutting-edge approaches to apply semantic technologies—tools for finding meaning in data through categorizing, processing, and examining data sets—to libraries, archives, and museums.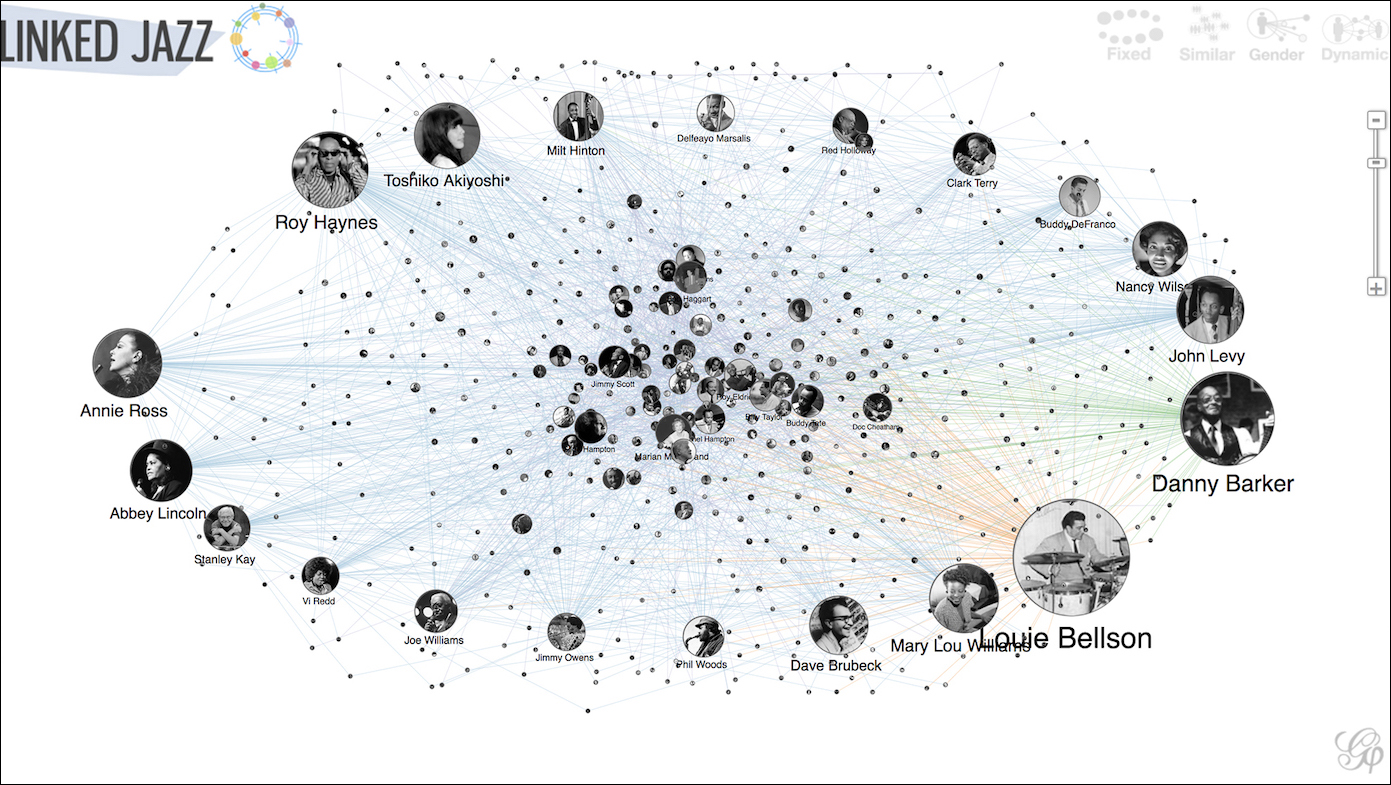 The Linked Jazz Network Visualization tool (courtesy Linked Jazz)
Linked Jazz's use of linked open data (LOD) offers a dynamic digital network where users can discover the personal and professional relationships of musicians by tapping into digitized archives. Building this network also reveals archival gaps. While icons such as John Coltrane and Miles Davis have large digital footprints, lesser-known performers may barely have a mention.
"Linked data is a formidable semantic technology that gives visibility to information that is often hidden behind the walls of institutional repositories," Pattuelli said. "By exposing the connections between people, places, and events from archival sources, we can create unprecedented paths of discovery and understanding."
Lotta's story, for instance, came to light when the musician contacted Carnegie Hall for a better copy of a flyer for one of her performances: a 1957 all-women jazz showcase. As Gino Francesconi, Archives and Rose Museum Director at Carnegie Hall, described in a 2016 blog post, not only was her tattered flyer the sole example they'd ever seen, the concert wasn't even in their institutional records. Associate Archivist and Pratt alumnus Rob Hudson, MS Library and Information Science '13, then reached out to Pattuelli, his former professor. Soon, through Linked Jazz, Lotta had a Wikipedia page and her interview was published on the Internet Archive.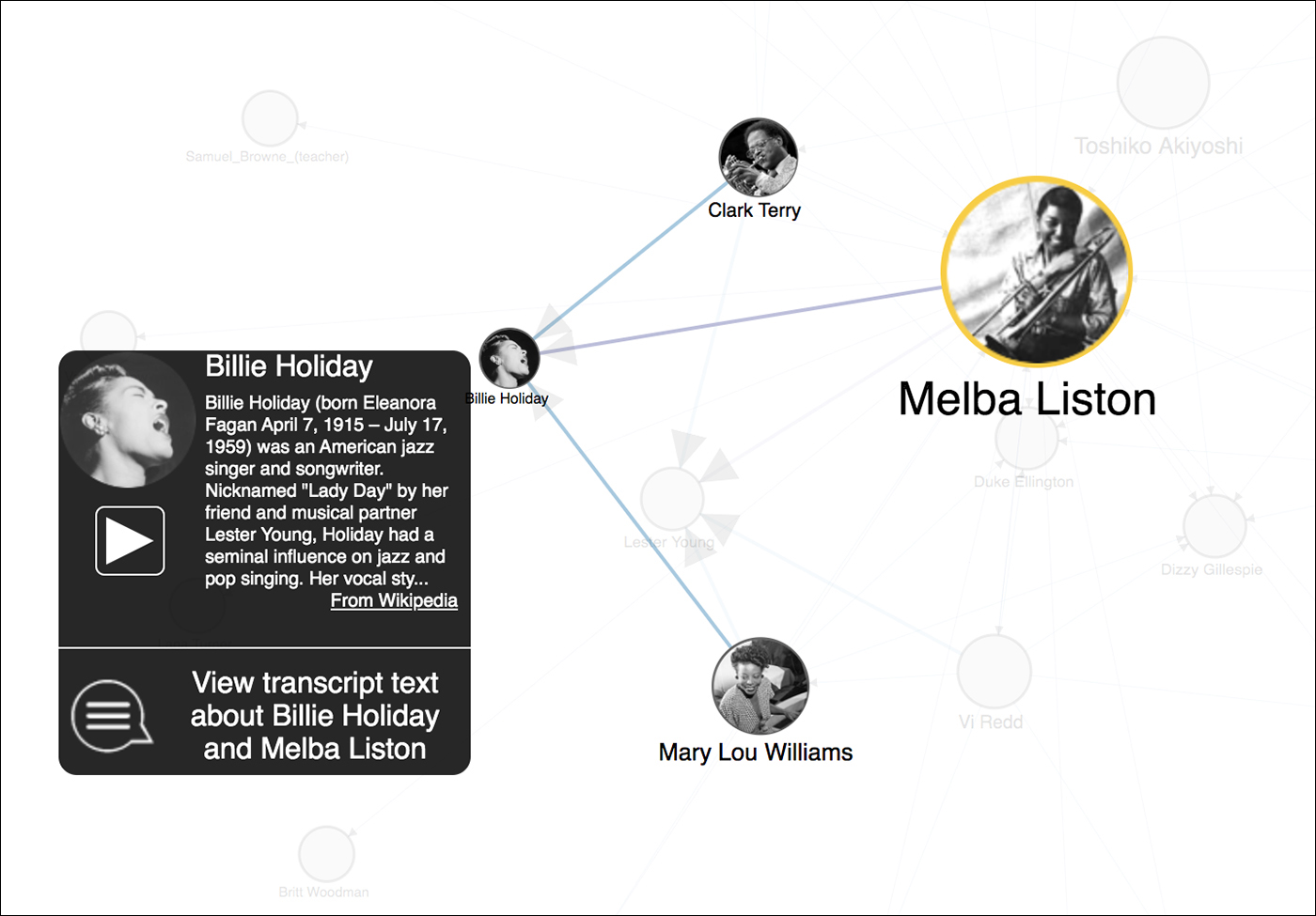 Exploring the connections for Melba Liston on Linked Jazz (courtesy Linked Jazz)
The often-overlooked contributions of women are a major focus of Linked Jazz. The project's Network Visualization tool, which displays the relationships between musicians like a giant web, has a gender view option. Clicking on trombonist and composer Melba Liston, for example, pulls up her connections to artists she played with including Billie Holiday and Dizzy Gillespie, with links to transcripts of interviews where their names are mentioned. Linked Jazz has concentrated on processing more interviews with women jazz musicians and these resources have been enhanced by a series of Women of Jazz Wikipedia Edit-a-thons in 2015 and 2017.
By bringing together disparate sources through interview transcripts, Linked Jazz strengthens a more diverse representation of history in digital heritage. A current focus is the Local 496 Membership Directory, a collaborative initiative with Tulane University's Hogan Jazz Archive. Pattuelli and her team were recently awarded a 2019-20 Community Partnership Grant by the New Orleans Jazz & Heritage Foundation to transform this static roster into an interactive knowledge graph. The Local 496 was established in the 1940s as an African American chapter of the New Orleans jazz musicians' union and was merged with the white musicians' chapter in 1969. The directory of names, addresses, and instruments played by its members is invaluable for research into this era and offers the potential for better visibility of the history of working musicians.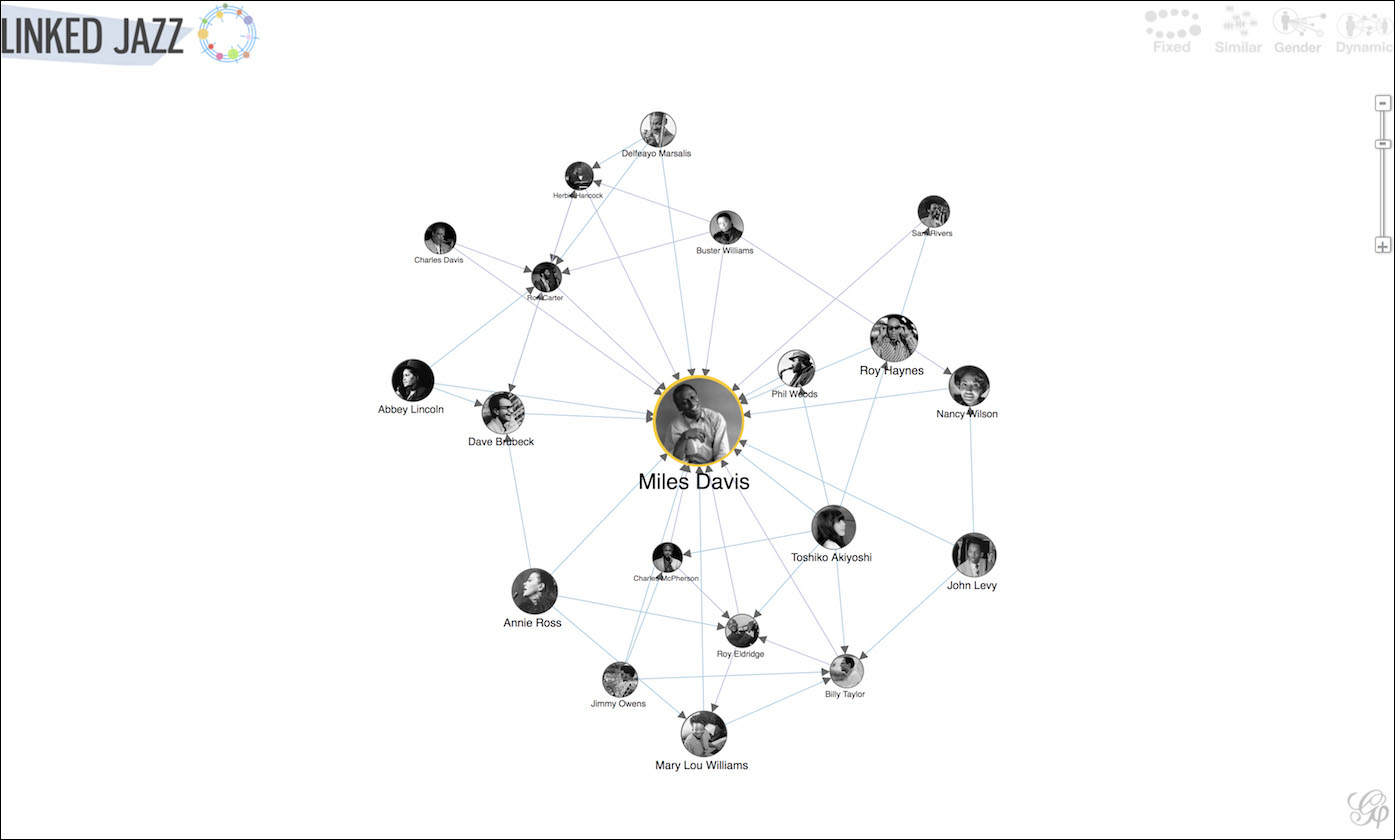 Connections for Miles Davis on Linked Jazz (courtesy Linked Jazz)
"The true power of linked data is unleashed when data from different sources are combined and made available on the web for anyone to browse, query, and reuse," Pattuelli said. "We are now working with the Weeksville Heritage Center to convert their Lost Jazz Shrines of Brooklyn Collection of oral histories into linked data to explore new intersections and influences across diverse communities of jazz musicians."
Each aspect of Linked Jazz expands the possibilities for what stories can be told through data and suggests fresh ways that archival materials can reveal historical narratives, including those that have been marginalized. Rather than studying individual performers in isolation, this exploration of data recognizes the constant flow of ideas and inspiration in jazz and contributes to a more inclusive digital heritage that reflects that collaborative spirit.