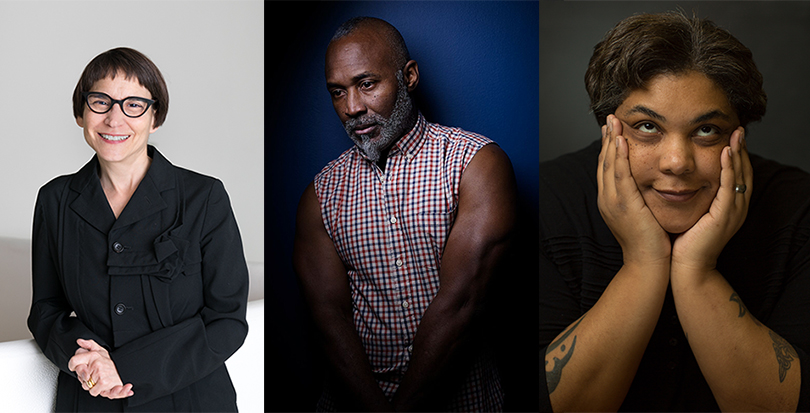 On Monday, May 20, Pratt Institute degree candidates will gather in their caps and gowns at Radio City Music Hall in the heart of Manhattan, where Pratt Institute's 130th Commencement will be held. The Institute will commemorate the achievements of more than 1,200 graduating students at the iconic venue and confer their degrees during the ceremony, which will begin at 10 AM.
This year, honorary degrees will be awarded to artist and educator Nick Cave; Artistic Director and Jennifer and David Stockman Chief Curator at the Solomon R. Guggenheim Museum Nancy Spector; and author and cultural critic Roxane Gay, who will deliver the Commencement address.
Roxane Gay's honorary degree will be conferred in recognition of her influential work as a writer, educator, and commentator focusing on the intersections between race, gender, popular culture, and politics. Gay's work garners international acclaim for its reflective, no-holds-barred exploration of feminism and social criticism. With a deft eye on modern culture, she brilliantly critiques its ebb and flow with both wit and ferocity. Her collection of essays, Bad Feminist, is universally considered the quintessential exploration of modern feminism. NPR named it one of the best books of the year and Salon declared the book "trailblazing." Her powerful debut novel, An Untamed State, was long listed for the Flaherty-Dunnan First Novel Prize. In 2017, Gay released her bestselling memoir, Hunger: A Memoir of (My) Body, which was called "Luminous…intellectually rigorous and deeply moving" by The New York Times. Of her short story collection, Difficult Women, The Los Angeles Times says, "There's a distinct echo of Angela Carter or Helen Oyeyemi at play; dark fables and twisted morality tales sit alongside the contemporary and the realistic…" In 2018, she released Not That Bad: Dispatches from Rape Culture, a valuable and searing anthology edited by Gay. The anthology has been described as "essential reading" and a "call to arms" by its readers.
Gay's newest work, How to Be Heard, is set to release in 2019. Gay is a contributing op-ed writer for The New York Times, was the co-editor of PANK, and formerly was the non-fiction editor at The Rumpus. Her writing has also appeared in McSweeney's, The Nation and many other publications. She recently became the first black woman to ever write for Marvel, writing a comic series in the Black Panther universe called World of Wakanda.
Nick Cave's honorary degree will be conferred in recognition of his accomplishments in art, design, and performance and the evolving vision represented by his sculptures, installations, and video and sound works. His solo exhibitions have expanded globally from the United States through France, Africa, Denmark, Asia, South America, and the Caribbean. He has been described as a Renaissance artist and says of himself, "I have found my middle and am now … working toward what I am leaving behind." Cave is also a professor at The School of the Art Institute of Chicago and received his MFA from Cranbrook Academy of Art and his BFA from the Kansas City Art Institute. Cave has completed multiple self-described "Dream Projects" throughout the United States, Europe, and Africa, including HEARD•NY in New York's Grand Central Terminal. He has earned multiple major awards and honors and his editorial coverage continues to increase rapidly worldwide.
Nancy Spector's honorary degree will be conferred in recognition of her curatorial and programming work at some of the world's most eminent museums, as well as her insightful writing and influence in the contemporary art world. Nancy Spector was named Artistic Director and Jennifer and David Stockman Chief Curator of the Solomon R. Guggenheim Museum and Foundation in 2017. A member of the Guggenheim staff for more than 29 years, Spector was most recently Deputy Director and Jennifer and David Stockman Chief Curator. From 2016 to 2017 she was the Deputy Director and Chief Curator at the Brooklyn Museum. In her current role, Spector provides strategic leadership for collections, exhibitions, publications, and public programs at the Guggenheim Museum, New York and advises on programming at the Peggy Guggenheim Collection, Venice; the Guggenheim Museum Bilbao; and the future Guggenheim Abu Dhabi.
A specialist in international contemporary art, Spector has curated ground-breaking survey exhibitions by artists such as Felix Gonzalez‑Torres, Matthew Barney, Richard Prince, Louise Bourgeois, Marina Abramović, Tino Sehgal, Maurizio Cattelan, and Fischli/Weiss. In 1996, she conceptualized and launched the biannual Hugo Boss Prize. She was adjunct curator of the 1997 Venice Biennale and co-organizer of the first Berlin Biennial in 1998. In 2007 she served as the U.S. Commissioner for the Venice Biennale. Under the auspices of the Deutsche Guggenheim Berlin, she initiated special commissions by Andreas Slominski, Hiroshi Sugimoto, Lawrence Weiner, and Gabriel Orozco, as well as a special exhibition on the work of Joseph Beuys and Matthew Barney. In 2016 she launched the annual, discursive public program, Summer of Know, for the Guggenheim. Spector is a recipient of the Peter Norton Family Foundation Curators Award, five International Art Critics Association Awards, and a Tribeca Disruptive Innovation Award for her work on YouTube Play. In 2014, she was included in Forbes' "40 Women over 40 to Watch" list.
Image: (L-R) Nancy Spector (photo by David Heald © Solomon R. Guggenheim Foundation, New York), Nick Cave (photo by Sandro), Roxane Gay (photo by Jay Grabiec)