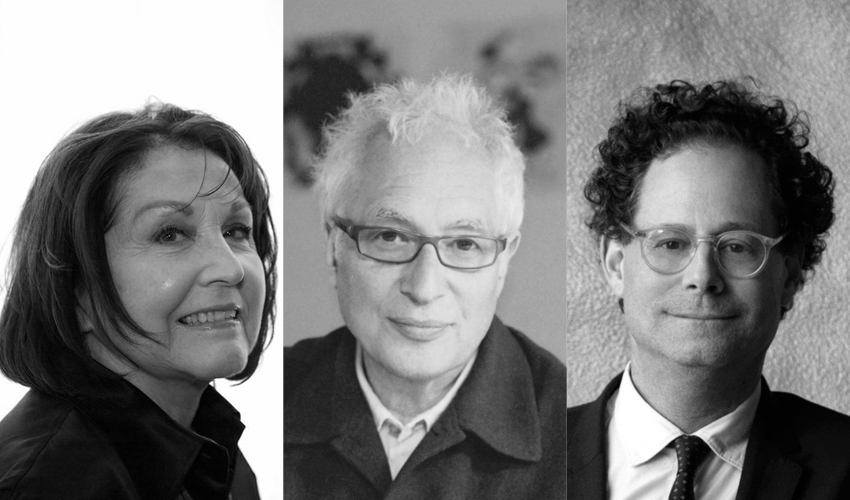 On Tuesday, May 17, Pratt Institute degree candidates will gather in their caps and gowns at Radio City Music Hall in the heart of Manhattan, where Pratt Institute's 127th Commencement will be held. The Institute will celebrate the achievements of approximately 1,290 graduating students at the iconic venue and confer their degrees during the ceremony, which will begin at 9:30 AM.
Honorary degrees will be awarded to Adam D. Weinberg, Alice Pratt Brown director of the Whitney Museum of American Art; boundary-pushing painter and Pratt alumnus Terry Winters (B.F.A. '71); and renowned artist and Pratt alumna Kay WalkingStick (M.F.A. '75), who will be the keynote speaker at the ceremony.
Kay WalkingStick's honorary degree will be conferred in recognition of her accomplishments through her 47-year career as an artist in work that has encompassed paintings, drawings, sculptures, and notebooks. A citizen of the Cherokee Nation, she is best known for her distinctive approach to painting and for her diptychs, side-by-side square paintings in which she has portrayed landscapes inspired by her home and travels alongside abstract panels representing spiritual or "mythic" memories. WalkingStick is the subject of a large retrospective exhibition at the Smithsonian's National Museum of the American Indian in Washington, D.C., which will be on view until mid-September 2016. She has had 35 one-person shows in venues across the United States. Her work has been shown in many group exhibitions in the United States, Canada, and Europe, and included in books such as H.W. Janson's History of Art.
Adam D. Weinberg's honorary degree will be conferred in recognition of his more than 15-year tenure as director of the Whitney Museum of American Art. During his time at the Museum, the Whitney has presented major exhibitions on artists, including Jeff Koons, William Eggleston, Glenn Ligon, and Georgia O'Keeffe, and experienced the dramatic growth of its permanent collection. In 2010, the Whitney launched a capital campaign for the construction of a new 220,000-square-foot building in New York City's Meatpacking District, which opened to widespread critical and public acclaim in 2015.
Terry Winters' honorary degree will be conferred in recognition of his achievements as a pioneering artist. Richly associative and visionary in scope, his art addresses the "interaction between information and imagination." He has expanded the concerns of abstract art, beginning with botanically inspired images and going on to explore biological processes and mathematical systems. In 2013, Winters was elected to the American Academy of Arts and Letters. His work has been shown in museums around the world, including the Tate Gallery, London; the Museum of Contemporary Art, Los Angeles; The Metropolitan Museum of Art, New York; the Whitney Museum of American Art, New York; Centre Julio Gonzales, Valencia; and Kunsthalle Basel.
Photos (left to right): Kay WalkingStick (Julia Verderosa), Terry Winters (Nina Subin), Adam D. Weinberg (Marco Anelli)