Pratt Institute's Board of Trustees has named Historic Preservationist Anne Van Ingen as its newest member. Van Ingen's appointment was effective October 13, 2011. Van Ingen is the great, great granddaughter of Pratt Institute's founder, Charles Pratt, and the third member of the Pratt family to currently serve on the Institute's Board of Trustees.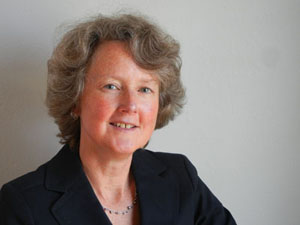 Van Ingen is a historic preservationist with more than 30 years' experience in advocacy, grantmaking, and nonprofit management-a subject in which she currently teaches courses as adjunct assistant professor of historic preservation at Columbia University. In the private sector, she is a founding partner of 5516 Dauphine LLC, an affordable housing company working in the Lower Ninth Ward of New Orleans, and a director of Charles Pratt and Co. LLC, a financial service company in New York City. She is also president of the St. Regis Foundation, a land trust in the Adirondacks; secretary of the James Marston Fitch Charitable Foundation; a founding director of the Deborah J. Norden Fund; and serves on the boards of the Preservation League of New York State and the Adirondack Museum.
From 1983 to 2010, Van Ingen was director of the Architecture, Planning & Design Program and Capital Projects at the New York State Council on the Arts (NYSCA), where she was responsible for leading funding programs totaling $3 million in support for more than 200 arts groups and municipalities annually. As director, she also served as agency spokesperson for historic preservation, design, planning, and capital issues to the public and New York State Governor and Legislature.
Prior to joining NYSCA, Van Ingen ran a historic preservation consulting business and held positions with several nonprofits and public agencies in New York and Massachusetts, including Historic Salem and the Office of Urban Design and Pedestrian Planning for New York City's Department of Transportation. She also served as an advisor to the National Trust for Historic Preservation from 1999 to 2008, and was an adjunct assistant professor in Rensselaer Polytechnic Institute's School of Architecture, where she led a seminar in historic preservation. She was also founding director of the Lower Manhattan Emergency Preservation Fund, a director of Preservation Action in Washington, DC, and a trustee of Garrison Forest School in Maryland. In addition, from 1982 to 2010 Van Ingen was a director and vice president of the Good Hope Corporation, a 15,000-acre timber plantation and hunting preserve in South Carolina. She has also spoken and written widely on historic preservation, fundraising, and philanthropy.
Van Ingen has received numerous awards in recognition of her distinguished service to New York State and the nation, including the New York Landmarks Conservancy's Lucy G. Moses Preservation Award for Public Leadership; the New York State Office of Parks, Recreation and Historic Preservation's New York State Historic Preservation Award for Individual Achievement; and the National Trust for Historic Preservation's President's Medal. She is also an Honorary Member of the New York State Chapter of the American Institute of Architects.
Van Ingen holds a bachelor of arts in art history from Middlebury College and a master of science in historic preservation from Columbia University. She is a resident of New York City.
New Trustee Ann Van Ingen. Photo Credit: Wes Haynes.
MEDIA CONTACT:
Amy Aronoff at 718-636-3554 or aarono29@pratt.edu