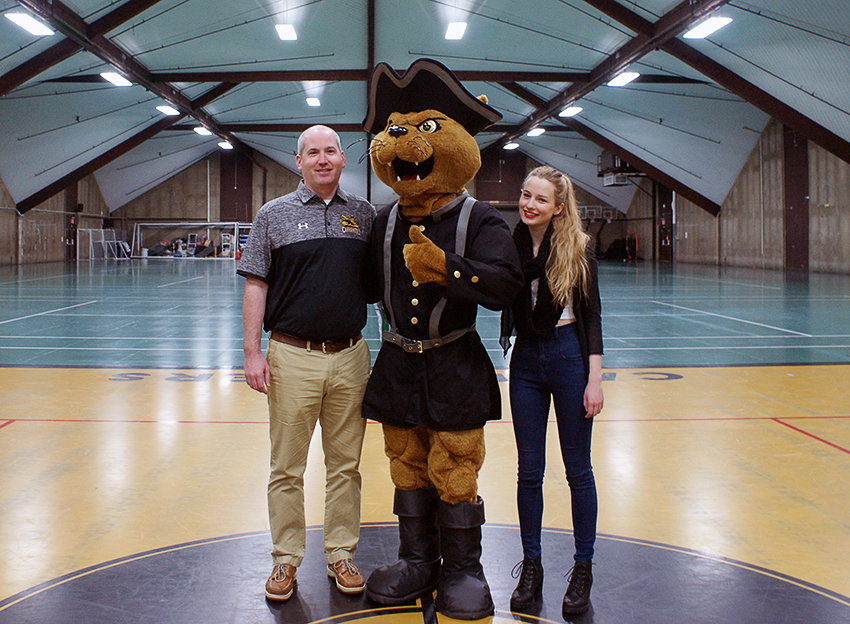 Helena Duncan (B.F.A. Writing '17) has been named the winner of the Pratt Athletics mascot naming contest. Her winning submission was "Charlie," a name meant to honor the legacy of Pratt Institute founder Charles Pratt as the school celebrates its 130th anniversary this year.
The contest to name the Pratt Cannoneers mascot, a cat dressed as a cannoneer, received more than 50 submissions from the Pratt community. Charlie, the mascot, was in attendance during the women's basketball home game against Berkeley College on January 26, when the mascot naming competition winner was announced. Duncan received $250 and was honored during the game at halftime.
Charlie will be on hand to support the Cannoneers at Pratt Athletics events throughout the spring semester. Learn more about Pratt Athletics.
Image: (L-R) Walter Rickard, Director of Athletics; Charlie, the Cannoneers mascot; Helena Duncan (B.F.A. Writing '17)