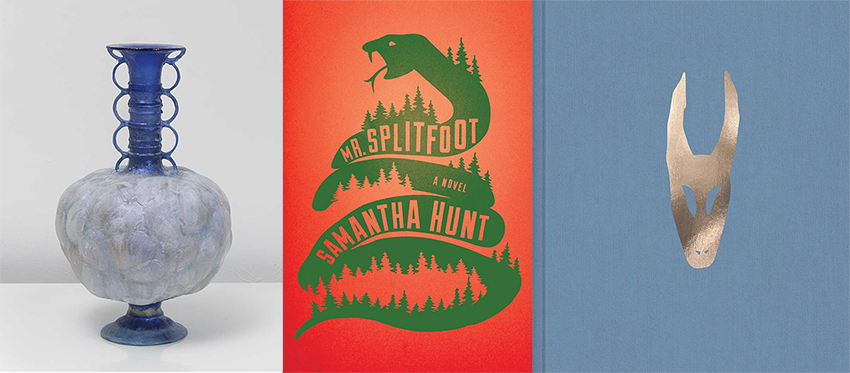 Three Pratt Institute faculty members have been awarded 2017 Guggenheim Fellowships: Professor and Interim Writing Program Coordinator Samantha Hunt and Media Studies Artist-Scholar-in-Residence Zina Saro-Wiwa, of the Humanities and Media Studies Department within the School of Liberal Arts and Sciences; and Visiting Instructor of Foundation Art Shari Mendelson from the Foundation Department within the School of Art and School of Design.
The prestigious year-long fellowships are awarded by the John Simon Guggenheim Memorial Foundation in New York City. The fellowship, which begins each May, provides funding for scholars, artists, and scientists and enables them to research, develop, produce, and exhibit new projects. This year, 173 fellowships were awarded from an applicant pool of almost 3,000.
Hunt's most recent novel, Mr. Splitfoot, was published last year and was a New York Times Editors' Choice. Her novel The Seas (2004) won a National Book Foundation award for writers under 35, and her novel The Invention of Everything Else (2008) was a finalist for the Orange Prize and winner of the $30,000 Bard Fiction Prize. Her work has appeared in The New Yorker, the New York Times, McSweeney's, and Tin House; on the radio programs This American Life and WNYC's Selected Shorts; and in a number of other publications. Hunt teaches Writer's Studio in the undergraduate Writing Program.
Mendelson, a sculptor whose works reinterpret ancient and rare glass and ceramic objects in a modern context, is the recipient of three New York Foundation for the Arts fellowships and a Pollock Krasner Foundation Grant. Her work has been shown in exhibitions, museums, and galleries across the United States and internationally, and has been featured in publications including the New York Times, Hyperallergic, Ceramics Now, Glass Quarterly, NY Arts, and Art on Paper. Mendelson teaches a design studio for Foundation students at Pratt.
Saro-Wiwa is a video artist whose work encompasses video installation, documentary, and photography. She lives in Brooklyn, New York, and has a gallery in the Niger Delta in Nigeria called Boys' Quarters Project Space. Her work has been shown in institutions including the Blaffer Art Museum, the Krannert Art Museum, the Pulitzer Foundation, Moderna Museet, Guggenheim Bilbao, Nikolaj Kunsthal, the Walther Collection, Seattle Art Museum, Tate Britain, and the Brooklyn Museum amongst other sites. Her 2008 documentary, This Is My Africa, was shown on HBO from 2010 to 2012. Her monograph for her first solo museum show titled Did You Know We Taught Them How To Dance? was recently published by Washington Press. Saro-Wiwa is one of Foreign Policy Magazine's Global Thinkers of 2016. She was recognized for her work in the Niger Delta.
Read Hunt's, Mendelson's, and Saro-Wiwa's full listings on the Guggenheim Foundation's website.
Image: (L-R) Shari Mendelson, Glitter Vessel with Blue Neck with Semicircles, 2016, recycled plastic, resin, acrylic polymer, glitter, paint, 19.5x11x12 (photo: Polite Photographic); cover of Samantha Hunt's Mr. Splitfoot; cover of Zina Saro Wiwa's Did You Know We Taught Them How To Dance?