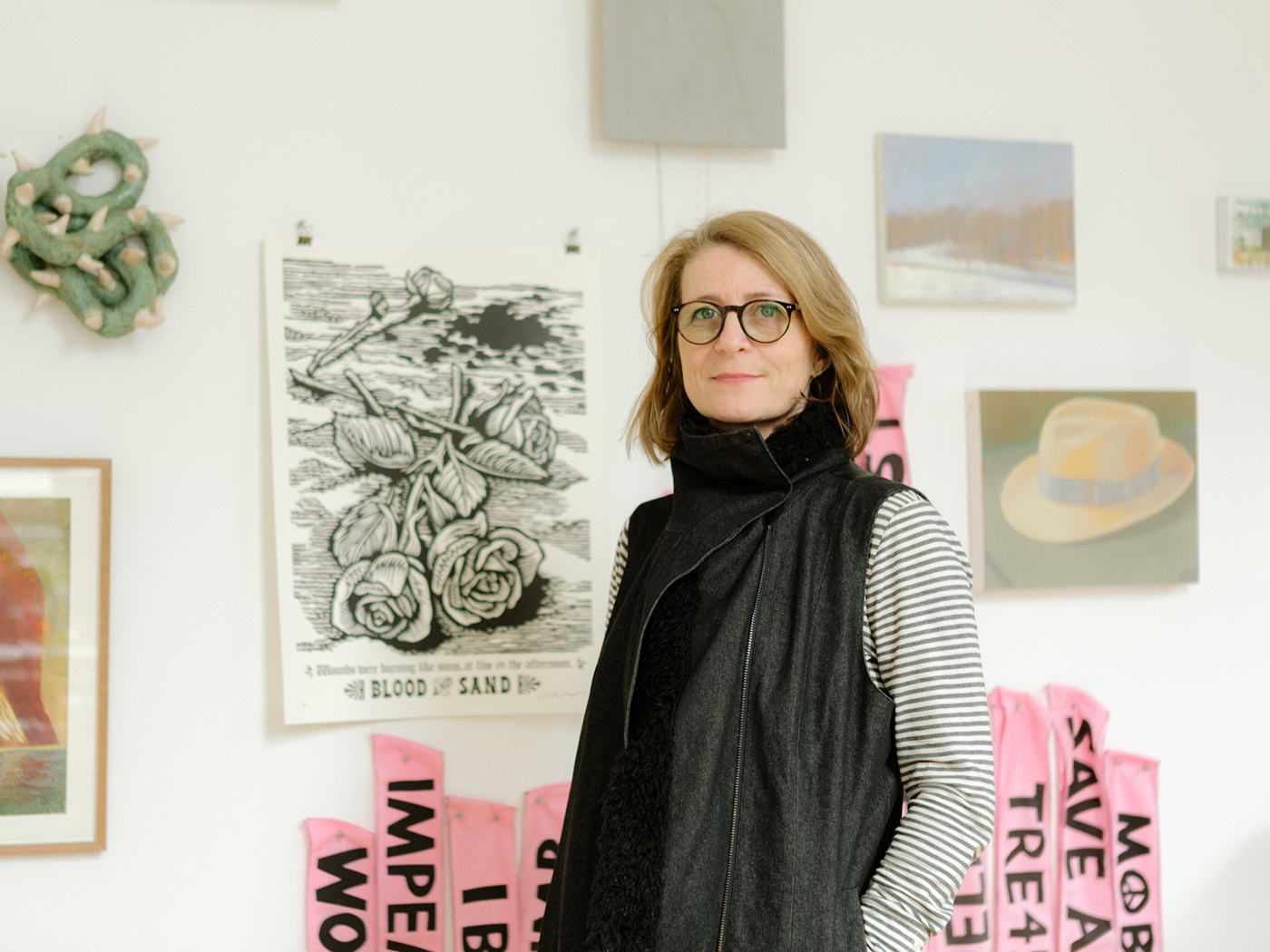 Chair of Fine Arts Jane South has been awarded a 2021 Guggenheim Fellowship.
This year the John Simon Guggenheim Memorial Foundation awarded 184 fellowships from almost 3,000 applicants. The annual grants support up to a year of work, enabling recipients to have more time to dedicate to their pursuits. Selection is based on prior professional accomplishments as well as the potential for future achievement. The 2021 Fellows are from 49 scholarly disciplines and artistic fields.
South was appointed chair of the Fine Arts Department in 2017, arriving at Pratt Institute from Rhode Island School of Design (RISD). As Pratt's fine arts chair she has spearheaded initiatives expanding opportunities for collaboration, interdisciplinary exploration, and social engagement. These range from the recently launched Pratt>FORWARD platform she co-directs with Mickalene Thomas, BFA '00, that mentors emerging artists, to fellowships that have brought artists with practices centered on civic engagement and social justice to campus, including Shaun Leonardo and Amy Khoshbin.
As she said in 2019: "We need to be responsive to new modes of contemporary cultural production, to participate in their innovation, and to ensure that artists are visible not as the producers of commodities, but as creative thought leaders whose capacity for critical reflection and inquiry are central to the cultural value of artistic expression."
Her own artistic practice is similarly dynamic, involving a breadth of media from her early work in experimental theater to her large-scale installations. Born in Manchester, she has a BFA in Theater from Central Saint Martins in London and an MFA in Painting and Sculpture from the University of North Carolina at Greensboro. While much of her work has focused on sculptural assemblages of paper and balsa wood, she recently shifted to softer forms. These wall hangings involve cast-off material ranging from packing foam and discarded curtains to her own artwork, with the materials stitched together into tapestry-like objects.
Her 2020 solo show Switch Back at Spencer Brownstone Gallery in New York, featured these pieces where the suggestion of familiar shapes such as shields and control panels gave the handmade works an industrial edge. Her previous exhibitions include shows at the Knoxville Museum of Art in Tennessee, the Aldrich Contemporary Art Museum in Connecticut, the Museum of Arts and Design in New York, the Queens Museum in New York, and the New York Public Library in New York.
Read more about the 2021 Guggenheim Fellowships.