Living Laboratory" green residence hall room project was selected as one of five projects to be featured in Storefront for Art and Architecture, Architizer.com, and Actar Publisher's "Total Housing 01: Apartments" exhibition that addresses the incongruity between outmoded ideas of domestic space and contemporary urban lifestyles. The project was selected from nearly 400 submissions and is on display at Storefront for Art and Architecture at 97 Kenmare Street, Manhattan, now through January 22, 2011. The exhibition is free and open to the public.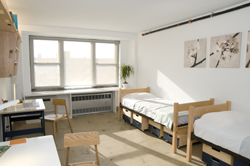 Pratt's "1702 — Living Laboratory" project will be on display alongside two U.S.-based projects and one project each from firms in France and Spain. The winning entries will be elaborated upon with a live gallery performance during the opening reception, and the exhibition will be accompanied by a newsprint publication edited by Actar that will be available for purchase for $3.
According to The Storefront for Art and Architecture, the projects on display "demonstrate innovative thinking through material applications, programmatic arrangements, or technological implementations through experiments that address notions of age, territory, policy, and education." Total Housing is a series of competitions launched to create today's definitive source for residential designs that go beyond standardized and canonical models of inhabitation. "Total Housing 01: Apartments" is the first in the series.
Pratt Institute undergraduate and graduate industrial and interior design students, along with staff from Pratt's offices of facilities management and residential life, worked collaboratively to design and build the "1702 – Living Laboratory" green residence hall room model in Willoughby Hall on the Brooklyn Campus. The project began in Spring 2009 as an interdisciplinary studio course that examined the ways that campus and urban living can reduce the use of resources and address environmental health and toxicity. The space includes the sustainable renovation of the kitchen, bathroom, and living area along with energy-efficient lighting, new storage and shelving options, and new furniture using wood from the original residence hall.
The project was initiated through Pratt's Center for Sustainable Design Studies and was led by Anita Cooney, Chair of the Interior Design Department; Stephen Brennan, Director of Maintenance and Operations; and Chris Kasik, Director of Residential Life. The interdisciplinary course was taught by Pratt faculty members Robert Langhorn, Julie Torres Moskovitz, Corey Yurkovich. Over 20 students participated in the project as part of the design team.
The green residence hall room project exemplifies Pratt's commitment to innovate and demonstrate a sustainable lifestyle through the use of sustainable materials, local manufacture, water conservation, energy efficiency, environmental health practices, and greenhouse gas reduction. It is currently on view to the Pratt community and visiting school groups as an exhibition space and is also open to current students and campus visitors as a guest room and living laboratory. To schedule a tour of the space, please contact csds@pratt.edu or 718.636.3727.
Pratt Institute was one of the first colleges in New York to become a 2030 Challenge Partner and accept Mayor Michael Bloomberg's challenge to reduce greenhouse gas emissions by 30 percent by 2017. Additionally, as a member of the Leadership Circle of the American College and University President's Climate Commitment, Pratt reinforces its commitments to neutralize greenhouse gas emissions by accelerating educational efforts to re-stabilize the earth's climate. The Institute was listed in The Princeton Review's 2010 Guide to 286 Green Colleges, which noted that Pratt's "reputation as a prestigious art school makes it an obvious choice for students interested in green design."
The "1702 – Living Laboratory" project was made possible with partial funding provided by the Fund for the Improvement of Postsecondary Education (FIPSE) Grant from the U.S. Department of Education.
The Storefront for Art and Architecture competition and exhibition were made possible with the generous support of NRI, Sciame, and Miele. For more information, please visit www.storefrontnews.org.